For demand generation leaders
Demand generation for SaaS, powered by search insights
Building a demand generation strategy at a growing SaaS company isn't a walk in the park. With leadership expecting miracles of 10x growth, having a reliable partner with demand-first thinking makes the job (much) easier.
Book a fresh perspective call
Which digital workstream will get me the most leads in the next two quarters?
How
SEO assists

with demand generation for SaaS

To build brand awareness, increase traffic and drive leads, you'll need resonating digital assets (core pages, white papers, articles, webinars etc) at various stages of the buyer journey. A search focused project can help you understand:
What type of content users expect to see, based on what they are searching for
How frequently you should publish content to defend and win share of voice
What quick wins you can gain from optimizing what you've already have vs running a website rebuild/rebrand initiative
What topic clusters to focus on to gain maximum visibility
Benefits of a
foundational search program

for demand teams

Omnichannel campaigns powered by search engine optimization (SEO) go a long way in demand enablement.

Omnichannel campaign enablement

Landing page optimization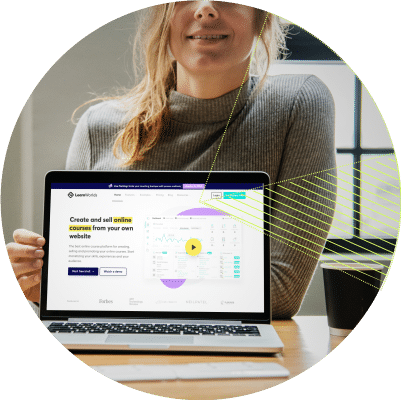 Case Study:
LearnWorlds
LearnWorlds is the easiest to use course creation software that helps educators both professional and hobbyists to monetize their skills and experience online.
A focus on technical SEO improvement paired with contextual research led to 75,000 more clicks, 7.2 million more impressions across 8 months.

We worked with the SEO, development and content teams to identify solutions for critical problems and surface learnworlds.com above the competition.

300% in ROI within 8 months
Read the case study
Add quality to the
B2B flywheel
To improve your flywheel, you need to know what type of information your prospects and existing customers want to consume. A search powered project can help your team create the right assets to fill the demand gaps.
Selection and negotiation
Top read

by demand gen leaders
Frequently asked
questions
What is demand generation in marketing?
Demand generation — or demand gen — is a marketing term that refers to the creation of demand for a product or service. The goal is to build brand awareness in order to generate high-quality leads that will eventually be converted into customers. Not all leads are created equal, though. In order for demand generation to be effective, the leads must be high quality and relevant to your target audience.
Demand generation for technology companies is typically done through marketing activities such as advertising, public relations, content marketing and search engine optimization.
What is the difference between lead generation vs demand generation?
The terms lead generation and demand generation are often used interchangeably, but there is a difference between the two.
Lead generation is the process of generating interest in a product or service with the goal of eventually converting that interest into a sale. Leads are people who have expressed interest in your product or service by providing their contact information. Once you have generated a lead, you then need to nurture that lead through direct outreach until they are ready to make a purchase.Examples of lead generation strategies include:

PPC ads

SEO

Content marketing

Social media marketing

Email marketing

Cold calling

Trade shows

Networking events

Free trials

Demand generation is the process of creating demand for a product or service. It's about making potential customers aware of your product or service and getting them interested in what you have to offer so that they will eventually make a purchase. Here are some demand generation strategies:

Advertising

PR

Content marketing

Social media marketing
What are the best demand generation strategies?
Different strategies can be used for demand generation.
A common approach is to create content (such as blog posts, ebooks and infographics) that speaks directly to the needs of your target audience. By providing valuable information that solves a problem or addresses a pain point, you can generate interest and build trust with potential customers.
Another effective strategy is to run targeted ad campaigns on social media or search engines. These ads can be tailored to reach individuals who are most likely to be interested in what you have to offer. For example, you can target people based on their location, age, gender, interests or even previous buying behavior. Ensuring your ads are seen by the right people can lead to more sales down the line.
If you've been
referred

, give us a shout.