B2B landing pages: An almost-silver-bullet guide to improving conversions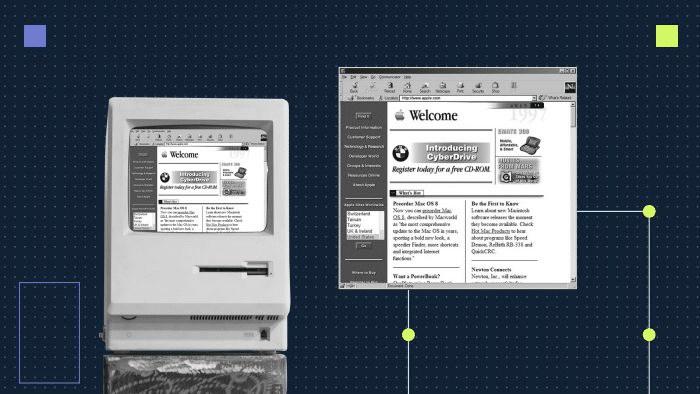 Are you considering designing an effective landing page to boost your website's conversion rates? In this post, we go over in detail the process of creating a high-converting landing page. 
Keep reading to learn how! 
What is a B2B landing page
? 
A landing page is an individual web page that prompts a visitor to take a given action. Think of them as a bridge connecting a potential customer with your solution. The average landing page conversion rate is 26%, significantly higher than the 2-5% for social media, Databox finds. This means that landing pages are highly effective for lead generation. 
A B2B landing page provides a solution to other businesses, not individual customers. 
Here's how a B2B landing page fits in a basic funnel:
Traffic channel → Landing page → Purchase page/form → Sale
A funnel can certainly be much more complex than the illustration above. Depending on your offer, a prospect can view more than one landing page in their buying journey. 
What landing pages aren't
It's easy to think that any channel that connects traffic to your sign-up form is a landing page but that's far from the case. 
Landing pages are not: 
Long-form sales letters.

As the name implies, these pages are lengthy and aim for a specific conversion, a sale. The goal of a landing page can be email, webinar or app signups, file downloads and sales too.  

Name-squeeze pages.

Specifically designed for collecting email addresses, squeeze pages with thin content were once the most popular method of getting customers to share their information. Landing pages provide more relevant information and a better user experience for visitors. 

Your social media.

Social apps are a great way to stay in touch with your audience and are updated frequently unlike landing pages, which carry the same information for a long period.  

Your company's website.

Your site is your organization's online home, which caters to a general audience and highlights all your offerings. A landing page is specific. 
Landing pages vs websites:
What's the difference? 
Most users find home pages through word of mouth or by typing a URL or brand name in a search engine. Home pages have main navigation pages that lead visitors to different areas of your site. 
Landing pages need to be thought of as different from on-site pages. A landing page has to be specific and direct with a goal to convert. 
For example, landing pages aim to increase:
Free trials

Ebooks, guides or white paper downloads 

Software purchases targetting specific personas
Visitors often arrive at landing pages from a marketing campaign, either paid or organic. 
What are landing pages used for? 
Since you already have an aesthetically pleasing website that highlights your vision and sings your praises, why do you need a landing page? 
In addition to increasing conversion rates, here are some of the other reasons why a lead generation landing page is effective: 
Establish a connection and build trust.

Inform your

B2B leads

about your products and services and build a relationship with prospective customers.

Conversational landing pages

can increase repeat sales, upsells and cross sells. 

Offer access to gated content.

You can share free resources such as newsletters, ebooks, guides and webinars with prospects in exchange for their contact information. From app signups and downloads to email subscriptions, you can prime potential customers for a sale later in your funnel. 

Segment your audience and offers.

Identify your various audiences so that you can tailor the right offers to them. For example,

a SaaS company may offer payroll management software to small businesses and advanced versions to the public sector

. You can tailor the right offers to a well-segmented audience. 

Introduce a new product or service.

You can let customers know about a new solution you're offering and get them to subscribe or purchase your product. 

Acquire viable prospects for an upcoming launch.

Have an idea for a great solution that you're yet to develop? Gauge your audience's interest by letting them preorder or sign up for a waitlist on your landing page.  

Boost your SEO rankings.

Google considers landing pages that visitors spend time on and stop their search afterward as highly relevant. A landing page that converts boosts the rankings of your website in general. 
Core components to keep in mind before building an SEO-tailored landing page
Before you start building your landing page, you should consider these two vital factors: 
1. Goals
The primary step for developing a lead generation strategy is to identify the goals you are trying to achieve, to be more precise, what you want your visitors to do. Before you'd be able to track conversions, you need to define them. You should answer the questions such as:
Where do you want your visitors to click or proceed after arriving at your landing page?

Would they be prompted to purchase something? 

Will your visitors sign up for your newsletter?

Would they download a brochure?
2. In-market and SEO competitors
The second thing you should sort out when designing your landing page is to understand the opportunity gaps by analyzing your competitors. Ask yourself who you are competing against, what traits make them succeed and figure out how you can replicate that success by innovating it further.
Drawing inspiration from competitors and finding ways to improve what has been done can be, at times, the easiest way to have higher conversion rates. 
Competitor research tools you can use include the following:
What are the critical components of a lead capture page that converts 
Now that you know why a landing page can be beneficial for your brand, let's discuss what makes an effective landing page. Your B2B landing page should:
Have
informative content 
Data-driven, relevant and informative content is essential when it comes to landing pages. Users come to landing pages looking for answers and not conversions. Your content should be useful and written with your audience in mind. While your page shouldn't be as lengthy as a long-form sales letter, your content should also not be thin. Informative content strengthens your SEO efforts.
Hook visitors with a
catchy headline
While landing pages streamline a visitor's focus, only a good hook will keep any reader interested. Keep your audience's attention with an exciting headline that addresses a pain point and teases a solution. 
According to Copyblogger, eight out of ten people will read your headline and only two will read the rest, which means that your headline has to be powerful to retain interest. 
Have an
irresistible offer
Now that you've gotten your audience to keep reading, you need to craft a mouth-watering offer. The right price and product at the right place and time generate sales. This means that even if your product or free resource such as a webinar is effective, your offer will not be right if your landing page shows up when a user searches for different information.
Include
killer copy
The best landing pages have body text that flows from the headline. Your landing page copy should briefly explain your proposition — lead magnets such as guides and ebooks, webinars, products or services — and how it can solve your prospect's problem. Infuse your copy with your brand voice to maintain the connection from a channel that leads to your landing page. 
Here are some great pointers for writing high-converting landing page copy: 
Paint a picture of what life can look like after a lead uses your product

Compel visitors to take action by making your offer time-sensitive

Personalize your text by using words such as "you" and "your"

Be clear and concise
Use a
suitable design
Landing pages targeting C-Level executives, rock bands and software developers will have very different layouts, messaging and designs. The reason is that each industry differs in audience, taste, value, product, intent, costs and pain points. Design your landing page for your B2B buyer persona, bearing in mind that less is more. Avoid including all your brand colors if it clutters the page. 
Include a
strong CTA
Your call-to-action is the most crucial part of your landing page. It's the section that the entire page leads up to and guides the action a visitor takes. CTAs capture attention and drive momentum. 
A high-converting CTA has three elements:
Compelling copy.

Strike a balance between short, sweet and convincing. According to marketing expert

Neil Patel

, the more words your CTA has, the more time you give a visitor to refuse your offer. Remember that we want to keep the momentum coming from your body copy. 

Contrasting color.

Make your CTA stand out by using a color separate from the design scheme of your landing page. Use an eye-catching color that will attract visitors and compel the click. 

Decent-sized button.

Now is not the time to reinvent the wheel and test other ways of framing your CTA. Everyone expects to see a

CTA button

. So use one and make it a proportionate size. 
Best practices you should consider in creating an excellent lead-generation landing page
In addition to the essential elements of a landing page that converts, here are some great tips that can improve the quality of your page: 
Show social proof
Want to ramp your persuasion up a notch? Include testimonials from happy and satisfied customers. Per a survey by Trustpulse, an OptinMonster company, social proof can increase sales page conversions by 34%. 
To make testimonials effective, keep the wording precise and add a photograph of the reviewer, if possible. Your social proof can also come in the form of star ratings, popular client logos, case studies, trust badges and even media mentions. 
Avoid clutter
Effective B2B landing pages aim to keep users on the page and convert them. For this reason, you should avoid linking unrelated pages to the header and footer of your landing page.
Reduce load time
With attention spans reducing by the day, engaging your users from the moment they land on your page is essential. To engage users with your content, your page needs to load as fast as possible. Based on Google's analysis of about 900,000 landing pages across several countries, 50% of visitors leave a page that takes more than three seconds to load. 

Load times are an important SEO factor as search engines use this metric to determine the value of a page. To provide the best user experience, Google will show pages that load quickly and have relevant information on the first page of search results. 
Prioritize user experience
According to Google, mobile usage for B2B researchers is intensifying. This means that a dedicated landing page should effectively support all viewing experiences, desktop, tablets and mobile. Pay attention to how your page and forms look on all devices and scale appropriately.  
Optimize for SEO
Organic lead generation is free and cost-effective. Optimize your landing page for SEO by adding title tags, meta descriptions and relevant keywords. Equally important is to follow on-page SEO best practices. These practices allow users to find you when they type a query in their search engine and build trust with your brand since Google considers your landing page relevant to their search.
New to SEO writing? Start with these tips and best practices.
Include visuals 
A high-quality image or video that is relevant to your content can increase your B2B landing page conversion rates. Customers find it easier to understand information through video than to read. According to Hubspot, 81% of marketers state that videos bring a positive return on investment (ROI). Video marketing also allows you to handle FAQs and manage expectations. Keep your videos short — one to two minutes is ideal. 
When including photos or infographics on your landing page, remember to write alternative text (alt text) for each image. Alt text tells web visitors the content of your image and allows them to know what to expect before the image loads. Avoid using free stock images as overuse may confuse Google on what your content is about. 
Refine and tweak
The best landing pages are not a one-and-done affair. Google updates its algorithm often. You should refine your landing pages to match growing industry trends and audience preferences. Test your landing pages often to understand what works best for you. 
Optimize your lead generation process after creating your landing page 
1. Be a guide along your B2B buyer journey
The buyer journey usually comprises three main steps:
The awareness stage.

A prospect becomes aware that your product or service can solve their problem. This awareness is a result of organic or paid marketing efforts.  

The consideration stage.

The buyer weighs your solution with other alternatives and highlights the pros and cons of each. 

The decision stage.

The buyer decides what product to purchase based on the findings from the consideration stage. 
According to Gartner, the majority of B2B buyers prefer to search independently online when considering a purchase. This means that prospects are looking at blogs, webinars and online newsletters to determine if your product is a great fit. 
By mapping out multiple buyer journeys and guiding potential customers to the right answers, you can improve your lead generation process.  
2. Maximize the opportunities of a Thank You page 
Also known as a confirmation page, the Thank You page is highly valuable but SEO marketers sometimes ignore it. This type of page is a great tool for converting new visitors into warm leads and returning consumers into repeat customers.
Visitors, leads and customers should see a Thank You page after joining your email list, submitting a form or making a transaction. Confirmation pages give you the opportunity to direct a visitor to the next step of the buyer journey.

Check out these examples of actions you can take on your Thank You or Next Step page:

Offer a tripwire.

A tripwire is a high-value, low-priced offer with the sole purpose of converting prospects into customers. Since it's easier to sell to existing or repeat customers, tripwires aim at getting customers rather than making a profit. 

Connect on social platforms.

Keep B2B leads aware of events, launches and celebrations in your organization when you connect on social media. Build familiarity with prospects who sign up for your newsletter or free resource. 
Ask for referrals.

Tell prospects to share the link to your landing page with friends who are likely to find your resource helpful. Word-of-mouth marketing can generate consistent leads for your organization.



3. Build a relationship
Engaging your consumers is the key to developing a good customer relationship, regardless of the size of your company. 
Consider some of these practices that can strengthen your relationship with B2B customers: 
Establish an immediate connection to prevent buyer remorse.

Thank customers for making a purchase and offer an onboarding call to walk them through the product. You can also share product guides that support self-service or include them in a welcome email sequence. 

Develop an effective email marketing strategy.

Share relevant and valuable information with prospects and existing customers via email. Personalize experiences by using tags in your email service provider (ESP) and keep your customer updated with the latest happenings and offers. 

Surprise your audience with exceptional customer service.

Your attention to detail, active listening power, empathy and care towards each client should be at par with your brand promises. 
Best B2B landing page examples
To inspire you, we've included some landing page samples that reflect some of the best practices we highlight in this article.  
1. Slack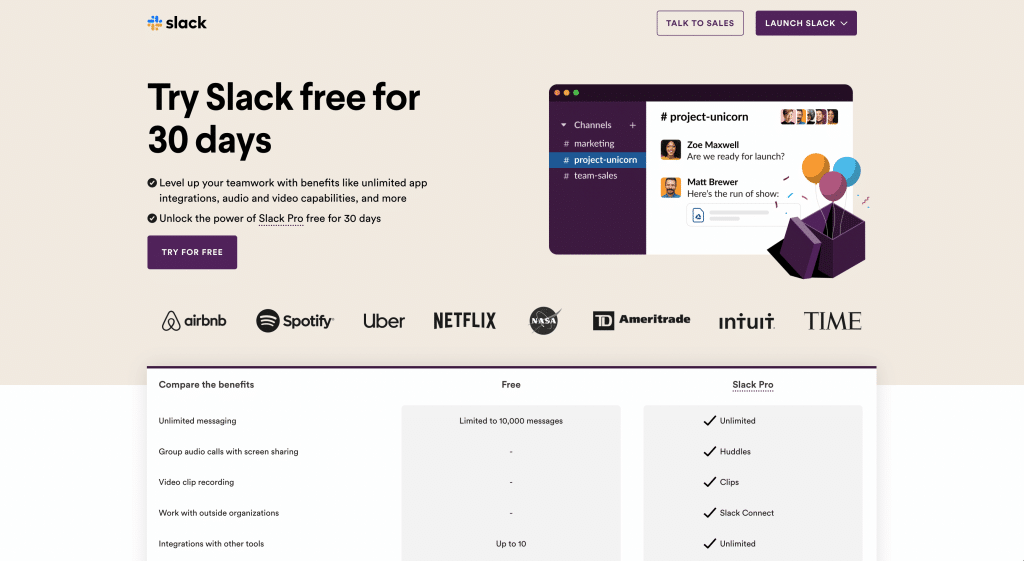 The Slack trial page is a great example of an effective landing page focusing on one conversion, signups. The trial page has quality content that is not overwhelming since users can decide to view it by clicking the dropdown icon. For visitors who need some more convincing, there is an opportunity to speak with the sales team. 
What we like:
Internal linking.

The landing page links to only relevant pages of the site such as the contact page, pricing page and some relevant articles in the FAQ section. 

Social proof.

Badges of well-known brands are included to establish authority and build trust.

Responsiveness.

The desktop and mobile views fit the screen appropriately.
What can be improved: 
Video.

A short illustration of the software in use can give visitors better expectations of the product.  
2. Nauto
This landing page is functional with a clear purpose. Nauto includes relevant keywords and links internally to its homepage through the logo at the top. 
What we like: 
Content.

The copy gives a clear overview of the ebook without being overwhelming or disruptive.

CTA.

The button has an eye-catching color that prompts visitors to click.
What can be improved:
Visual.

Including a clear image of the ebook or an illustration of some of its information helps visitors understand what to expect. 

Form fields.

The form on this page has too many compulsory fields, which may discourage visitors from filling it out. 
3. BambooHR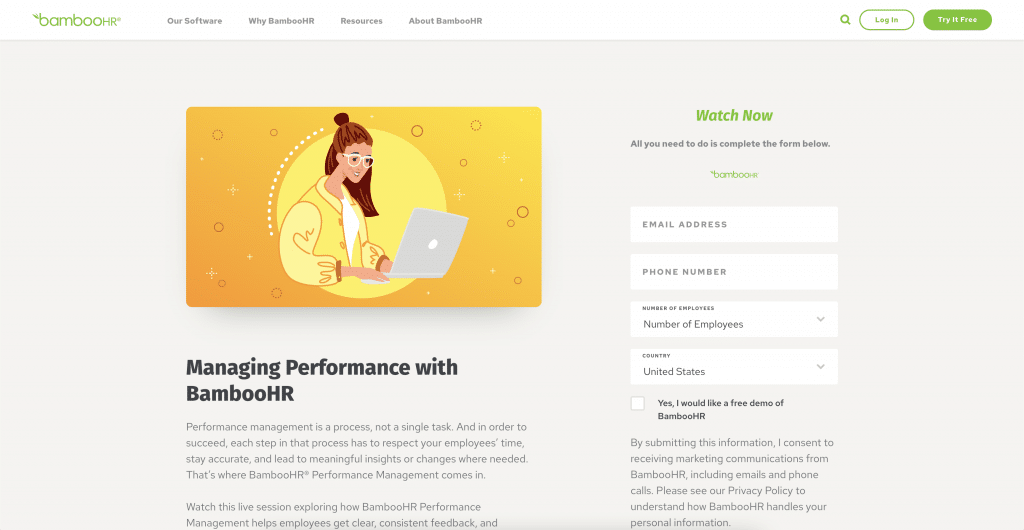 BambooHR makes use of an illustration that reflects the nature of the lead magnet — a webinar. The landing page is a great example of a clean and minimal style.  
What we like: 
CTA.

The color of the CTA button is attractive enough to compel visitors to click. 

Keywords.

BambooHR includes relevant keywords such as performance management and reporting.
What can be improved: 
Navigation menu.

Moving information such as the About and Resources pages below the fold would help to keep the visitors focused on the content and the CTA. 
4. Airbnb

A leading brand in the hospitality industry, Airbnb has developed a strong presence online with its offsite products. This landing page focuses on getting individuals to sign up as hosts and offer their houses to customers. 
What we like: 
CTA.

The button contrasts with the background and stands out. 

Page responsiveness

. The mobile and desktop view provide great user experiences. 

Video.

The short video at the top is inclusive and immediately elicits warmth.
What can be improved:
Content.

Including informative content will help users and search engines quickly and easily understand what the page is about. 
5. Net Solutions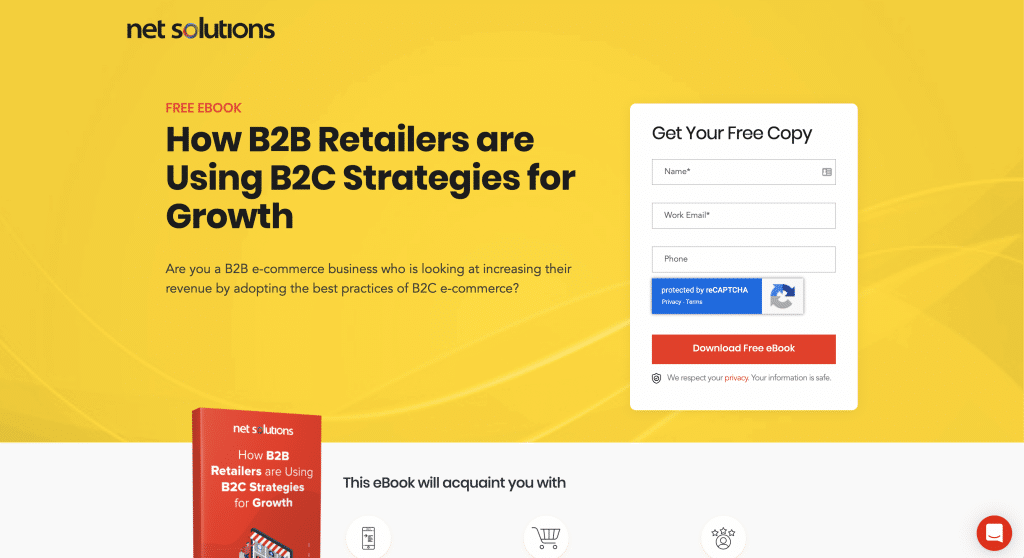 On this landing page, everything is quite easy to read and visitors are quickly prompted to take the next steps. Net Solutions gives a glimpse into the content of the ebook so visitors know exactly what to expect. The mobile view of this page makes the CTA very accessible. 
What we like: 
Design.

The site uses bright colors, which are successful in grabbing viewers' attention.

Social proof.

Mentioning popular companies such as PayPal, Microsoft and Xerox subtly builds trust.

CTA.

The CTA is above the fold, prompting users to take action. 
What can be improved: 
Direction.

The bottom of the page has a different direction and may distract visitors from signing up for the ebook.   
Improve your B2B landing page conversion rates
The best practices and examples we've shared in this article can help you achieve better results. Tailoring your landing pages to meet specific industry and audience needs will help you increase your conversions. 
Want to create landing pages that convert for your enterprise solution? Reach out to our team of landing page optimization consultants to see how we can help you develop and execute an effective lead generation strategy.  
Frequently Asked Questions 
Do I need a website to create a landing page?
No, you don't. You can use a landing page builder such as Leadpages to create your page. It is advisable to have a website that reflects an online presence to support your landing page. 
How long does it take to build a landing page?
Depending on the length of your copy, your design and other elements such as videos, illustration and development, it can take anywhere from 1 day to 1 week to build a landing page. Bear in mind that the complexity of the page and revisions increase the time you spend building the page.  
Can a product page be a landing page?
In a strict sense, a product page cannot be a landing page. A product page gives general information about your product and may direct visitors to other pages on your site that they might find helpful. A landing page has specific messaging with the goal of converting visitors to leads or leads to clients. 
Are landing pages bad for SEO?
No, they aren't. On the contrary, a highly effective landing page can help to boost your SEO rankings. Google prioritizes content that its users find relevant, including landing pages.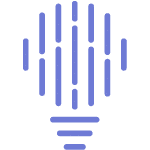 Productive Shop Team
With diverse backgrounds and a shared enthusiasm for innovation and growth strategies, our passionate team of consultants brings together a wealth of experience and skills to meet the marketing and lead generation needs of B2B SaaS startups. Our seasoned writers, SEO specialists, project managers, designers and developers are always eager to share their knowledge and drive thought-provoking conversations.