SEO writing for beginners: best practices and checklist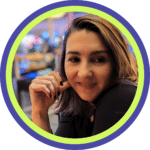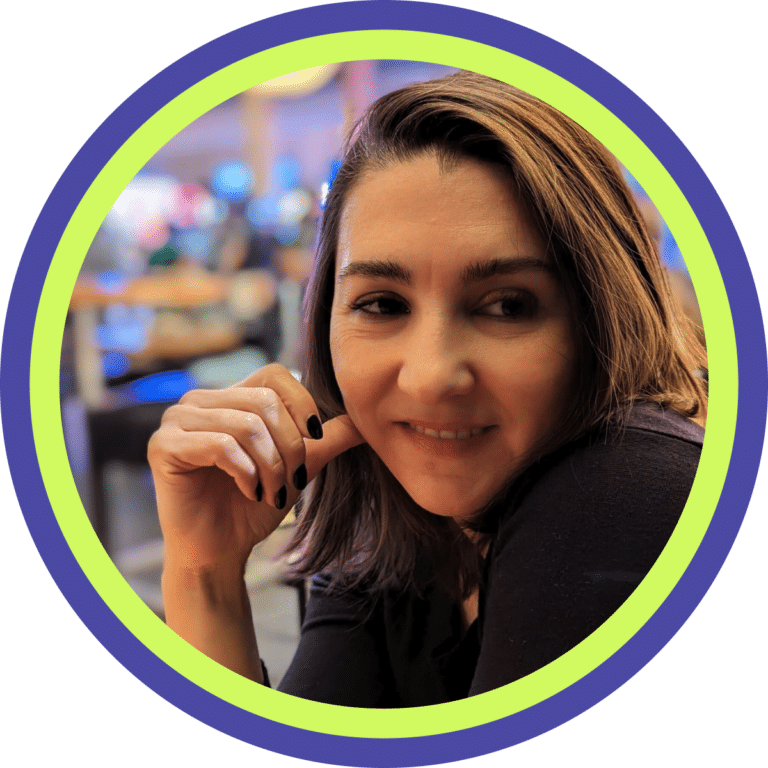 Vanessa Nunes, PhD
Content team lead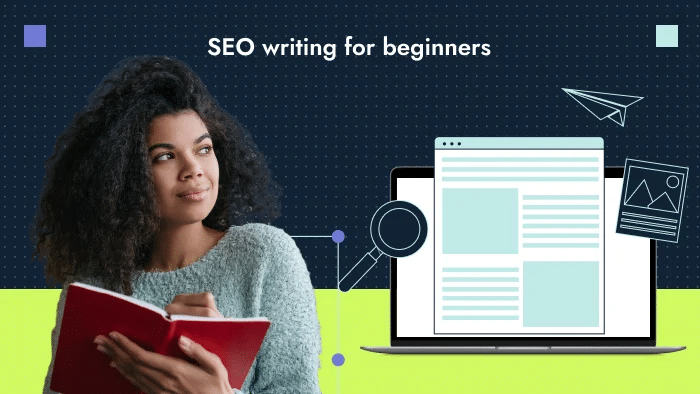 Don't fall for the misconception that search-optimized content should be written exclusively for robots. Even though Google has over 200 ranking factors that determine what will appear top on the results page, writing for search engine optimization (SEO) is all about meeting the needs of the user. 
Even things like website speed — how much it takes for your page to load — are going to affect the performance of your content. Users will give up on you if your website is too slow. In fact, if your page load time goes from 1 to 5 seconds, the likelihood of bounce rate increases by 90%, per Google's research. A high bounce rate suggests that something is wrong with what you have to offer — and this signal will affect your results, no matter how compelling your writing is.
The takeaway: Delivering a superior user experience (UX) is crucial to achieving SEO results. When it comes to SEO writing itself, there are specific techniques and best practices that help ensure that you will leave crawlers and readers satisfied with your content.
In this guide, we go over the basics of SEO content writing for beginners.
What is SEO writing?
SEO writing is the creation of content that is optimized for search engine algorithms. You output articles and pages that target keywords that people are searching for — but simply using the right keywords won't put you on the first page of Google if your content is poorly researched and written. What you have to offer needs to be relevant to search queries by answering users' questions with authoritative, deep knowledge. And you also have to organize your article or webpage in a way that it's easier for Google to understand and index.
You need to get the content structure right, too, because how you write is equally important as what you write. That's SEO writing in a nutshell.
SEO writing guidelines for beginners  
As a creative content marketing agency and SEO consultancy, our team at Productive Shop is often brought in to train in-house content teams or subject matter experts (SMEs) on how to ensure they are writing with the SEO basics in mind.
We put these tips together considering that you have already done your keyword research and built an SEO editorial calendar. So you know what to write and have the knowledge to output content that is original and comprehensive. Here are our top 10 best practices for SEO writing. Dig in! 👇
1. Follow the brand style guide for consistency
A writing style guide gives clarity about your brand's tone of voice and standards for grammar, spelling and punctuation. At Productive Shop, we start website copywriting projects by putting together style guidelines that help us ensure that the copy is consistent. 
In following a style guide, watch out for:
Use of sentence case vs title case for headings 

Use of the Oxford comma, contractions and hyphenation of compounds

Spelling of specific words (e.g., cyber threats vs cyberthreats) 
☝️ Inconsistency makes your content look sloppy and low quality, which can impact your SEO results and brand reputation. 
💡 Need help staying away from a sloppy copy? Read our guide on how to avoid grammar and spelling errors that hurt your brand credibility and lead generation efforts.
2. Structure the content with headings  
Users and crawlers alike want an overview of what your article covers — a reason why headings are critical to effective SEO content structure. In fact, 39% of articles lacking H2s are low-performing, according to The State of Content Marketing 2022 Report.
Following an advanced heading structure (with H2 + H3 + H4) helps readers better understand what your article is about – and scan through it. Your article should have only one H1, where you are placing your most important keyword. Think of your headings as branches of a tree, connected to the trunk (your H1). You have H3s under your H2s. And your H2s are under your H1.
Let's say you are writing a guide on cloud computing. You can have an H2 about benefits and another H2 about challenges. Under benefits, you can have an H3 focused on each benefit. Here's a rough overview: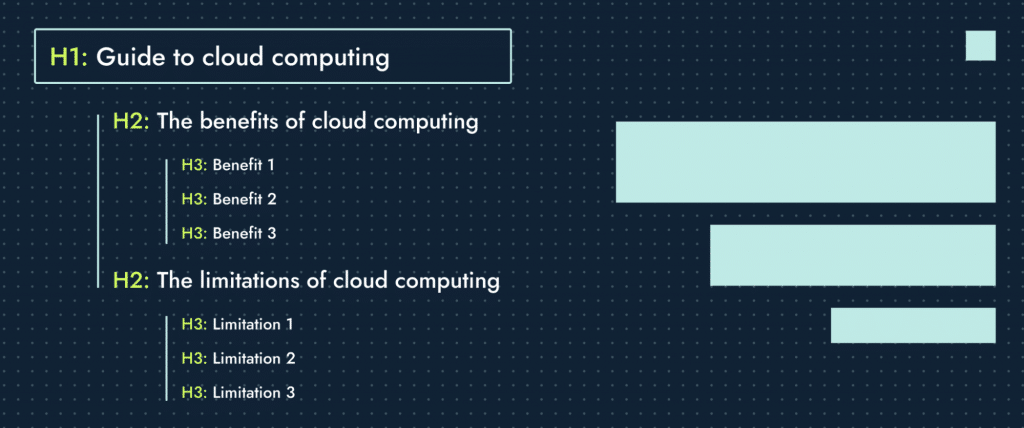 This content structure gives the reader an idea of what the article is about just by scanning it. 
For this reason, each heading needs to be contextually relevant and descriptive of the content under it. Since search engine crawlers pay close attention to the article structure, headings are gold for keywords, too.
💡 Interested in SEO writing best practices for heading tags? Read our guide on how to optimize headers.
3. Pay attention to keyword placement 
With your keyword research in hand, you might know exactly which keywords to use, but it's only part of the equation. In our experience, these are the top SEO writing mistakes when it comes to keyword replacement:
❌ You use your main keyword only in the H1 ❌ 
Your H1 keyword is your most important keyword. You should use it in the body text as well (at least 3 times: at the beginning, mid-post and ending of your article). But be careful to avoid keyword stuffing (let's say, no more than 9-15 times depending on the length of your article). 
You should also use synonyms. For example, if your main keyword is "IT OT convergence," you should also use alternatives such as "OT IT convergence" or "IT OT alignment."  
❌ You overuse your H1 keyword in your H2s and H3s  ❌ 
Your H2s are an opportunity to place other important keywords. And these keywords should be specific to the topic under your H2. In other words, avoid repeating your H1 keyword in your other headings. Using the same keywords too many times in different H2s triggers the Penguin algorithm and you're flagged for keyword stuffing. You can use your H2 keywords in the body text, too. 
❌ You concentrate your keywords on only a section of the article ❌
You need to distribute your keywords throughout your content. You need to give Google's algorithm signs that your entire article is about the topic, not only the first half, for example.
You also need to include related words that might not have search volume. The reason: Google is smart enough to understand that those words are contextually relevant to your topic. Skip to our tip #10 if you want to learn about the SEO tools that offer keyword recommendations. 
💡 Need help with keyword research? Here's how to find low-difficulty keywords with high volumes.
4. Make the text easy to scan 
Enhanced readability is one of the top SEO writing rules. Start by keeping your paragraphs in a visually digestible format. Your paragraph should be short, so you have more open spaces instead of a long block of text. 
Our recommendation is to not go over 5 lines so that it is easier for the reader to scan the article. According to Semrush's The State of Content Marketing report, "51% of low-scoring texts have paragraphs that are too long." Writing short paragraphs isn't enough to make it scannable, though. We recommend breaking down the content every 2-4 paragraphs. Here's how:
Headings.

We covered this topic in tip #2, but it's worth repeating that headings are a great opportunity to incorporate keywords and sum up what a section is about.

Bullet points.

If you are going to expand on each point, use bold to highlight key terms (like the way we've done here).

Visuals.

Make sure your post includes at least one image or video because visuals help with SEO, too. We will cover the importance of alt texts in tip #8.
Bolding important words and phrases attracts the reader's attention to what is important. This tactic also helps Google better understand what has more value to you — so if you are using keywords in sentences in bold, it's even better.
"Does bolding important points on a paragraph help the SEO? Yes, it does. It does help us better understand that paragraph or that page." (John Mueller, Google Search Advocate)
5. Write clear, direct and concise sentences and paragraphs
Embracing plain language is one of my favorite writing tips – ever. For improved readability, you should use short and simple words because good writing simplifies things. Choose your words with precision and avoid vagueness, jargon, wordiness and fluffiness. Write simple and short sentences in active voice. 
Get rid of what you don't need. Be conversational but not superficial. You need to write authoritatively, exploring your topic in depth to ensure that you are leaving the reader satisfied. 
💡 Need help? Check out Grammarly or Hemingway — two of the best writing tools for new and seasoned writers alike.
6. Add crosslinks and don't neglect your anchors
Crosslinks are foundational to any SEO campaign. Google understands links (internal and external) as signals of the quality of a page or site. Adding crosslinks to other pages of your site helps to build up their authority, too. Internal links help Google better understand your website's structure and make the reader discover more content, spending more time on your site. 
So let's say you are outputting a blog post to your resource center. Your post should reinforce a topic or page on your website. Ask yourself which main topic cluster or page you want to push and link to it. Take this blog post as an example. The topic here (our H1 keyword) is "SEO writing," so we are linking to our "content writing" service page. We linked to it in our third paragraph using the anchor "SEO content writing." 
💡 Your anchor text should be relevant to what you are writing and the page you are linking to. Do not use generic anchor texts (for example, "click here").
We have a few more recommendations when it comes to links:
Do not link to your own homepage.

Be specific and link to a product or service page.

Avoid crosslinking to an excessive amount of external web pages.

Make sure they are really authoritative and relevant to your topic. Using reputable sources is also an indication that you have done your research and are outputting high-quality content.

Don't concentrate all your links in one section of your article

. Spread them out throughout the piece. Avoid using more than two links per paragraph. Don't add links to your first paragraph (you want to keep the reader on your page for longer before they go to check something else).

Go directly to the sources.

For example, if you want to quote a study by Gartner, link to the report's landing page on Gartner's website (not a news article covering the findings of the report). 
💡 Anchors are a big deal in SEO. Learn the ins and outs of effective SEO anchor text with our guide.
7. Write meta tags
Meta tags describe the content of a page when searchers find it on the results page. 

Meta tags need to be catchy because you want to incite searchers to click. For this reason, you should:
Use actionable language. 

Ensure the title tag is under 60 characters.

Keep your meta descriptions between 140 and 155 characters. Having descriptions that are too short, long or irrelevant to the search queries increases the chance that

Google might rewrite them.

It's better if you can keep your own copy, especially if you spent time crafting a click-worthy meta. 

Include target keywords in both the meta title and description. If you can use the keyword toward the front, it's even better. 
Google doesn't use the meta description as a ranking factor, but if someone is searching for those words, they will appear in bold in the description, which helps to attract the searcher's attention. When it comes to meta titles, there are two approaches:
You use your H1 as your meta title, too.

You target a different but similar keyword in your meta title. 
Which one is better? Our clients have been successful with both strategies. 
💡 Keep in mind that meta tags play a direct role in your click-through rates (CTRs), so it should not be an afterthought. CTR is a very important SEO metric because a successful search optimization project is not only about keyword rankings but also about conversions.
👉 Need help crafting compelling meta tags? Read our guide on how to write SEO-friendly meta titles and descriptions.
8. Incorporate at least 2 FAQs at the bottom of the document
Frequently asked questions (FAQs) have the power to supercharge your organic search results. We have seen it firsthand as we leverage FAQs across our portfolio. Our clients get pretty excited when they start seeing the results. This is an effective strategy to optimize your content for featured snippets – the short boxes of text appearing at the top of the results page to quickly answer a query. 
Here's an example of what it looks like, with Google retrieving the featured text from the FAQ section at the bottom of our post on classic pagination vs infinite scroll.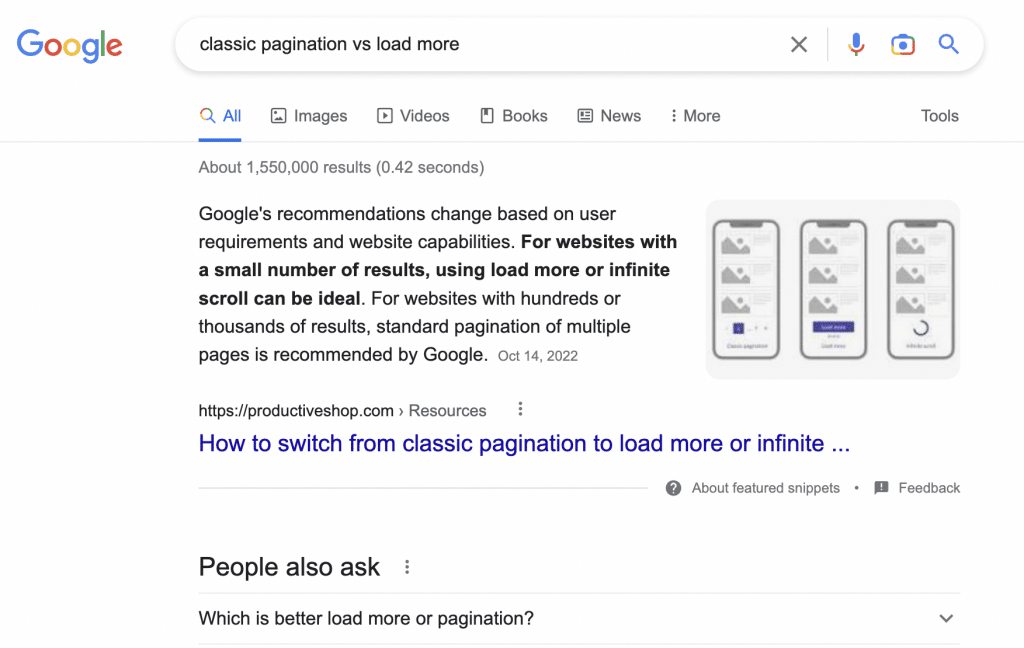 As a technology writer and editor, FAQs are one of my favorite things to work on. They might look simple to write but they require a higher level of precision. You need to bring language to the bare minimum, removing all the fluff and going directly to the point. 
💡 It's critical to add proper schema markups to your content in a question-and-answer format. Read our ultimate guide to SEO FAQ schemas to discover why.
9. Do not forget your CTAs 
Ultimately, you want to create content that ranks and converts as well. When evaluating content performance, conversion is the metric that B2B marketers rely on the most, cited by 70% of professionals in the Content Marketing Institute's annual survey. So it's no surprise that SEO writing typically includes calls to action (CTAs) encouraging the readers to:
Download a white paper

Watch a webinar 

Read a case study

Schedule a product demo 

Get a free trial

Subscribe to a newsletter

Register for an event

Contact the sales team
❌ Do NOT have vague CTAs such as "read here," "learn more," and "click here." These generic CTAs don't compel interest, and Google doesn't like them either. 
We recommend adding at least two CTAs if you are writing a 1,000-word blog post. 
1. Include what we call a "mid-post CTA" inviting the readers to explore a related topic in your resource center. For example, you could have a CTA linking to another blog post. Make sure you are using actionable language so your readers know what is expected from them. And try to make your CTAs exciting. Simply saying "Learn more" is a bit boring. Here's an example we like:

2. End each piece of content with a call to action to your demo or contact us page because that's an opportunity to generate leads. Here's an example we like:

10. Use a writing assistant
We recommend using an SEO optimization tool to check if every post you write is optimized for search engines. We are referring to software such as Clearscope, MarketMuse and Semrush SEO Writing Assistant. With this type of technology, you typically have to insert the keyword or topic you want to rank for, then you get recommendations of more related keywords that would give you stronger SEO results. 
These tools might also help you identify readability issues (for example, long paragraphs and hard-to-follow sentences), keyword stuffing and more. The images below show the type of insights we got when we first ran this piece through the Semrush tool: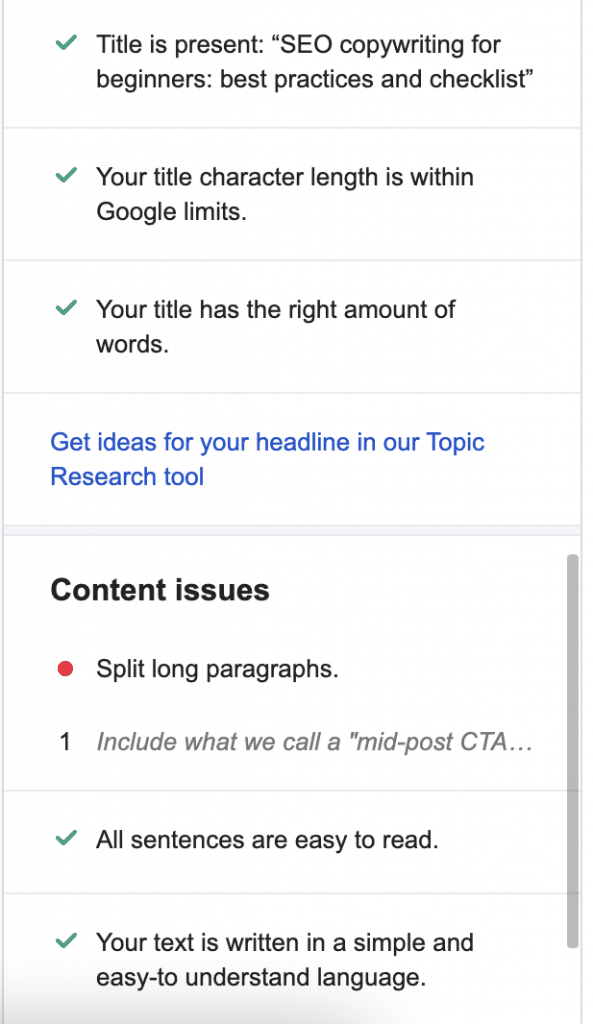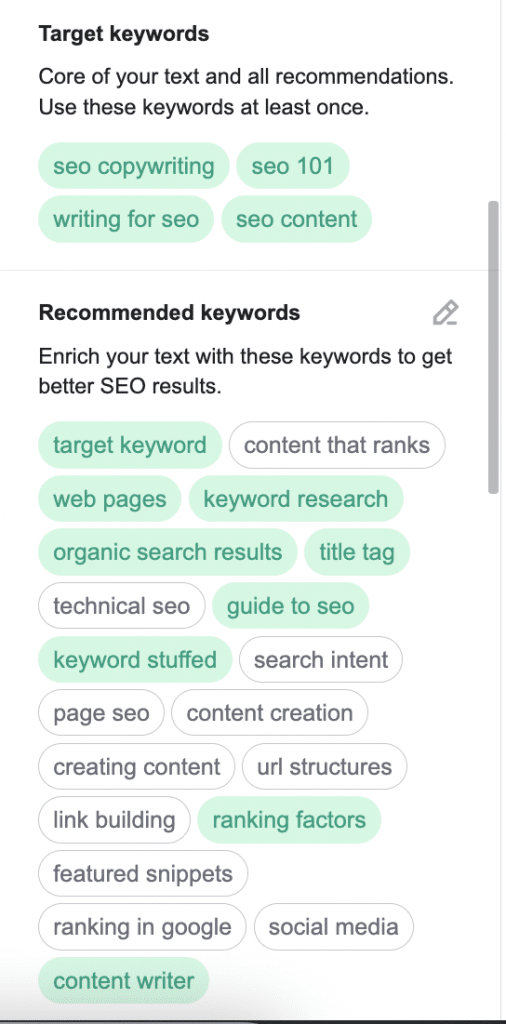 The ultimate SEO writing checklist template 
At Productive Shop, we love content and SEO checklists. Our writers use checklists to ensure everything they output follows B2B writing for SEO best practices. If you want to do the same, here's a sample of questions you could ask before submitting a draft: 
Do I have a meta title? Is it under 60 characters?

Did I write a meta description? Does it have 120-160 characters?

Did I add keywords to my meta tags?

Are my meta tags actionable and catchy?

Did I add my main keyword to the H1?

Did I add the H1 keyword to the body text too? How many times?

Did I add keywords to my H2s, H3s and body text?

Did I add crosslinks to at least 3 pages (product page, blog posts, case studies etc)?

Is my content backed up with data?

Did I check the credibility/quality of my sources?

Did I check my anchor texts?

All my links are working?

Is my copy original? 

Are my paragraphs short? Did I add bullet points, headings and images to improve readability? In order words, is my copy easy to scan?

Did I add alt texts to my images?

Did I write FAQs contextually relevant to the topic?

Did I add at least two CTAs?

Am I consistent with style guidelines (capitalization, Oxford comma etc)?

Did I proofread my copy?

Did I verify with my SEO team that they have a specific schema ready for my content?
Need help writing for SEO? We've got you covered
Whether you need help building a marketing editorial calendar for your website or outputting search-optimized B2B content, our team is here for you. We love delivering SaaS content that converts while advising B2B marketing teams on SEO writing for beginners. Let's chat.
Frequently asked questions 
Why is content important for SEO
?
Content and SEO come hand in hand. Content is important to help you rank for your target keywords, drive traffic to your website and generate conversions. Offering high-quality content, which is original and useful for the readers, improves your visibility in search, educates your prospects through their buyer journey and boosts your thought leadership.
For successful results, you need a website editorial calendar that resonates with your target audience and content that is optimized for search.
👉 Check out our guide if you need help building a killer B2B editorial calendar for SEO results.
Why is having duplicate content an issue for SEO?
Duplicate content is content that appears in more than one place. Duplicate content on your website can lead to keyword cannibalization, when you have multiple pages with similar content competing for the same keyword, making it confusing for the search engine to determine which content should rank higher. 
👉 Read our guide to keyword cannibalization to learn how to avoid diluting your SEO efforts.
You should also keep in mind that Google values original, high-quality content. Duplicate content might be a sign of plagiarism, which can also hurt your reputation.
What should writers know about
Google's helpful content update
?
Google's helpful content update is a change in Google's search algorithm to better reward high-quality, original content that adds value to the users. Writers should know that, with this new update, their content should have a people-first approach. Here's how: 
Match content to search intent.

Cover the topic in full, leaving the reader satisfied.

Keep a conversational tone, writing for humans, not bots.
I already have insightful
B2B content
on my website. Can Productive Shop enrich it for SEO?
Absolutely. We can optimize your existing content with the right keyword structures and internal linking strategy. We cluster your existing blog posts into logical categories, identify target keywords for the page and crosslinks opportunities. We also run your copy through advanced tools to ensure SEO compliance and help you implement the correct schema markups for your content.
👉 Get in touch if you want to hear more about our search optimization services.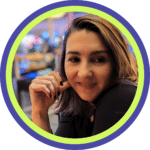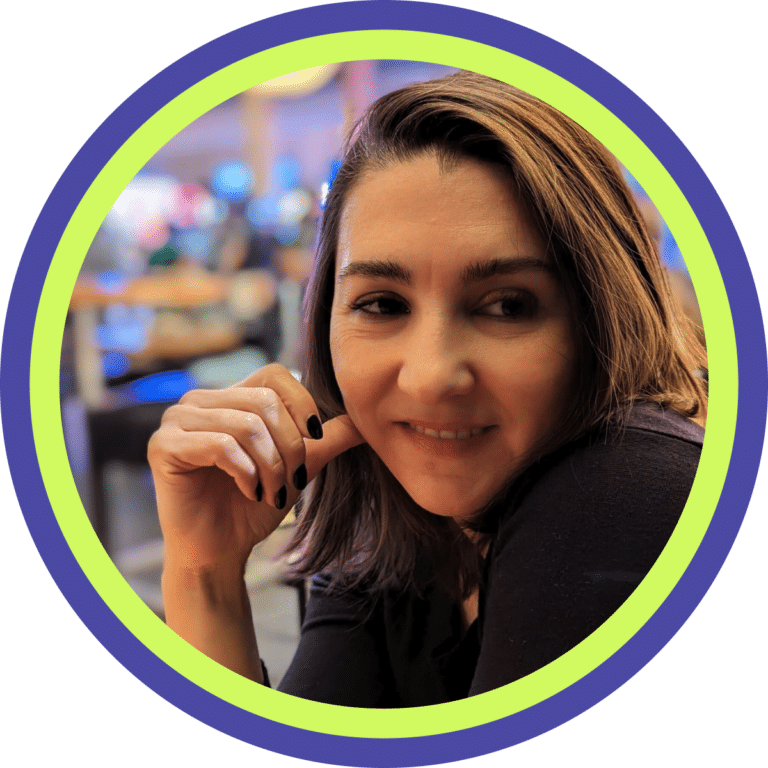 Vanessa Nunes, PhD
Vanessa Nunes leads the content team at Productive Shop, based in our downtown Toronto office. She oversees our B2B SaaS content strategies across our entire portfolio, ensuring our growing team delivers resonating copy that is optimized for search. Her own expertise is in researching and writing thought leadership content in the cybersecurity and GovTech industries. As a journalist, Vanessa has over a decade of experience covering the tech sector for a leading daily newspaper. Prior to Productive Shop, she worked for a research center at a Canadian university, chairing academic discussions and editing scholarly work for publication. Vanessa's formal training includes an undergraduate degree in Journalism, a master's degree in Cultural Studies and a Ph.D. in English. Her doctoral research — funded by the prestigious Social Sciences and Humanities Research Council of Canada (SSHRC) Fellowship — focused on issues of language and representation in the transnational imaginaries of the Americas. When she's not writing or reading, Vanessa is running, cycling or traveling the world. She has visited over 20 countries and is currently training for her first marathon.