In the era of AI writing, why is content the most difficult task of SEO?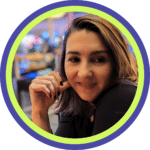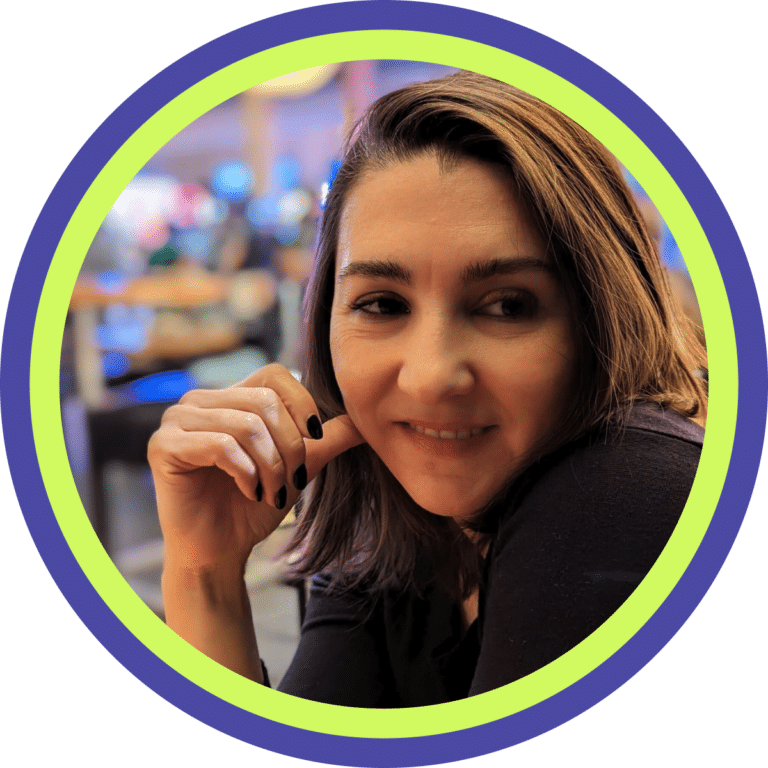 Vanessa Nunes, PhD
Content team lead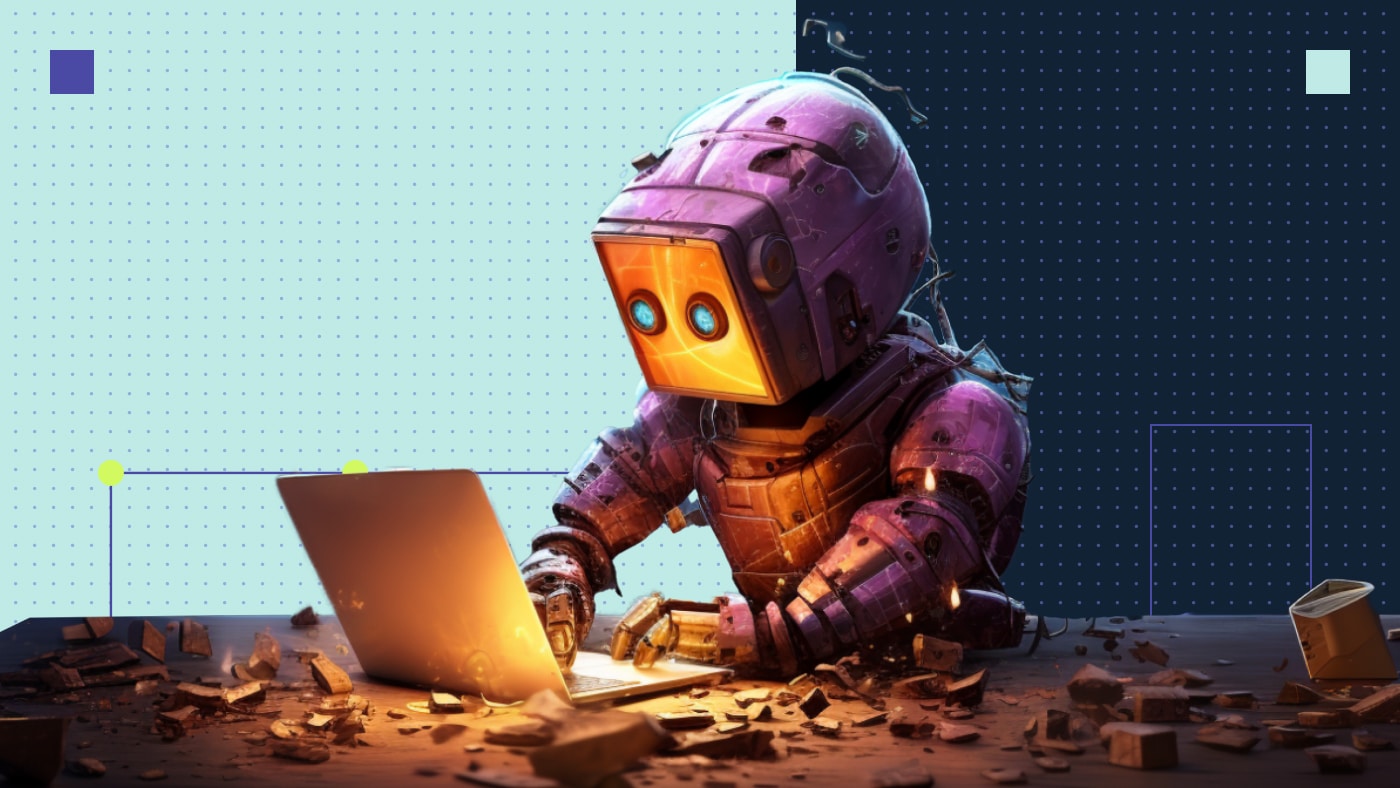 If you want to build your online presence and generate leads from your website, you need to invest in search engine optimization (SEO). That means you need to focus on content creation – an area where generative artificial intelligence (gen AI) has the most profound and far-reaching impact. 
Generative AI is a type of artificial intelligence that leverages vast datasets and machine learning to autonomously generate new content. AI writing tools like Jasper and ChatGPT make it easier and faster to create blog posts and glossary pages for your website. 
Yet, content is the top challenge for SEO professionals in 2023. In this blog, I explain why. Get an insider's perspective on how gen AI is changing B2B content writing and a roadmap to SEO success in times of ChatGPT.

Understanding the role of content in SEO
Before diving deeper into the hurdles of AI content creation, let's have a refresher on how to get started with enterprise SEO. 
The first step is establishing a good technical foundation. Does your website load quickly? Is it mobile-friendly? Is the code clean and efficient? The technical performance of your site matters because it affects user experience and, consequently, your rankings.
Also critical to user experience is the navigation itself. That's why many of our SEO projects for B2B SaaS companies call for a complete redesign of their navigation bars and resource centers. Searchers who land on your website should be able to quickly figure out what you have to offer – from features and use cases to webinars and case studies. 
After you do the groundwork, you should start outputting fresh content. But no, I'm not suggesting that your SEO blogs should be an afterthought. On the contrary. 
You might think I'm biased because I live and breathe content. I am, indeed. But that's exactly what you need to win in SEO: a bias toward content. 
Content drives SEO
The success or failure of your SEO project depends on your ability to release content. The right type of content: authoritative, resonating and optimized for search.
Easier said than done —  especially when we look at the findings from the latest State of SEO report by Search Engine Journal. 

So why is content the top challenge for SEO pros? 
From my perspective as a content marketer in B2B SaaS, here's why: 
You might have the best SEO strategy but you won't get the rankings and conversions you are looking for if your writing team can't output high-quality copy optimized for search. 

Hint:

AI-generated content for SEO won't make you stand out from the crowd if you don't fact check and work with human editors and subject matter experts.
You might be great at running SEO audits and improving core web vitals, but struggle to put together an editorial calendar that excites readers. 

Hint:

Basic "what is" topics that are so beloved by SEO specialists won't attract, engage and convert bottom-of-funnel prospects.
💡 My point? Different skill sets are required to build and execute a successful content-driven search optimization program.
The challenges of content-driven SEO
Creating long-form content for SEO requires a combination of skills in keyword research and optimization, topic ideation and writing, user experience and ongoing adaptation to search engine algorithm changes. Here's what to consider:
SEO is not a one-person job
You can do SEO on your own if are a unicorn who can audit and fix your website code, conduct keyword research and market analysis, build a content calendar, write comprehensive content targeted to buyer personas and report on SEO metrics. Otherwise, you need a team who knows how to work together and push each other to achieve your search goals. 
Even if you have all these specialized roles within your organization, you only have to gain if these professionals go beyond their own lanes. It doesn't mean you need writers who can run SEO audits, but they should be able to leverage SEO tools to create the keyword structures for their pieces. But it's a red flag if your SEO pros can't advise writers on how to structure their posts for search. Watch out for excuses like "I'm not a writer."
It's all about engaging your readers
Equally important is to get context and the basics of storytelling — simply because building a killer B2B editorial calendar is not only about keywords. It's by understanding your personas' pain points and search query motivations that you'll be able to create content that converts.
You'll have to go beyond superficial statements about your industry and get into the deets of what your readers have to gain. No wonder attracting quality leads with content is the top challenge in content marketing, according to a Semrush study. 
💡 My point? Pitching keywords is different from pitching content ideas — and bringing them to life.
Your SEO team might be great at giving a list of keywords you should rank for — with examples of pages ranking for the same search intent. But to set yourself apart from the competition, you'll need analytical and narrative skills to come up with an angle for your piece — how you are going to speak directly to a specific buyer persona. That's more of a creative side that your technical SEO team might lack. 
When it comes to content, it's all about the execution. 
Strategy doesn't give you results. Execution does  
You might have the most insightful SEO strategy laid down for you with everything you need to outpace your competition: keywords you should go after, detailed editorial calendar targeted to personas etc. But at the end of the day, strategy doesn't give rankings and leads. Execution does. 
You need to implement the technical SEO recommendations and write content in a certain way. If we consider our own SEO portfolio, it's no coincidence that our best results came from projects with content writing in scope. 
That's because, in those projects, we go beyond consulting our clients on what to write about; we do the writing for them. They benefit from our tested method, which includes competitive analysis, keyword research and SME interviews as the foundation of resonating thought leadership with SEO in mind.
For our SaaS clients, it's the piece of mind that the content checks all the boxes. That's the type of feedback we get.

This client in particular is a B2B cybersecurity company, which requires more technical content and precise writing. On a call, we also heard from this marketing executive that she was expecting to spend three hours making adjustments to the copy because that has been her previous experience working with ghost writers. Working with our team, she didn't have to do it — i.e., we gave her time back in her day.
💡 My point? Leveraging AI is not the only way to scale your content. You can also do so by working with seasoned B2B writers who know what works in your industry.
If content drives SEO, why do we have projects with zero copy hours in scope?
To be successful with content, you need to invest in content. 
Posting more often — on a consistent basis — helps to build your authority, sending the message that your website is fresh and updated (Google will reward you with more frequent indexing). It will help with engagement as readers have more resources to explore or reasons to come back for more. 
Scaling your content efforts is equally important to expand your keyword basis and rankings, giving you visibility in search. 
However, not all of our SEO clients engage us for writing services. The typical scenarios:
They have their own writers – or are already working with freelancers who output content for them.

They know the writers and trust them. In many cases, it's on us to advise them on the best practices for SEO writing. 

They don't see value in spending on content.

In many cases, they have tight budgets and don't really understand what content means in SEO. They don't see their

marketing qualified leads

coming from content, but that's typically the case if you are not outputting the type of resources that give leads (i.e., content mapped to specific personas in specific stages of their

buyer journey

).

They think they don't need to pay for content writing services

. There's often a misconception that it's all about posting more content — and that anyone can do it, especially with the help of AI writing tools. The problem is that quality content comes with a price tag.
Content is the top priority for SEO but companies don't want to spend on professional writing services
Content is the most effective SEO strategy, with quality being as important as quantity.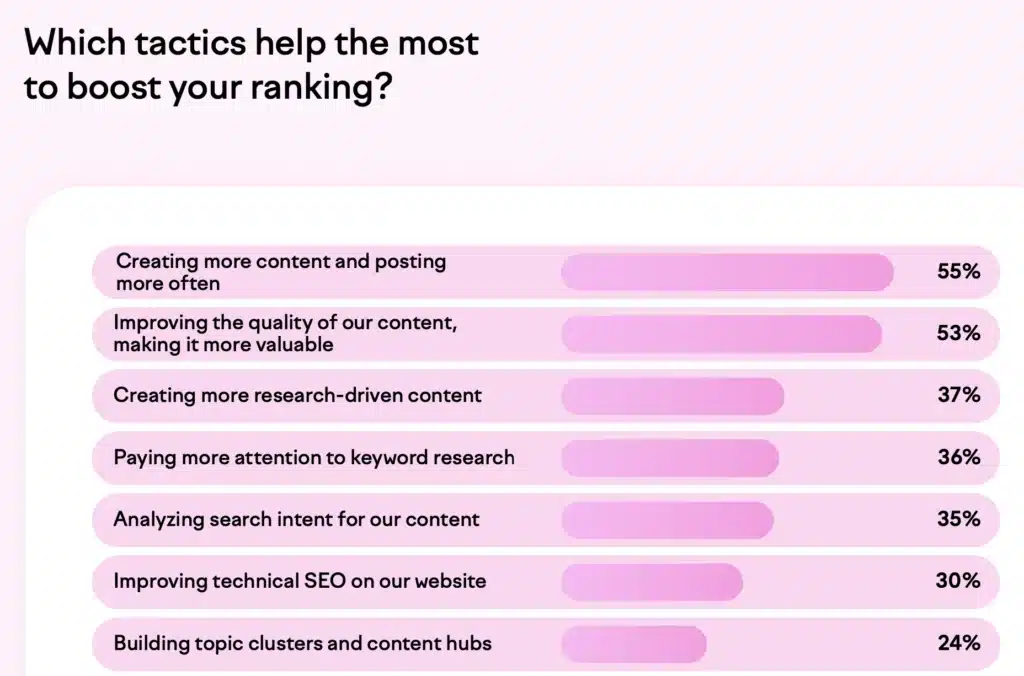 Source: The State of Content Marketing: 2023 Global Report by Semrush
The irony is that many B2B technology startups don't want to pay for content, especially in times of ChatGPT — where blog posts are a prompt away.
In fact, we've seen clients willing to pay big bucks for SEO hours but resistant to spending dimes on content writing. With the rise of AI-powered copywriting tools, we've seen marketing teams reconsidering the need for professional writers. 
Gartner says that the average marketing budgets are falling year-on-year, with three-fourths of CMOs being asked to do more with less in 2023. Doing more with the same resources — or doing the same with fewer resources — is exactly one of the benefits of leveraging generative AI for SEO writing. 

Source: The State of Marketing Budget and Strategy in 2023 by Gartner
So when it comes to SEO writing, often the mindset is that marketing interns can do it just fine with chatGPT. That was the case with an LMS company that engaged us for SEO consulting. We built them an impactful editorial calendar to grow their keyword base and outpace their competition. Since copy was not initially in scope, they relied on AI writing for their SEO blogs. 
After reviewing the pieces, we had to break the news they didn't want to hear. Their shiny AI-generated blogs were classic examples of thin content — full of repeated sentences and vague, common sense statements.
Navigating the sea of low-quality AI content for SEO 
By automating research and writing, generative AI enables marketing teams to release more content and increase the keyword base of their sites. However, in the pursuit of search results, companies are inundating the internet with repetitive information easily created with the help of AI content writing tools. 
Keep in mind that AI can't generate entirely new content. 
Generative AI tools rely on patterns and information from the data it was trained on rather than genuine creativity or independent thought. While AI can combine existing information in novel ways or bring you ideas of how to approach a topic, it lacks the ability to generate original content that transcends its training data. 
Will AI-generated content give you an SEO edge?
If leveraging AI-generated content means you can output quality content at scale, it can give you an SEO boost. After all, releasing more content helps to increase your keyword base, rankings and online share of voice.
In fact, online marketplaces and e-commerce sites successfully rely on programmatic SEO to increase keyword base and maintain competitiveness in search engine rankings. Since there's abundant information available, AI on its own can do a better job in those industries.
For SEO success in an industry like B2B SaaS, however, you need comprehensive content that demonstrates human creativity and a deep understanding of context. For higher rankings, you need to ensure your content is better than what is out there. That's why one of the pro tactics is to analyze top-ranking pages for a given keyword on SERP and then ensure your content is more comprehensive. When dealing with a niche industry, you'll need to look for information that is not widely available on the internet. Look for precision.
Superficial and fluffy AI-generated text won't do well in search. In fact, Google penalizes low-quality, duplicate content because it doesn't bring any value to readers. At the core of Google's ranking system is the concept of E-E-A-T, which is used to evaluate the quality and credibility of pages.
Experience:

Does the creator have first-hand or life experience with the topic?

Expertise:

Does the creator have the knowledge and skills in the subject area?

Authoritativeness:

Is the creator or website known as a go-to source for the topic? 

Trustworthiness:

Is the content accurate and reliable?
These requirements help to understand why content is the most difficult task of SEO. It's not only about writing content itself — something that AI can help with. It's about ensuring that your written content is unique, resonating and valuable.
How to get started with AI for SEO writing
AI writing tools should definitely be in your marketing toolset, helping you work smarter and become more productive.
ChatGPT is one of those rare moments in technology where you see a glimmer of how everything is going to be different going forward.

— Aaron Levie (@levie) December 3, 2022
Artificial intelligence tools are great for brainstorming and simplifying concepts. An AI writer can help you with initial research for SEO blogs and the fine-tuning of your sentences. If you ask AI to summarize a report for you or uncover the key insights of a document, you are definitely gaining time. For eight out of 10 respondents of a Salesforce study, operational efficiency is a top benefit of gen AI.
Increased demand for AI content writers
When hiring for our content team, I look for writers who know how to make the most of AI tools to become more efficient. In a ResumeBuilder.com survey, 91% of organizations that are currently hiring say they want workers with ChatGPT experience. Two-thirds of business leaders think it would give their company a competitive edge.
If you ask AI to write an entire blog post, you'll get lots of vague and redundant sentences. In some cases, outdated and inaccurate, too. ChatGPT 3.5, for example, has limited knowledge until 2021.
Also, AI content for SEO is as good as your prompts. You need to give your AI writing assistant detailed directions to get more specific results. 

To stand out in times of AI writing for SEO, you need thought-provoking content
The irony here is that AI made it easier to write content, but writing content has become more difficult than ever. If you are going to output subpar content, you are no longer needed — because an AI writing assistant can do it faster than you. 

Source: 2023 State of Marketing AI Report by Marketing AI Institute and Drift 
There's indeed more pressure on content teams to write better – and faster. To create original content that stands out in search, writers need to:
Make the most out of AI tools to boost efficiency

Have strong

research and analytical skills

Think outside the box

Uncover insights that are not out there on the internet

Be strong editors and fact-checkers 
AI for SEO content: Best practices for writers
Looking to leverage AI tools to write faster? Here's how to improve your AI-generated content:
Cut down the fluffy and go deep.

Watch out for repetitive information and superficial, common sense statements. Back up the claims by adding data points to your blogs.

Don't ask chatGPT to give you data points. Or you will risk getting outdated stats or, worse, made-up information.  

Evaluate the content for logical flow

, coherence and readability. If needed, reorganize paragraphs or rewrite sentences to improve the overall structure and clarity of the piece.

Leverage interviews with subject matter experts

(SME) to incorporate first-person accounts and unique perspectives. 
Let's help you ease the burden of AI content creation for SEO
If you are struggling to scale your content efforts or navigate the requirements of SEO writing in the era of generative AI, work with a team that has a proven record of helping tech startups build thought leadership and grow their businesses. 
We can help enable your team by fusing AI writing with human backed contextual research and experience.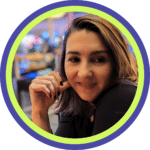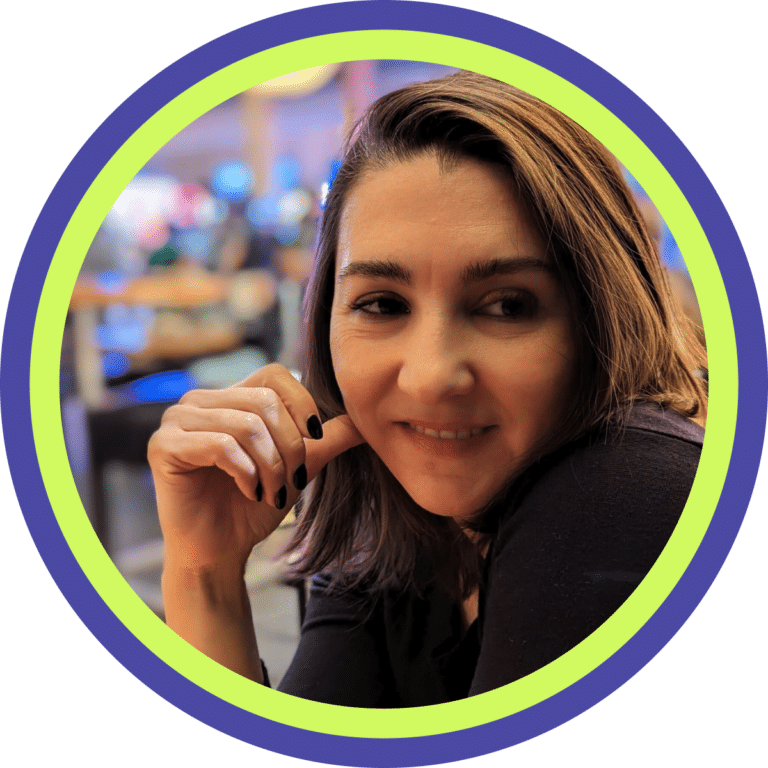 Vanessa Nunes, PhD
Vanessa Nunes leads the content team at Productive Shop, based in our downtown Toronto office. She oversees our B2B SaaS content strategies across our entire portfolio, ensuring our growing team delivers resonating copy that is optimized for search. Her own expertise is in researching and writing thought leadership content in the cybersecurity and GovTech industries. As a journalist, Vanessa has over a decade of experience covering the tech sector for a leading daily newspaper. Prior to Productive Shop, she worked for a research center at a Canadian university, chairing academic discussions and editing scholarly work for publication. Vanessa's formal training includes an undergraduate degree in Journalism, a master's degree in Cultural Studies and a Ph.D. in English. Her doctoral research — funded by the prestigious Social Sciences and Humanities Research Council of Canada (SSHRC) Fellowship — focused on issues of language and representation in the transnational imaginaries of the Americas. When she's not writing or reading, Vanessa is running, cycling or traveling the world. She has visited over 20 countries and is currently training for her first marathon.