What it actually means to be a B2B growth consultant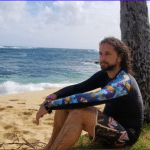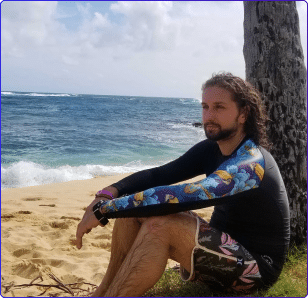 Imran Selimkhanov
Founder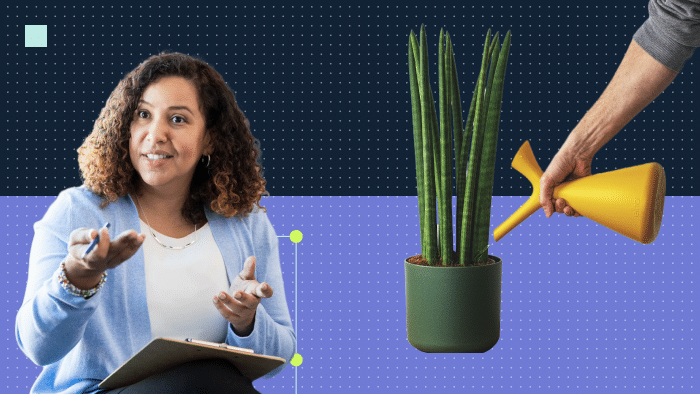 Helping technology startups grow their share of voice and organic leads isn't a walk in the park. It takes a concentrated effort of an interdisciplinary team of specialists, often referred to as growth consultants.
But what type of mindset and skillsets should the right consultant bring to the table to succeed in building a high-impact (and exciting) career while delivering immense perceived and tangible value to the client?
I'll often refer to the word client within this article. This pertains to both internal and external teams. An external client is someone outside your organization, and internal clients are your peers. Once you get into treating everyone as a client, you'll see that your service quality and speed to delivery will increase.
Value creation mindset and methodologies 
Value creation can be achieved by generating more sales to the business or by improving its operational efficiency. Although it isn't shocking that most people don't have and will not have this mindset (whether through self-induced apathy or a lack of proper education), people who look to add value via their business interactions are aligned to reach the moon and beyond. Let's look at various value-generating methods.
To be a great B2B consultant, you should be intimately familiar with at least three of the following ways to generate tangible value for your client.
Generating sales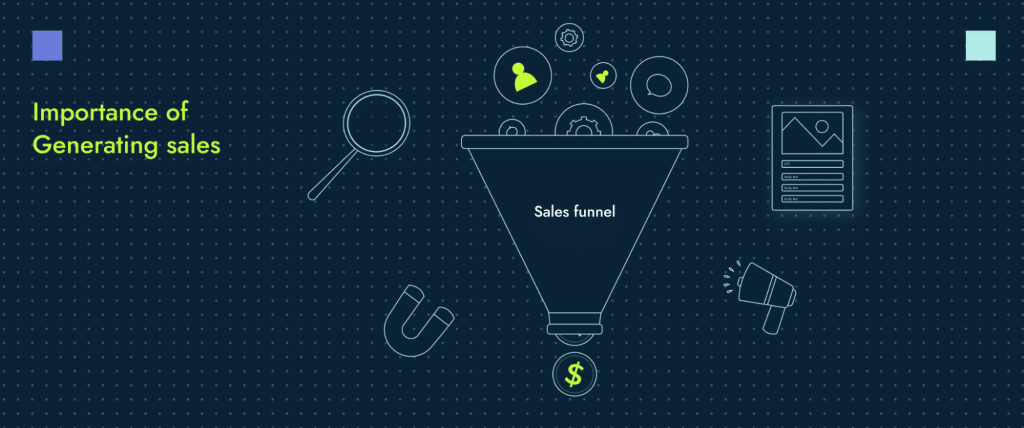 You don't have to know how to execute on all sales generation tactics listed below but having at least two will align you to be irreplaceable at any well-run company. 
1. Search engine optimization & thought leadership
SEO and content writing are the critical scalers for B2B businesses (alongside a crack sales team). Although most organizations get their start without organic search and content, to scale faster, you need to know how to run a B2B organic search program and build a content calendar geared toward swaying the decisions of your ideal purchaser. An effective SEO and thought leadership program results in a significant reduction of martech debt, an increase in relevant leads, a stronger hold on the industry narrative and an optimization of internal marketing and web team processes. 
🏷️ Interested in increasing organic traffic and leads? Have a look at our SEO for startups program. 
2. Paid advertising
An efficient advertising program that continuously targets and retargets new and existing audience pools to help bring awareness to the masses in a very short period. You should know the basics about common pay-per-click (PPC) platforms, the role of programmatic advertising in your industry or have a reliable partner within reach that can implement it for you. For B2B, however, paid advertising doesn't have the same immediate effect as it does for B2C due to longer sales cycles and lack of easy attribution. If you're running paid in B2B, you better be driving people to high quality content, which can typically be created by either your product team or a specialized B2B marketing agency.
🏷️ Learn about our demand generations services for technology companies. 
3. Channel partnerships
The hardest tactic to skillfully master is building channel partner relationships that will help the business gain prominent influence within hyper-relevant circles of decision makers and decision influencers. Actively working on in-person relationship building with clients and partners is key to amassing influence and growth. 
To build great channel relationships, you need to create mutually beneficial offers to both parties — for example, if you are an online course learning platform, it would make sense to make partnerships with influencers in various educational niches such as finance, fitness and business. This way, if you're cross blogging or offering discounted ad placements or packages to each other's audiences, both parties win — and grow together.
4. Sales team growth
This one is incredibly hard, reserved for the few who have the stamina and stress tolerance (and potentially a cash war chest wouldn't hurt) to build a world class sales organization. Think of the likes of Oracle NetSuite, HubSpot, Gong, Stripe, parcelLab and Armis. The right sales team starts as all-doers that do SDR, BDR & SE work, after which those become three separate internal organizations as you grow.
Operational improvement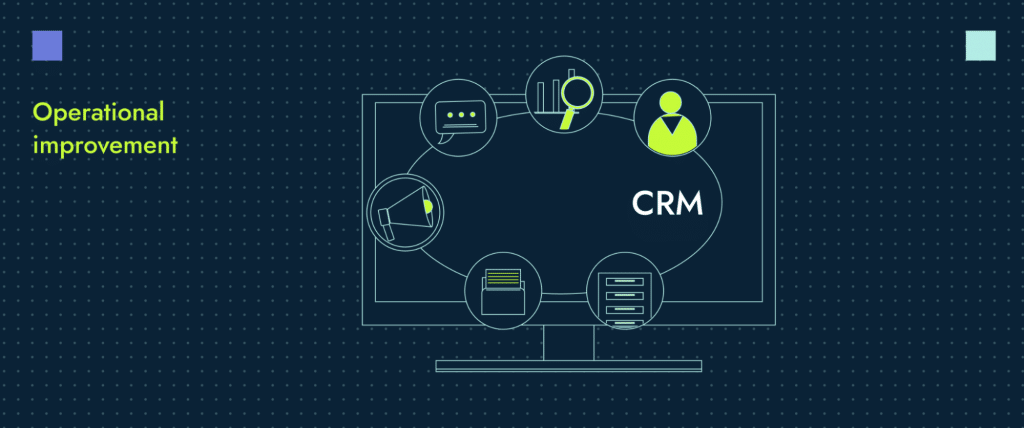 1. Implementing a CRM system
To ensure your sales team spends more time actually selling and less time in a spreadsheet or endless CRM updates, you need to automate the prospect-to-customer process to be as low touch as possible. For marketing teams, the CRM is perfect for automating email nurture tracks, managing chatbot flows, landing page submissions and cross-social channel output. 
🏷️ If you're looking to implement a CRM, we can help implement HubSpot for you — reach out if you need help.
2. Enabling an efficient project management process
No company will scale without a great and engaging project management office (PMO) that is incentivized based on client referrals and project profitability. The PMO is best staffed with people who've done the grunt work and then graduated to being PMs (this way they'll know the underwater stones to watch out for). Alternatively, PMs have a natural curiosity and know how to ask critical questions and enjoy the art of expectation management. 
3. Enabling an efficient development practice
Without a great technology leader in your organization, you'll output low-quality code and won't innovate actively with software and service delivery, directly affecting client satisfaction. Knowing how to scale the development and quality assurance teams is paramount to helping an organization reduce technical debt and talent attrition. It also helps to discover and apply new technology that will keep your organization get battle ready. 
🏷️ Need help on the development front? See if our dev services may be a fit for you: 
4. Tune the HR practice
Implementing the right HRIS system, hiring the right-fit team members fast and firing correctly are critical to conserving budget, retaining and growing talent, communicating prestige (via people you hire) to your clients and protecting the company from litigation. 
5. Implementing an ERP system
A massive time waster for operations teams is manual payroll, financial planning & analysis, project profitability tracking, time tracking and HR job listing and team performance reviews. Optimize those processes and you'll see talent retention and cash reserves grow while shrinking delinquent payments and technology debt. 
Here's a diagram of B2B value creation service areas and their impact on organizational performance (based on Productive Shop's experience):
Understand research methods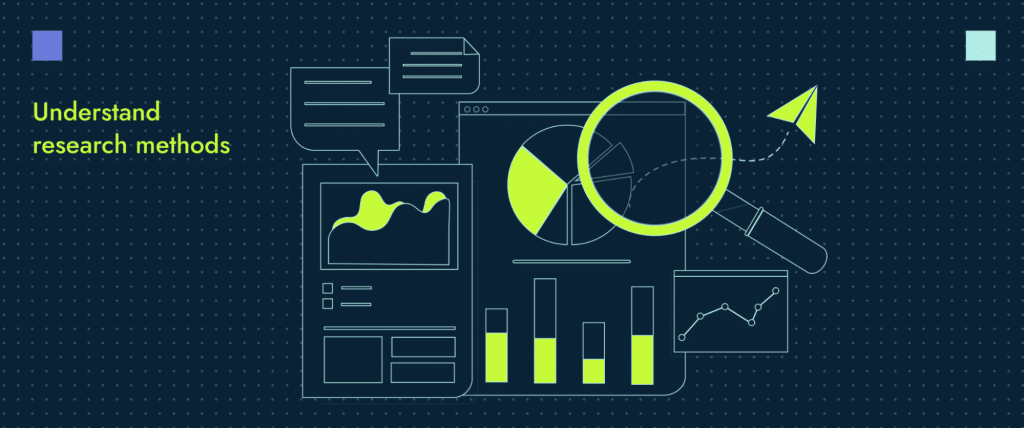 Whether you're a growth strategist, a project manager, a content writer, a designer or a developer, you need to know how to intake, structure and verify your client's business requirements. 
The biggest sin in consulting is to come to the table without doing prior research and asking basic questions you should have known the answer to/figured out yourself before a client meeting. Always do your due diligence ahead of time to bring potential solutions to the table and not just blindly intake requirements and ask questions you should have known the answers to before showing up to a client meeting.
Let's review the two most common research methods you should be very familiar with. Both methods apply to any type of research, whether you're looking into competitions, trying to solve a development problem or doing background contextual research before writing an article. 
Open-source intelligence (OSINT)
Do you know how to use openly available qualitative and quantitative information to formulate a plan to build a competitive advantage for your client? 
Using tools like Google Search, TalkWalker, BuzzSumo, Semrush, NetPeak, ChatGPT etc. to crawl webpages and review sites can help you gather a wealth of information from which you should easily be able to spot patterns to apply to your business case.
Understanding how to conduct competitive research against your direct and indirect competitors is critical to getting an edge in engaging their existing and potential customers to consider and select your solution instead. This applies to all roles and not just researchers but to strategists and content writers too. When you've got a problem, find a solution for it first via openly available research. 
Human intelligence (HUMINT)
Eliciting information from in-house or client experts is an art and should be common practice for you as a consultant – it's typically referred to as business analysis. Understanding what to ask for, how to ask it, reconfirming what you've learned and guiding the client around what they may feel is contradictory to their view is critical to a consultative approach. It makes clients feel heard, understood and builds a trusted bond. If they consider you an ally, they are less likely to replace you.
🏷️ Learn about our competitive intelligence services designed to help you win market share.
Flawless expectation management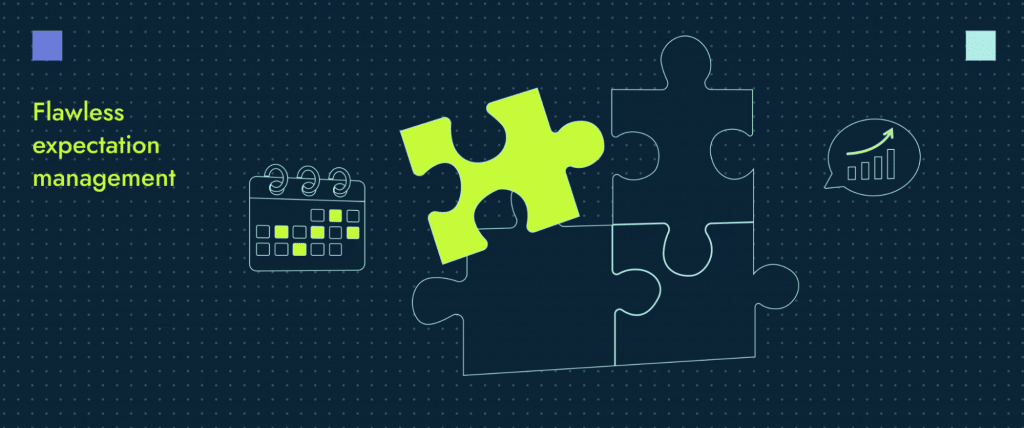 Have you run into a situation where you knew everything about a project's scope, timeline and strategy while the client shocked you with basic questions about the project? Or perhaps you thought everything is going to plan, but the client calls you (or works around you to call your peers) frustrated about the missed deliveries of milestones. Expectation management failure and unclear communication are the core reasons why projects fail.
Managing expectations as a regular practice will increase client trust and ease contract renewals and assist in project upsells. 
Sharing meeting agendas ahead of time, revising the scope regularly, reviewing monthly progress reports, sharing timesheets and keeping a risk log a part of your regular process are key fundamental steps to take while managing projects.
When working with internal teams, you should also ensure you manage expectations for on-time delivery. Understand your team's lead times and don't just pass items at the last second before the due date as that does not give enough time for quality review. If you're going to be late with internal delivery, make sure you manage expectations, as most likely, an external client-facing task timeline will need adjustment. 
Assume nothing, verify everything 
All of your competitive research, client-gathered requirements and proposed solution documentation need to be verified by and accepted by the client. It's the only way to ensure you're on track and do not get thrown under the bus by one of the client's team members. 
The typical problem areas to watch out for are requirements and solution documents, reporting templates and technology plans. Once you make verification a natural part of your consulting mindset, you'll notice that other skillsets such as expectations, scope and quality management will also improve. 
Back your findings with proof (to show you've done diligence).

When submitting work to a client, ensure someone else in your team has reviewed it first (and give them enough lead time). 

When you see that the client is making a mistake or about to make a mistake, educate them on why you think it'll be the wrong course of action (based on examples).

Document all decisions and pivot points throughout your project. The best place to do that is within your project tasks. 
Master the art of others feeling heard and cared for
Since consulting is all about human interaction, you need to ensure your client contact feels heard at all times – even if you believe they are unreasonable. This doesn't mean you need to do what you're told  (and if you do, just use the verification technique so that if you did take the wrong route due to their flawed understanding, the blame isn't attributed to you). By doing so, you are fostering a collaborative environment and making the client a key part of the decision-making process.
It is essential to provide your clients with guided information to keep them on a Productive track (pun intended), even if they perceive the ideas to be theirs – it's cool, that's the art of consulting. 
📙 Here's a great book to read: How to win friends and influence people
Manage process changes and personnel transitions gently 
Throughout your projects, you will experience multiple change management scenarios with the top ones being: 
Transitioning key people:

When introducing new people to a project, ensure they are completely briefed on the client context, personas and product and the new roles and responsibilities are especially clear to the party sponsoring the project (your client). Keep in mind that one faces heat on every project and very regularly, so ensure there is a shadow period involved before disengaging the POC that knows the client for sometime. 

Transitioning technology:

At times, your project management, reporting dashboards, research, CRM or other tools may change mid project. Manage expectations ahead of time and ensure that everyone is trained on the new processes and UI of the toolset before making the switch.

Transitioning processes:

This includes intaking client bug fixes, communicating in-chat channels, task management, keyword approvals and many changes throughout the project. Similar to tech changes, ensure that the new process is clearly defined instead of just switching to it overnight.
Communicating value to clients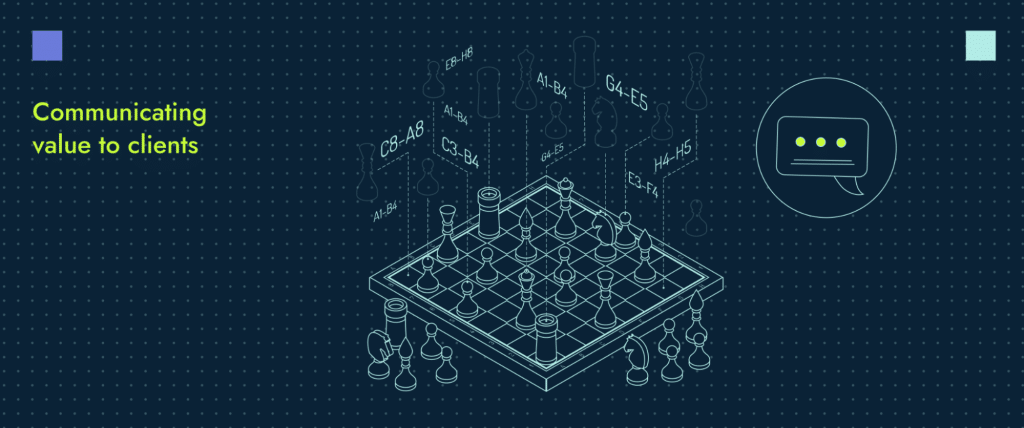 Think of consulting as losing chess endgame where you're always in a corner and your king always finds himself in check. So, think of your individual, team and company impression and contracts always being held in question for its performance. When you survive these corners by generating amazing value (more traffic, clicks, leads, sales and revenue) and if the results of your grind are not communicated properly, it may be overseen by your clients when your retainer is being evaluated.
Post in external communication channels
Don't worry, if you have ensured proper visibility (which, by the way, increases the success rate of your projects by 48%) of your tasks and work, your losses are always found on the tables of client higher-ups, but make sure to also take full accountability of your wins. Take screenshots if needed and post about the victories in shared channels, while tagging important people that need to see your performance. 
These "sugar-hits" can give credibility and enhance trust of the client team's senior members in executives handling agency relationships (i.e. your POC). This also boosts your chances of developing a long-standing relationship. 
While you don't see the client spreading your wins internally, you can count on it happening because marketing teams are dependent on your output as well. 
Report again
Make sure to include wins in the upper sections of your reports, highlighting them as much as possible. You can mention previous wins very briefly in future reports with downturns in performance to remind of earlier value, but you don't stretch it too far out.
Be outcome driven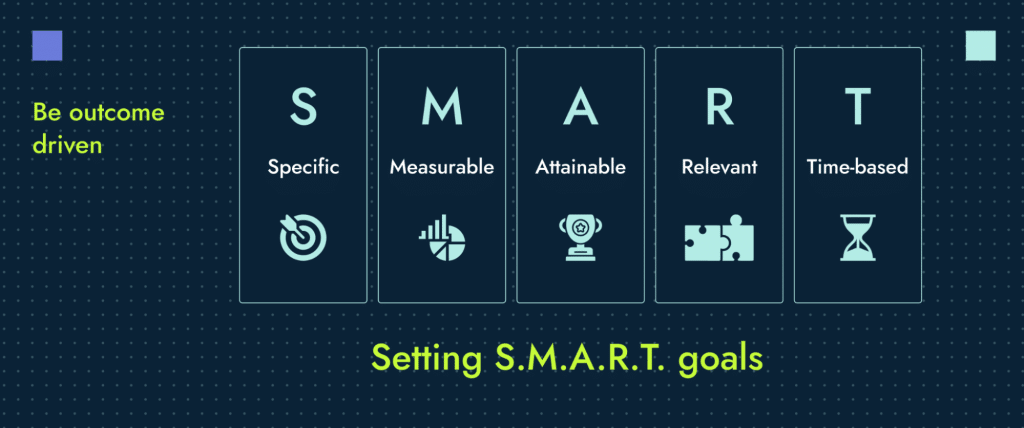 Is your project performance measurable? Setting S.M.A.R.T. goals for the project, even if they are basic, will save you during quarterly and year-end reporting (when it's open season to can consultants/agencies). Everyone on the consulting team MUST be obsessive about performance metrics and fully understand the purpose of the project. 
Some very basic KPIs across multiple teams for B2B growth programs could be: 
Decrease in technical issues

Increase in keyword growth (by cluster)

Increase in leads

Increase in regular content output (an SEO strategy drives that) 

Decrease in amount of revisions required post the first content draft 

Increase in demo downloads

Decrease in customer churn

Increase in customer referrals

Increase in ads conversion rate

Decrease in bounce rate

Increase in time on page 

Increase in new visitor sessions

Decrease in bugs post-live 

Increase in time-to-resolution

Business team enablement: via letting them access and update their website, docs hub etc without the constant use of developers

Increase in time-to-productivity of new employees 
Not being outcome-driven guarantees your eventual firing and a lack of referrals.
Take accountability for decisions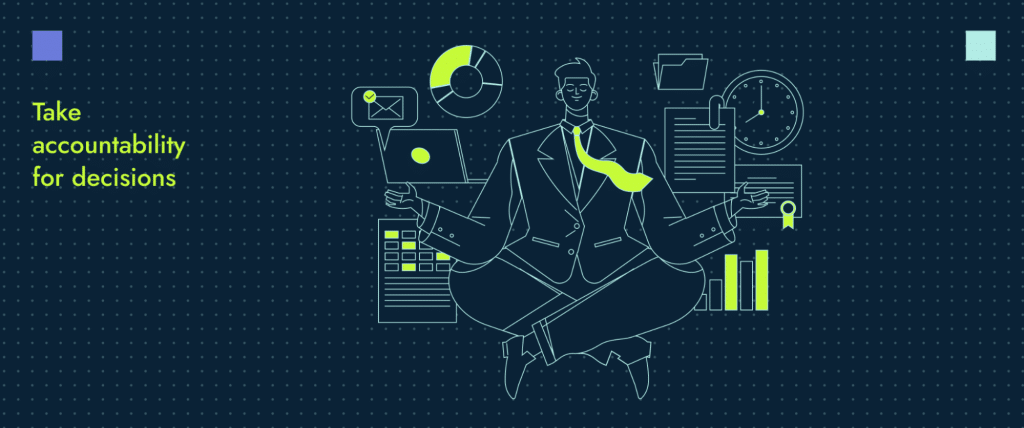 Taking accountability for your actions is sexy, as it builds an honest "his/her word is paramount and he/she will own up to mistakes and correct them" reputation. People who do not keep themselves and others accountable for work don't last in high-performing organizations and projects. 
📙 Here's a great book to read: Crucial Accountability (to be clear, anyone who is in a leadership role should read this book)
Always be billing out-of-scope work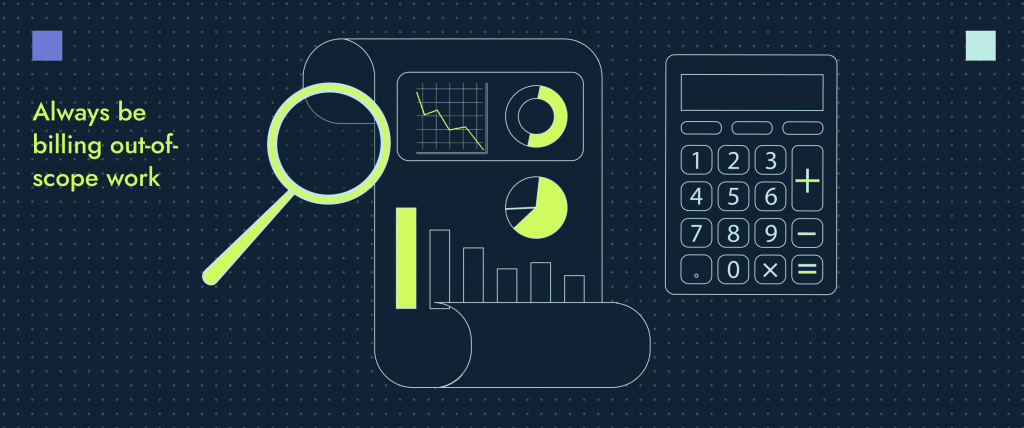 Is someone benefiting from you spending time enhancing their business? Then get comfortable billing them. Most clients will run over scope by the second month of any project – especially if you're doing GREAT work, they'll WANT to give you more work as they see you as an enabler. 
Use your skillset in expectation management and requirement verification to ensure they know that the additional effort will be xx amount of hours ($) – this is okay and should be a regular practice. 
Why would you give away free services? (That means you're being taken advantage of).
Align the "afterwork" 
Afterwork is what comes after the agreed-to scope has been completed. Afterwork is critical to growing a client account. Whether they think they need it or not, there is ALWAYS more work to be done, which the client might not have the capacity for. To align afterwork, especially in growth marketing, focus on what else could be done to help grow their business and start aligning it well before project completion. 
For example, if you've just completed a foundational SEO program setting, you should be looking into aligning:
Web support

Plugin management

Cybersecurity 

Content management 

Component editing

Content output

Editorial calendar 

Content writing

Continuous technical SEO optimizations (this is different from web support)

Paid advertising

Design support

PR releases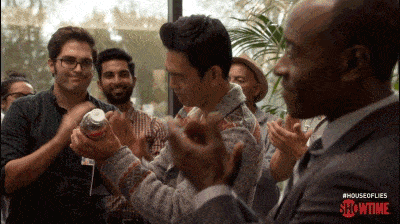 Summary table: Growth consulting skills with their impact on project flow
Diagram of  growth consulting skillsets and their value creation impact
| Service | Improving sales | Keeping project on track | Trusted client relationship | Informed decision making | Teamwork cohesion | Improving personal value |
| --- | --- | --- | --- | --- | --- | --- |
| Generate sales | XXX | | | | | XXX |
| Improve operations | | XX | | XX | XXX | XX |
| Open source intelligrance | | XX | XXX | XX | XX | XXX |
| Human intelligence | X | XXX | XXX | XX | XXX | XXX |
| Verify information gathered | X | XXX | XXX | | XX | XX |
| Make others feel heard | XXX | XXX | XXX | X | XXX | XXX |
| Outcome orientation | XXX | XXX | XX | XXX | X | X |
| Accountability | X | X | XXX | X | XXX | XXX |
| Activte billing | XXX | X | X | | X | |
| Aligning what's next | XXX | X | XXX | | X | XX |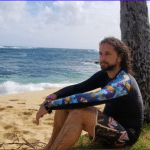 Imran Selimkhanov
Imran is the founder and CEO of Productive Shop. He writes on B2B demand generation and SEO strategy topics to help startups understand how to win digital share of voice. Prior to Productive Shop, Imran led demand generation at an Oracle consultancy, ran an e-commerce site servicing LE teams and helped build PMO offices at technology startup companies. When he's not at work, Imran can be spotted hiking in the Rockies, honing his clay shooting skills and tumbling off of black diamond ski tracks due to overconfidence in his skiing abilities.