WordPress vs WebFlow: Which platform is better for building websites [selection checklist included]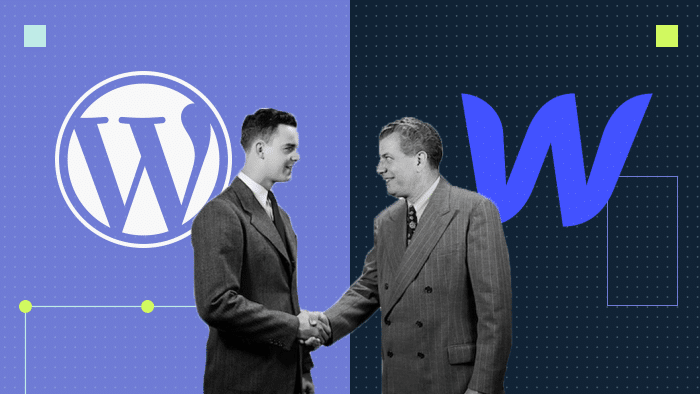 The ultimate CMS platform and website builder rivalry. 
WordPress is the world's most popular content management system, powering more than 43% of websites on the internet. This staggering market share includes blogs, SaaS enterprise websites and e-commerce sites. But it isn't without competitors. While WordPress remains a dominant player in the world of visual website builders, hosted website builders such as Webflow are also gaining popularity quickly. 
Both of these tools are quite useful for people who want to build various types of websites without development knowledge. However, since WordPress and WebFlow offer slightly different approaches to website creation, it is important to do a comprehensive comparison to determine which one would be a better fit for your business. 
Read on for our in-depth comparison of WordPress vs Webflow to discover how these website builders stack up against each other and when it would make sense to use either of them. 
My thoughts: 
Use WordPress when

you want 100% control over your brand look and feel, knock search engine optimization (SEO) out of the park and be able to self-host in a secure environment your DevOps team is comfortable with. A true enterprise-capable platform with a massive support community and thousands of templates and plugins available.  

Use WebFlow when

you're an agency or a lean startup team and just need the job done fast with little development involvement. You don't want to worry about self-hosting in your environment and need something turn-key that's lightweight to maintain.
See the review sites comparison table below, information as of September 3, 2022.
| Business Review Sites | WordPress | WebFlow |
| --- | --- | --- |
| G2 review score | 4.4/5 stars (8,430 ratings) | 4.4/5 stars (371 ratings) |
| Gartner review score | 4.4/5 stars (755 ratings) | Unavailable |
| Trustpilot review score | 3.8/5 stars (183 ratings) | 2.7/5 stars (55 ratings) |
Overview of WordPress and WebFlow 
WordPress overview 
Originally created as a blogging platform, WordPress has since evolved into a full-service Content Management System (CMS) for building any type of website. This includes business websites, portfolios, directories and e-commerce stores. As of 2021, more than 455 million out of the over 1.3 billion websites on the internet are built with WordPress. 
WordPress's open-source nature and massive community of developers are among the best things about this platform. Users can find support in the form of numerous self-help articles, online forums, tutorials and dedicated support when needed. 
The company has more than 3,800 employees across the world. As an open-source platform, WordPress is constantly evolving, with several web developers building themes and plugins to extend the functionality of its sites. There are more than 55,000 plugins on the WordPress Plugin Directory, and new ones are added daily.
Up to 14.7% of the world's top websites are built on WordPress. Some top websites powered by WordPress include TechCrunch, Spotify, New York Times, The White House website and BBC America. The flexibility and integration with more tools make it a vibrant solution for building different types of websites. 
Webflow overview 
Webflow enables users to build and customize their websites with no coding required. Although relatively new, Webflow has become one of the most popular no-code website builders. More than 544,053 websites are built with Webflow. 
It is a visual design tool that helps users generate clean HTML, CSS and Javascript code without necessarily learning how to code. The platform can also be used as a CMS to create blogs, e-commerce stores and directories. Webflow has hosting capabilities, allowing users to publish their website directly or download website code to have it hosted elsewhere. 
Webflow is commonly advertised as a website builder for professionals. Users who already handle web design well will find the platform's advanced design tools relatively easy to use. However, the visual, drag-and-drop capabilities this platform offers mean anyone can use it to build dynamic websites. 
Unlike WordPress, Webflow is not an open-source platform. Instead, it is a SaaS company with over 400 employees. Even though it doesn't have a massive community behind it as WordPress does, Webflow offers dedicated support as well as an option to hire a certified developer for your project to get true customization done. 
Although Webflow works for personal and simple business sites, most people will find it pricey for them. However, people who want flexibility and can leverage the design capabilities of Webflow often choose it over WordPress. Some notable companies that use Webflow include Zestful, BankMobile, AltSchool, SeamlessGov and HelloSign. 
Webflow vs WordPress: Core differences
WordPress and Webflow offer all the tools and features needed to build a fully-functional website. However, there are several pros, cons and differences that you should consider if you're trying to pick which one will be better suited for your needs. 
Let's take a quick look at some of the main differences between these two platforms. 
Website design capabilities  
WordPress and Webflow simplify the website design process by enabling non-coders to build fully-functional websites. With Webflow, most of the features you need to design a website are inbuilt into the platform, serving as an all-in-one platform for website development. WordPress, on the other hand, offers an extensive library of themes and plugins to build and customize websites, as you can see in the image below.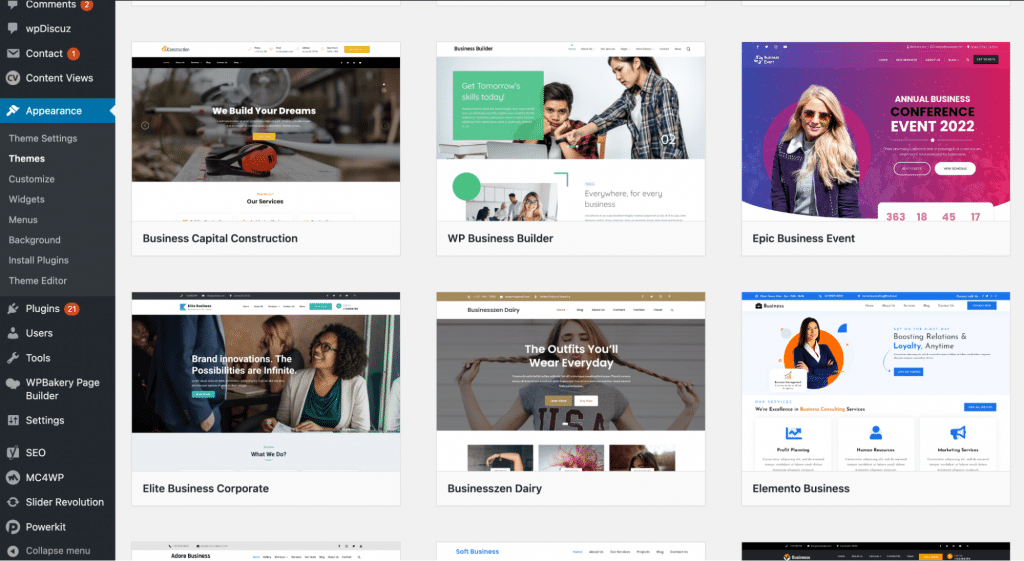 Building a website with WordPress 
WordPress is an open-source solution, meaning anyone can download and create a website. To build a website with this WordPress, you must purchase a web hosting plan and install the software on a server or you can opt into one of the managed plans that your hosting provider has.
You can download the WordPress software from the WordPress.org website. However, most web hosting services offer an easy-to-use WordPress installer, allowing you to set up the software quickly and start building your website directly from their platform. 
The WordPress dashboard is where you design and manage your website. From the dashboard, you can install themes and plugins, create pages and configure settings to customize the website.
As you can see in the image below, the WordPress dashboard is completely visual, which makes it easy to navigate.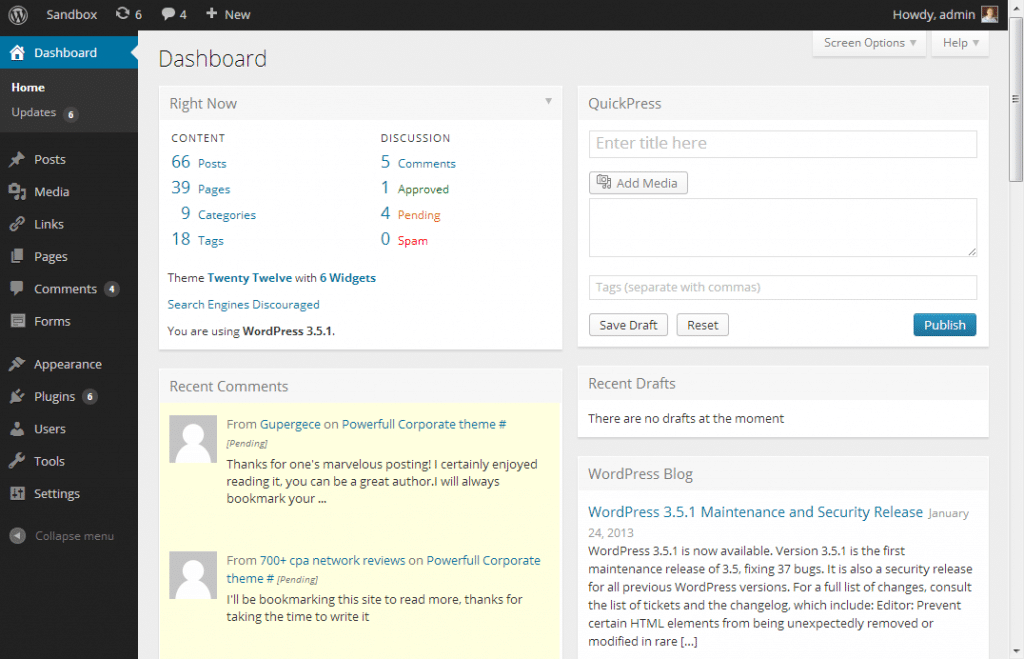 Designing a website with WordPress begins with a theme installation. Both free and paid WordPress themes are available, and they're in different categories depending on the type of website you intend to build. WordPress has a directory of themes, and you can also get themes from third-party platforms such as Creativemarket and Themeforest. 
WordPress allows you to customize certain elements on your installed themes, such as colors, fonts and images. If you want even more control over the design of your website, you can install a plugin for that purpose. 
There are numerous plugins on the WordPress marketplace that offer drag-and-drop editing functionality, allowing you to modify the appearance of your website even more. The ease of design will depend on the learning curve of the specific plugin you install. Even more advanced users can access and edit the theme's underlying HTML, CSS, PHP and JavaScript code. 
Building a website with Webflow 
Webflow is a cloud-based visual website builder that allows users to build basic websites with no coding skills. The Webflow designer makes it possible to build custom websites with HTML, CSS and Javascript using a fully-visual canvas. 
Whether you're building from scratch or using a starting template, you get full control over each element on the website page you're building. This allows you to style your website to your preference. 
Webflow offers a free guide to walk new users through the process of designing a website with the Webflow builder. The page builder has a drag-and-drop interface, allowing you to drag design elements such as images, texts, sliders and tabs onto a blank canvas or modify the elements of a pre-installed template. 
Webflow's template library is not as robust as WordPress's. The platform offers about 500 premium templates and 45 free ones. All templates have a responsive design, and you can preview how they look on different screen sizes during the design process.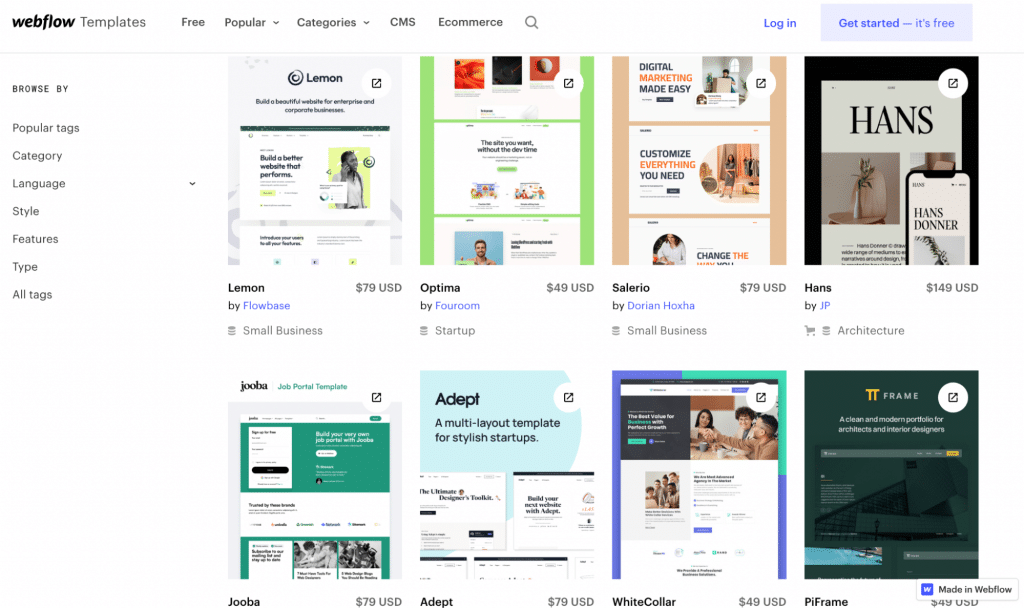 When you are done with the design, you can either pay for a Webflow hosting plan or export the website code for hosting on a different platform. 
CMS 
Webflow and WordPress have powerful content management capabilities. You can use these tools as CMS platforms to create, publish and manage web content. They also allow you to add multiple users or contributors to modify and add content to your website. 
Here's how these two compare in terms of their content management capabilities. 
WordPress
WordPress is a content management platform by its original design and remains the most popular tool for that purpose. In fact, up to 65% of websites with a content management system are powered by WordPress. 
WordPress revolutionized no-code website publishing, thanks to an intuitive dashboard that's easy for anyone to use. You can create as many website pages as you want for your website and manage them from the WordPress dashboard. 
You can create blog posts using WordPress's default editor, known as the Gutenberg editor. This easy-to-use editor allows you to add blocks of text, captions, videos, images, buttons and other elements to your blog page. 
WordPress also has multi-user capabilities, meaning you can add more than one contributor to your website. There are up to 5 roles with varying permission levels: Subscriber, Contributor, Editor, Admin and Author.
Webflow
Webflow is primarily designed for creating static websites. However, it has content management capabilities as well and can be used as a headless CMS tool just like WordPress. To add dynamic content such as blog posts to your Webflow website, you have to enable Webflow's CMS functionality.
Webflow's content editor is not quite as flexible and versatile as WordPress's Gutenberg editor. However, it allows you to create blogs and insert custom elements such as images and videos into your content a tad easier. Webflow does not have a dashboard for managing content. Instead, the editor opens within each page, and you can customize and publish your content. 
Webflow allows you to add multiple collaborators or team members to make edits and add content to your site in real time. This feature, however, is only available for users on an Enterprise plan, and there is no provision for multiple user roles. 
E-commerce
If you run an e-commerce business and would like to sell your physical or digital products online, you can create and customize your store using WordPress or Webflow. But both platforms handle the process of designing your e-commerce website differently. 
WordPress 
WordPress does not have an inbuilt e-commerce functionality. However, you can still build an online store with it using a plugin. There are loads of plugins available on the WordPress marketplace for this purpose, but the most popular one is WooCommerce. 
With WooCommerce, you get access to hundreds of e-commerce themes you can customize for your store. WooCommerce also makes it possible to add new features to your store. While the plugin is free, you will need to pay some fees for payment portal integrations, shipping, credit card processing etc. Comparatively, the cost still adds up to less than the setup cost of Webflow.
Webflow 
You won't need a third-party plugin to create an online store with Webflow. The e-commerce features are built into the Webflow service, and you can access them once you sign up for the e-commerce plan.
The Webflow e-commerce store builder is generally easy-to-use. It is also more flexible and gives you significant control over the look and feel of your store. You can customize everything, including your product and checkout page, so everything flows seamlessly for a perfect customer experience.
As far as ease of design and branding goes, Webflow is a more flexible platform for building online stores. You can add custom animations and interactions to your product pages and customize transactional emails.
Of these two platforms, Webflow tends to be more expensive for building e-commerce stores. First, you'll have to pay for an e-commerce plan to build with Webflow. The payment processing options on Webflow are also limited compared to what WordPress offers and are more expensive. 
Webflow also charges a commission of 2% on each transaction. That's on top of all the fees you must pay for the payment gateway integration and the shipping platform you choose.  
Here are the top payment processing options and integrations: 
Foxy

Snipcart

Checkout Page
They all support Stripe. 
Search Engine Optimization Management
One thing you must prioritize when choosing a website builder is how SEO-friendly the platform is. WordPress and Webflow have features to boost your website traffic organically by optimizing the web pages for search engines.
WordPress
One of the reasons why WordPress has been so popular as a blogging platform is because of how SEO-friendly it is. The platform has several functions to optimize your website and boost your rankings on search engines. By default, you can create URLs, adjust permalink settings, organize blog content, create tags and adjust other built-in settings that make it easier for search engines to index your WordPress site.
Aside from all of these built-in features, WordPress has several plugins to track and optimize SEO for your web pages. Plugins such as Yoast SEO make it easier to do an SEO analysis on your web pages to see how well they perform. You can add title tags, keywords and meta descriptions to improve the SEO score of each page.
In addition to these standard SEO plugins, other plugins make your website mobile-friendly, optimize your site for social media platforms, connect to Google Search Console and other functions that improve the overall SEO-friendliness of your website.
Webflow
Although Webflow does not offer as much flexibility as WordPress, it does have features that help simplify search engine optimization. All of Webflow's SEO features are inbuilt, which means you won't need any third-party plugins. You can edit title tags, update meta descriptions and adjust other settings that improve SEO scores on each page.
Webflow also has features that optimize the appearance of your website for social media. Of course, the lack of plugins means there's a limit to the SEO functionality of this platform. Also, many of Webflow's advanced SEO features are locked behind a paid plan, so you'll have to upgrade to use them.
Plugins and third-party integrations
Although you can build fully functional websites with the basic tools offered by both platforms, sometimes you want to expand your website's functionality beyond the core features the builder offers. This is where extensions or plugins come in. 
In addition, you may also need to integrate your website with other third-party tools you already use or intend to use in the future. If you have an e-commerce store, for instance, you might want to integrate with an email marketing tool or a customer management system to boost your sales. The platform you use has a major impact on how flexible your website will be in this regard. 
WordPress 
WordPress has a community of developers actively building plugins for the platform. There are 59,000 free plugins on WordPress's official directory and thousands more on third-party marketplaces. 
For extensions, WordPress is just as robust. Many third-party platforms have plugins to help connect your WordPress site directly from your dashboard. For platforms with no dedicated plugins, you can carry out integrations with advanced webhooks and APIs. The ease with which WordPress integrates with other platforms is one of the major upsides of using this platform. 
Top 10 most popular WordPress plugins: 
Yoast

NitroPack

Shield Security

Advanced Custom Fields Pro

Play.ht

Tablepress

WP Rocket

Akismet

Jetpack

Contact Form 7
Webflow 
With Webflow, there are no official plugins for extending the functionality of your website. The only way to add new features that are not available by default to your Webflow website is by integrating third-party code snippets into your website code. Of course, these are mere workarounds and may be too complex for people with no coding knowledge. If you're an enterprise user, you'll still need a strong developer on your team.
Webflow also doesn't offer many integrations with external services. There are a few native integrations available and you can embed codes to some external services on your Webflow pages, but that's about it. This means you'll have to use separate solutions for various use cases instead of having all your operations in the same place—this might lead to fragmentation of your tech stack.
Usability 
The beauty of visual website builders is how easy to use they are — there's no need to write complex code. Generally, beginners find that WordPress has a steep learning curve. It might take a while to get used to all the WordPress concepts and terminologies such as themes, plugins, tags and so on.
Webflow starts users off with a free tutorial known as Webflow University. This typically covers all you need to know about using the platform. Since the platform's functionalities are mostly visual, the rest comes naturally as you use it. 
These specific use cases might determine the usability of WordPress and Webflow: 
WordPress was originally designed as a blogging platform, meaning adding blog content to your website is relatively easy. It has an easy-to-navigate CMS dashboard and an intuitive visual editor known as the Gutenberg block editor, as seen in the image below.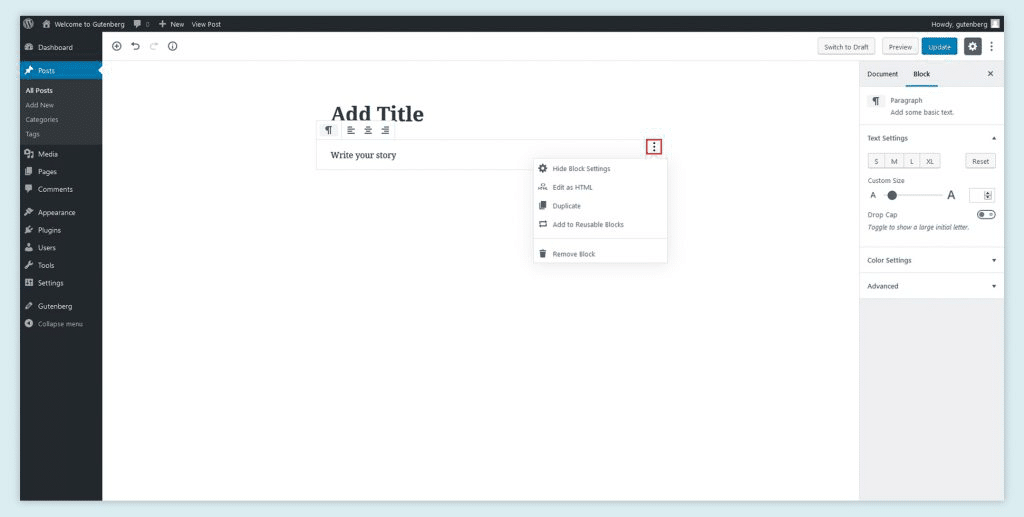 Webflow takes a slightly different approach to blog posting. There's no dashboard and no block editor. Instead, there's a live on-page editor that allows you to edit the text and elements on each post directly on the page without going to the website back-end.
How to publish a blog post using Webflow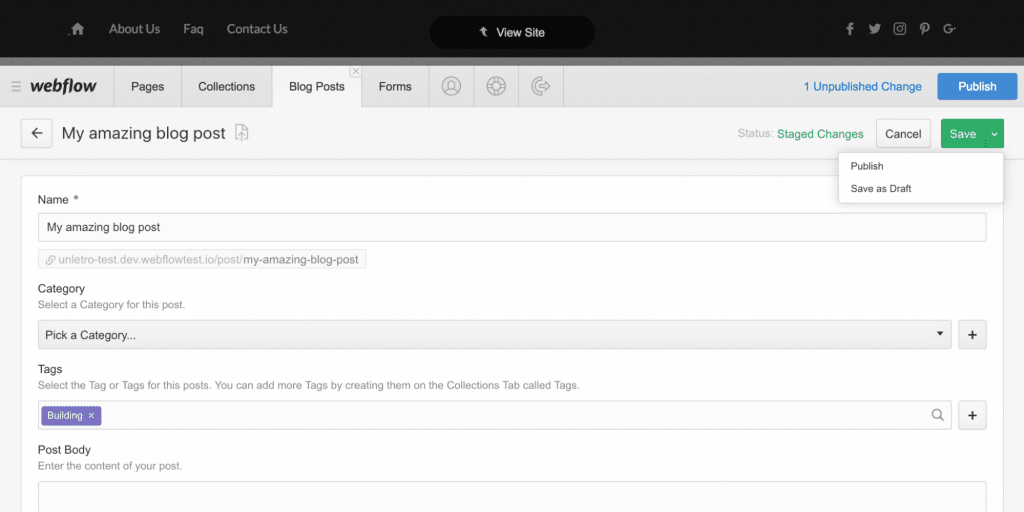 How to edit an image on Webflow
To edit an image, you need to click on the icon pictured below: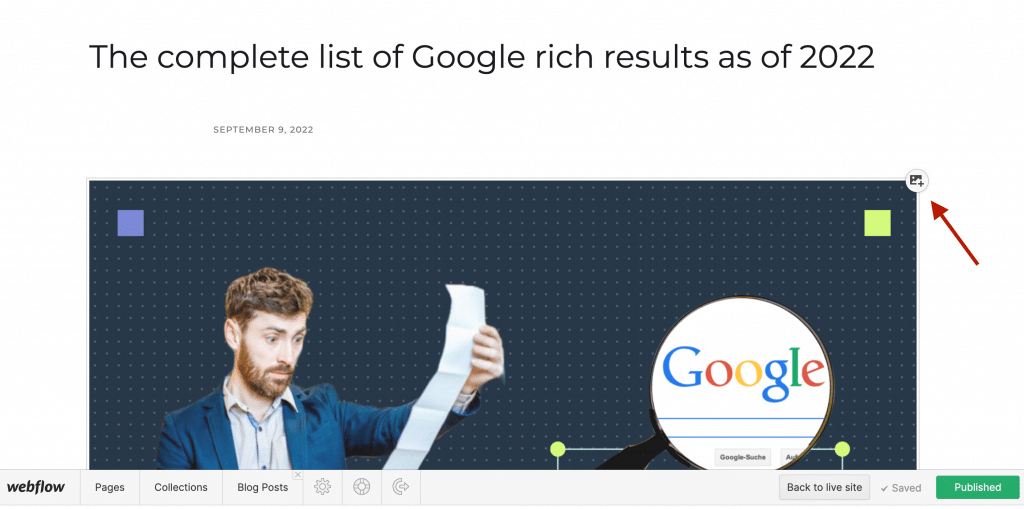 The next step is to select the image you want to add to the page: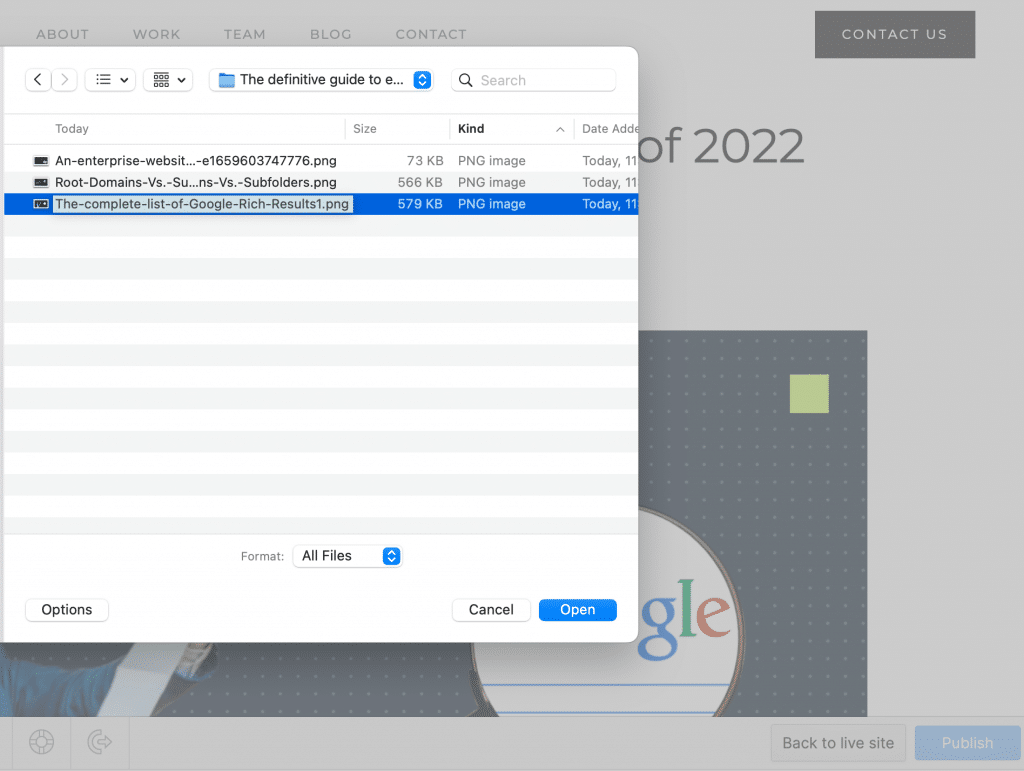 The second option to change the image is seen below: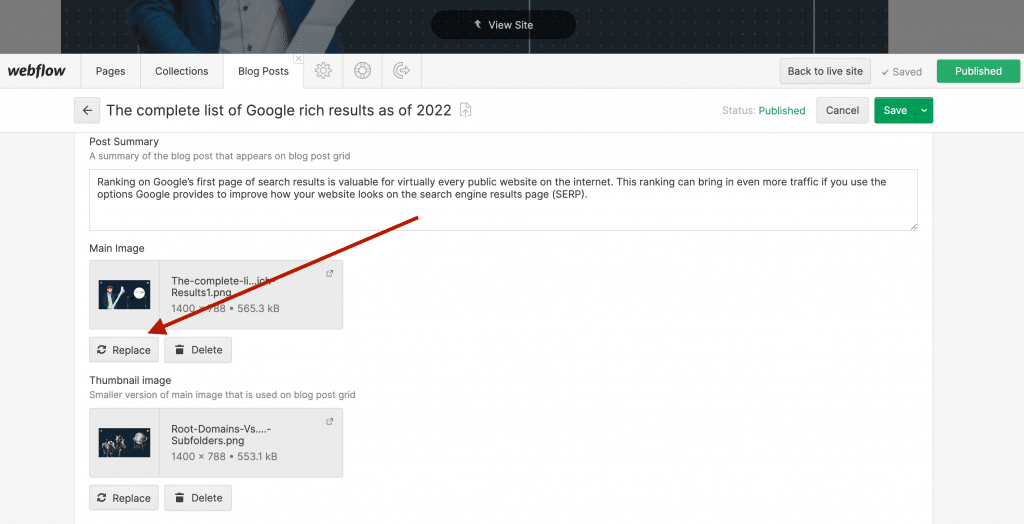 How to edit text on Webflow
To edit text, you need to click on the pencil icon, as seen below: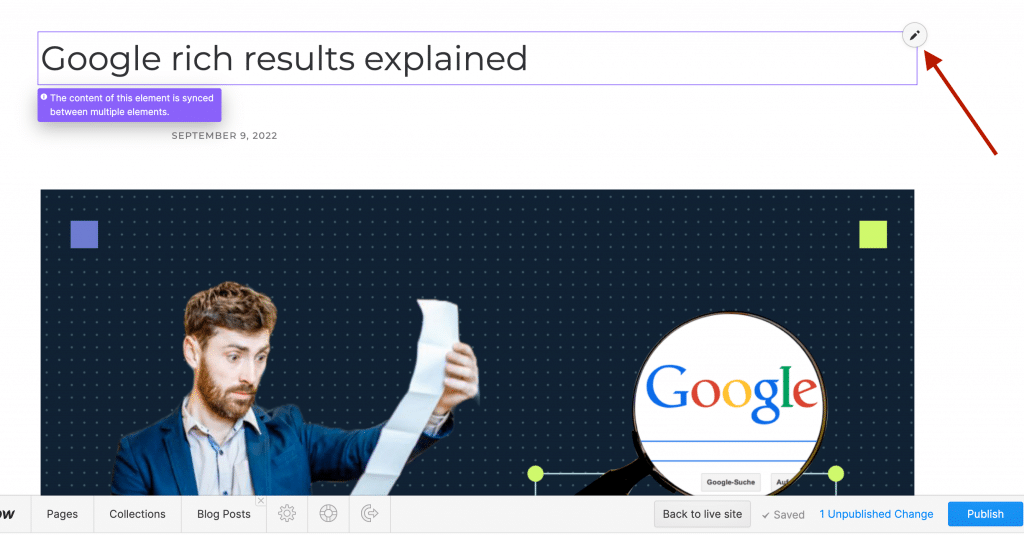 Then you can make edits directly on the page.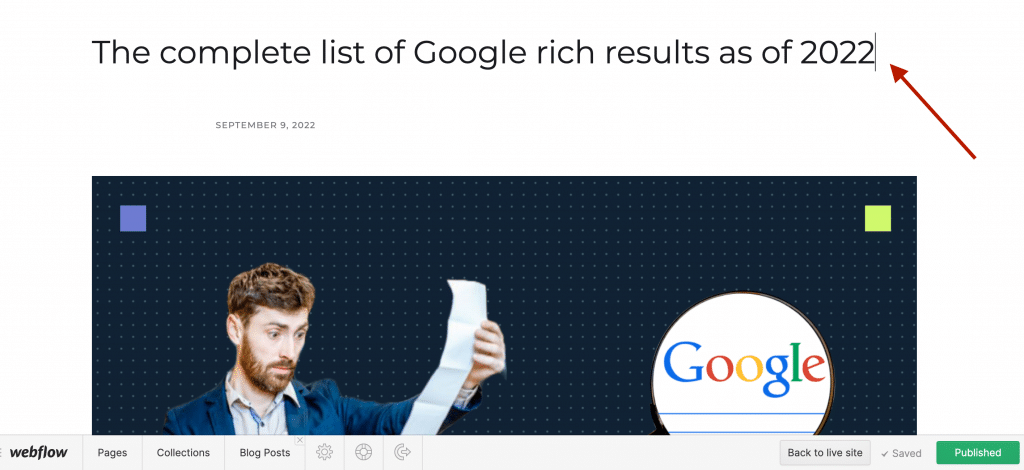 WordPress allows you to add an unlimited number of pages to your website and customize them accordingly with the inbuilt editor. If you want more flexibility with the design process, you can use a WordPress plugin to customize and publish the page.
Webflow comes with a visual editor to design and customize your template to your preference. You can customize every single element on a page and change its properties accordingly. Webflow also offers transitions and animations as inbuilt features, and you can add them to page elements without using a third-party plugin.
WordPress allows you to add multiple collaborators to your website and assign roles and permissions to each person.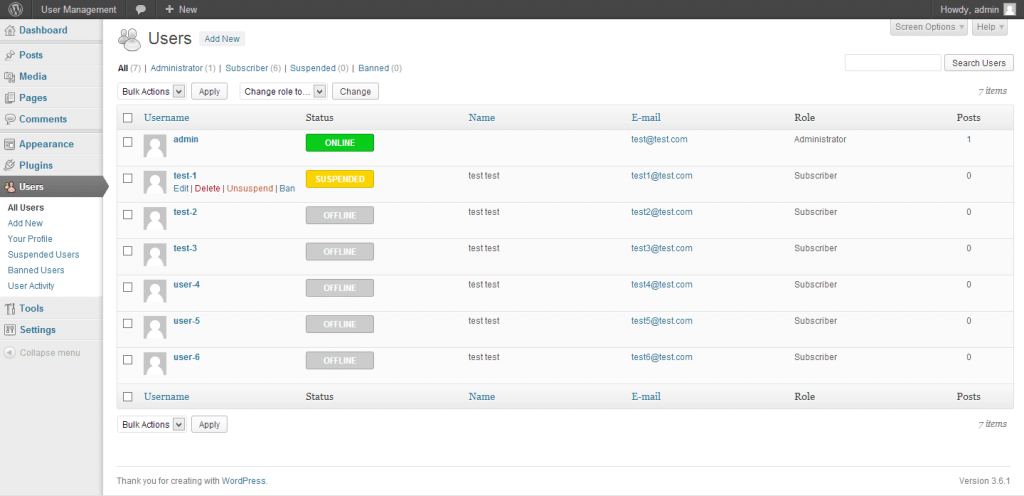 Although Webflow allows multiple collaborators and contributors, this feature is only available to users on higher plans. The permission setting and user roles are also not as robust as WordPress's.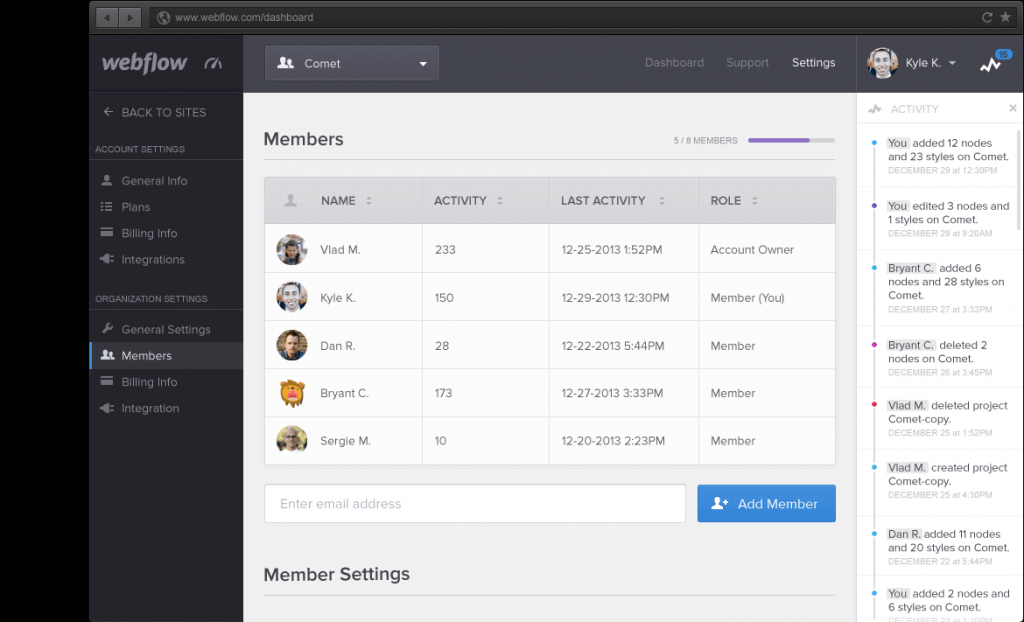 Many WordPress themes come with a default code base designed to perform smoothly and deliver optimally. You also get access to basic toolsets to adjust your website's performance and boost how it ranks on search engines. 
However, what makes WordPress even better for SEO is the abundance of SEO plugins you can use. Webflow comes with default tools for building search-engine-friendly websites, but you're only limited to these basic SEO features. 
And since WebFlow is primarily chosen as a hosted version, you'll have much less influence over page experience and core web vital metrics adjustments, which are critical to lasting SEO performance. 
Webflow offers you the option of building from scratch or customizing a template. With WordPress, you have to always start with a template (a theme), and there's a limit to how much you can customize a theme without resorting to advanced PHP coding. Webflow is more flexible, and you can modify all in-page elements visually without coding.
Form integrations with CRM
WordPress works with practically all third-party tools needed to grow your businesses — for example, HubSpot and Marketo. This includes email marketing services, live chat services, CRM platforms, help desk tools and so on. Webflow, on the other hand, has a more limited list of third-party integrations.
Security, hosting and pricing
When considering platforms for building your business website, you should ask how secure and stable the platform is. The cost of hosting and other additional services are also vital factors to consider. Here's how WordPress and Webflow stack up against each other as far as security and hosting plans are concerned. 
Which system is more secure? 
Because WordPress is open source, security is always top on the list of concerns when considering this platform. WordPress is not only one of the most popular CMS platforms on the internet but also one of the most hacked. 
Although no internet platform is completely impervious to attacks, Webflow is generally more secure compared to WordPress. It is an enterprise-grade SaaS platform, and the company has put advanced measures in place to make sites built on it more secure. 
With WordPress, the responsibility of securing your website is on you as a user. You have to install SSL encryption utilizing services such as Shield and Cloudflare and ensure all your plugins and third-party tools are updated and secure. Taking these steps will help protect your site visitors from attackers and keep your website safe.
WordPress vs Webflow: Pricing and hosting
WordPress
The WordPress platform is completely free to use. You only have to pay for a web hosting service and a domain name. The cost of these services varies from one provider to the other. It may also depend on the type of website you're building. 
For a low-traffic website, you can find a suitable hosting service that costs less than $10 per month. For example, WordPress hosting on GoDaddy is as low as $4.99/month. It's even cheaper on Bluehost, where you can get hosting for as low as $2.95/month. If you anticipate more traffic for your site, you will need a bigger budget to maintain performance. For this, you'll spend more than $20 monthly. 
Apart from these basic costs, all other costs depend on how you're building your website and the add-ons you're getting. For instance, WordPress offers thousands of free themes, but you might prefer to get a premium theme. The same applies to plugins as well. 
Generally, you can spend as little as $75 (or less) on a WordPress website for a basic static site or a simple blog. For a high-traffic site with premium themes and plugins, you may spend between $150-$350. 
Webflow
Webflow allows you to get started with designing your website for free. But you can only take your website to live after signing up for a plan. Webflow offers two basic plans. To host your website on Webflow, you must get on a Site Plan. 
This is not necessary if you prefer to host your site elsewhere. You'll need an Account Plan to export your site to different platforms. Users who want to host multiple websites will also need this plan. 
Webflow offers many premium plans, and it might be a little confusing to figure out what you want. Sometimes, you might even have to pay for more than one plan. Generally, the plan to go for depends on the type of website you're building. 
For a regular website, go for the basic plan, which is priced at $12 per month with annual billing.

For a blog or content-driven website, go for the CMS plan with a starting price of $16 per month.

For a high-traffic website with more than 1,000,000 visitors per month, go for the business plan with a starting price of $36/month. 

For an e-commerce site, you can choose between Standard, Lite and Advanced, depending on the features you want and expected sales volume. Pricing for the Standard plan is $29/month. 
In addition, you have to purchase a Webflow template, which typically costs between $49-$79. For users who want to work on multiple website projects or export their code, you'll have to sign up for the Account plan, which starts at $16. There's also a Team plan of $35 per person if you have more than one person on your team. 
The below table is to help enterprise sites understand which platform to select from:
Features
WordPress
WebFlow
Average total cost of ownership
Total Ownership (1 year): $80,000 to $150,000

Developer (at 25% FTE): $25,000
Designer (at 25% FTE): $16,250
Copywriter (at 50% FTE): $35,000

Hosting: $100 to $1,500/year depending on platform

Premium Plugins: $10 to $100+
excellent guide by WP Engine
Total Ownership: (1 year): $78,000 to $125,000

Developer (at 10% FTE): $10,000
Designer (at 50% FTE): $32,500
Copywriter (at 50% FTE): $35,000

Hosting: $144/year if you're
hosting on WebFlow but you can use an external platform

Premium Plugins: $49-$79
Hosting
AWS, GoDaddy, BlueHost, Pantheon
Hosted
Example of enterprise sites on WordPress (by amount of pages)
TechCrunch
New York Times
Spotify
BBC America
Armis
Zestful
BankMobile
AltSchool
SeamlessGov
HelloSign
Best for B2B SaaS
4/5
5/5
Best for B2C/mass market
5/5
5/5
Live support
No
Yes
# of customers
34,896,678 live websites
324,347 live websites
Community support?
Yes
Yes
Drag and drop editor
4/5
5/5
Create a custom themes
5/5

Over 9,000 themes available natively

Over 22,000 themes available on third parties
3/5

Over 1,000 themes available natively

No third-party themes
Ease of SEO optimization
5/5
Has default SEO features and several leading plugins
3/5
Comes with default optimization features but no plugins for SEO
Best for small business
4/5
5/5
Best for enterprises
5/5
3/5
Security
5/5

An open source platform; prone to security risks out of box if the user is not technical. Must get hosted plans or self-hosted secure setup
5/5

A SaaS platform; enterprise-grade security
Speed
5/5
4/5
Coding framework (what is it built on?)
PHP, HTML, CSS, Javascript
HTML, CSS and Javascript
Hosted or Self-Hosted?
Hosted
Self-hosted
General ease of use
Easy to use for anyone
Easy to use. But you'll get more out of Webflow if you're a develope
Can be used as headless CMS?
Yes
Yes
Content management
Easy
Easier
Easy to do website migration from another platform
Yes
No
Noteable CRM integrations
HubSpot
Marketo
Wordpress CRM
Woocommerce CRM
WP ERP
vCita CRM
HubSpot
HubSpot via Vim Kit
Large library of 3rd party apps
Thousands of plugins and 3rd party apps
https://wordpress.org/plugins/tags/marketplace/

Limited number of 3rd party apps and integrations
https://university.webflow.com/integrations
Do heavy customizations require a developer?
Yes
Yes
Is a professional designer required on the team?
Yes
Yes
Type of site editor
Visual or code-based
Visual
Full code access
Yes. Advanced users can edit all website code, including themes, plugins and core WordPress functionality
Yes, but in a limited manner. Users can embed custom CSS and Javascript. In addition, the static code can be exported, modified and hosted elsewhere.
Key Features
Build any type of website, advanced e-commerce capabilities, industry-leading SEO tools
All-in-one website builder, visual editor, built-in SEO tools
When does it make sense for a business to use one of these systems? 
Putting all of these points together, when does it make sense to use either of these platforms? Well, that depends on your budget, internal resources and if you have access to agency assistance. Both WordPress and Webflow are excellent platforms for building fully-functional static websites, e-commerce websites and content management systems. 
Anyone can build websites with WordPress. While it has a slight learning curve, you can still build a fully functional enterprise website even if you have no knowledge of HTML, CSS and JavaScript. 
However, you may need to hire a developer if you need advanced customizations, do advanced SEO or add unique features to your website. WordPress is also cheaper and more flexible than Webflow in many ways. 
Generally, Webflow is more popular with design agencies and web designers who build websites for multiple clients—as they need a little less coding involvement than WordPress. Any skilled designer will find the platform's robust design capabilities valuable for customizing websites quickly. You won't need to pay for third-party design plugins since all you need is already available within the platform.
At the end of the day, which of these platforms will work best for you depends on what you intend to use it for and the specific features you prioritize. 
Jason Safavi
Jason Safavi is an experienced technologist with a passion for innovative software development. With over 18 years of experience in the field, he has established himself as an expert in advanced website builds and machine learning. As our company's Chief Technology Officer, Jason leads the development of cutting-edge software solutions that help drive business growth and improve our clients' experiences. He has an exceptional ability to identify new and emerging technologies and adapt them to meet our clients' evolving needs. Jason is a strong advocate of continuous learning and encourages his team to stay up-to-date with the latest trends and best practices in software development. He is always exploring new web and software technologies, experimenting with new programming languages, and testing new tools and frameworks to see how they can be used to improve our products and services. Aside from his passion for technology, Jason is also an avid gamer. He enjoys playing games on his PS5, and we often joke about him constantly losing in Mortal Kombat matches.