What is TOFU, MOFU and BOFU? The sales funnel for B2B marketing explained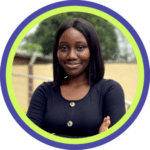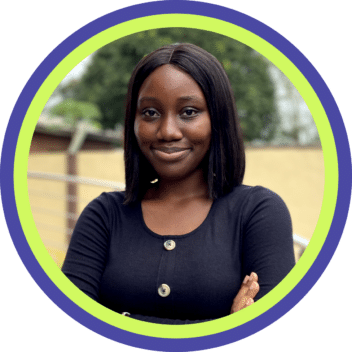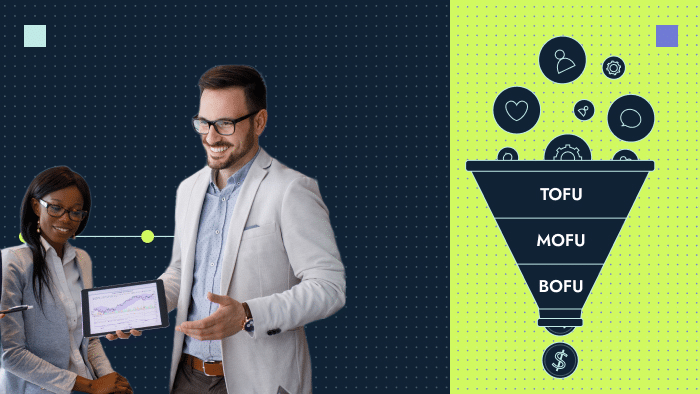 The idea of a sales funnel has been in existence for years, but the concept has evolved significantly over time. From cookie-cutter marketing efforts to an ever changing digital landscape, B2B brands must adapt to meet buyers where they are.
The terms TOFU, MOFU and BOFU refer to the various levels in a sales funnel for B2B marketing. This new-age concept classifies prospects into unique stages and tailors specific resources that drive conversions for each group. 
Let's review the difference between TOFU vs MOFU vs BOFU, marketing strategies for each stage and retention strategies when customers leave your funnel. 
What is a 
B2B sales funnel
?
A B2B sales funnel is the visual representation of the business buyer journey, which is the process B2B prospects undergo in the purchase process. While the sales funnel focuses on separating prospects into various stages — awareness, consideration and decision — and converting them to customers, the buyer journey highlights the path a lead takes from interest to purchase. 
As prospects go through the buying process and become aware of their needs and possible alternatives, an organization's number of leads shrinks, taking the size of a funnel. In a recent Databox survey, 30% of marketers believe that 3.1% to 5% is a good sales funnel conversion rate, but this can vary by industry. Aiming for at least 1% higher than the general industry conversion rates keeps you ahead of the competition. 
B2B sales funnel stages
A well-functioning B2B sales funnel helps you qualify (or disqualify) leads along their buying journey and streamline your marketing efforts. The stages of the sales funnel directly connect to the customer journey. These stages are top, middle and bottom of the funnel, popularly known as TOFU, MOFU and BOFU.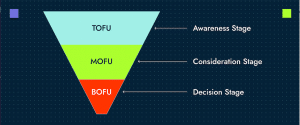 B2B decision makers spend 45% of their buying time researching their problems and solution independently, says Gartner. Organizations must level up their demand gen efforts and selling approach to have a competitive sales funnel for B2B marketing.
Since B2B buyers carry out independent research, creating and tailoring resources — especially online — to prospects based on user intent encourages self-service and helps organizations balance legacy sales models with an ever-changing landscape. In fact, 87% of B2B marketers in a Search Engine Journal survey reveal that they map their content to different stages of the sales funnel. 
It is crucial to meet the most important needs of prospects at each stage to aid research and create rich virtual buying experiences. Customer experience remains the highest priority for organizations and can increase revenue potential to $1 billion for SaaS companies in particular, according to a survey of over 1,900 business professionals. 
Yet, 61% of marketers in a B2B content marketing survey say that they struggle to create content that ranks, which negatively affects the buying experience.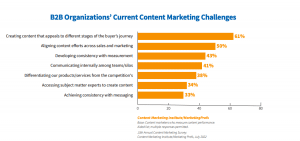 After defining your buyer persona, leveraging keyword research is necessary to ensure that you write content that users search for. This process will ensure that you rank in search engines and that relevant content appears when prospects look for information during their buying journey. 
🏷️ Need help outputting content that converts? Check out our guide on SEO writing for beginners. 
Here are the three stages of a sales funnel and the best content marketing approach to maximize your conversions. 
1. What is top of funnel (TOFU)?
As the name suggests, TOFU is the initial stage of the sales funnel with the largest number of leads. Buyers at the top of the funnel are attempting to understand their problems and are less interested in your product or service. Prospects at this stage of the funnel may be within your niche but are not your ideal client. As a result, you're likely to have the least conversions at the top of the funnel. However, having a relevant marketing approach will give you the edge when customers are making the buying decision. 
How to conduct
TOFU marketing
Since prospects at the top of the funnel are relatively new, they're likely to find sales tactics annoying. At this stage, the best marketing strategy is to establish a relationship with the lead by addressing their need: information. 
In a recent survey by Adobe, 72% of customers say that relevant content at the right time and place boosts their trust in a brand. Providing high-quality content to educate the prospect on the nature of their problem and ways to solve it trumps hard selling at the top of the funnel as you're able to build trust.
Content pieces such as blog posts, whitepapers, e-books, guides and research reports are ideal for prospects at the top of the funnel. For a B2B SaaS company targeting DevOps clients, a blog titled "What is service mesh in microservices?" will be ideal for top of funnel prospects. 
2. What is middle of funnel (MOFU)? 
MOFU is the second stage of the sales funnel, usually with fewer prospects than TOFU as buyers become problem aware and are on the search for a solution. At this stage, buyers are more interested in how to solve their problem than who will solve it. Prospects at MOFU may discover the nature of their problem and the vendor for their solution simultaneously, leading to a higher conversion rate. 
How to approach
MOFU marketing
Since prospects at this stage are still in search for an effective solution and not quite ready to decide who solves their problem, the best approach to MOFU marketing is to nurture leads. Prioritize strengthening the existing relationship until they're ready to proceed to the bottom of the funnel rather than going in for the sale. Besides, it takes about eight touchpoints on average to make a sale. 
For MOFU marketing, you're in the sweet spot between educational and persuasive content, which can shape the opinion and perspectives of prospects. Here are the top content tactics you should be utilizing: 
Solution briefs 

Survey results

Interview with experts

Pillar pages 

Case studies  

Webinar recaps
At Productive Shop, for example, we often link to our B2B SaaS case studies — BOFU content — to highlight the challenges some of our clients faced and how we helped them to overcome them. 
Here's a snapshot of how we — a B2B consultancy — helped this password management company looking to convert more leads from Google to increase signups and click-through rates with thought leadership content and technical SEO fixes.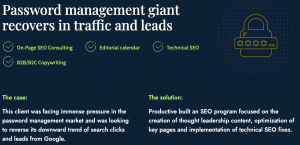 3. What is bottom of the funnel (BOFU)? 
BOFU is the third and final stage of the sales funnel with the least number of leads. Prospects at this stage may be fewer but are highly qualified for your product or service since they are aware of their problem and solution and ready to make a purchase. 
At Productive Shop, for example, prospects at the bottom of funnel stage are mostly B2B SaaS companies ready to leverage a digital marketing consultancy to create content that ranks, develop a user-friendly, responsive website that prompts visitors to take action. 
How to design a
BOFU marketing
strategy 
At BOFU, prospects have gathered substantial information on the solution to their pain points and vendors who offer products and services that solve them. Since prospects know who you are and what you do and probably know the same for all your competitors, your BOFU marketing objective is to convince your prospect that you're the best vendor for their needs. 
In a 2022 state of sales enablement report, 55% of leaders agree that sales content tools are extremely effective in achieving their goals. Incorporating content pieces such as comparison guides, war pages, free trials, product demos and case studies into your marketing strategy is a great way to inform BOFU leads of your unique value proposition and reach your conversion goals. 
This warpage — LearnWorlds vs Kajabi: A Side-by-Side Comparison — is a good example of BOFU content for B2B creators or coaches deciding on a platform to host their online courses.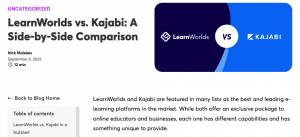 Retention strategies after the funnel
The buying journey is not fixed as factors such as stakeholder priorities, loss aversion bias and industry trends come into play in decision making. So what do you do to new customers and unconverted but qualified leads?
Here are three best practices to consider after a sales cycle:
Drive engagement

and improve the customer experience with relevant resources. You can output articles and videos about your product to facilitate usage. For example, a blog on other uses of a specific feature to give customers ideas of how to maximize your tool.  

Develop a retargeting campaign

— whether paid or organic — and maintain relationships with qualified leads that don't convert. You may be the perfect vendor for a bigger need later. 

Leverage cross-selling and upselling

— a strategy to increase revenue by selling a new or additional solution — to get customers further into your ecosystem of products.  
TL;DR? Approaching TOFU, MOFU and BOFU in your B2B sales funnel
TOFU, MOFU and BOFU are abbreviations for "top of funnel," "middle of funnel" and "bottom of funnel," respectively — these are all different stages of a sales funnel. 
TOFU is the first stage with the most leads but the lowest conversions, while BOFU is the last stage with the least leads but the highest conversion rates. Each stage has prospects with unique characteristics, so organizations must take a tailored approach in order to reach their sales targets.
Here's a table to give you a summary of each stage: 
| | TOFU | MOFU | BOFU |
| --- | --- | --- | --- |
| Stage | Initial | Middle | Final |
| Number of leads | Highest | Less | Lowest |
| Lead qualification rate | Combination of qualified and unqualified | Generally qualified | Highly qualified |
| Blogs | X | X | X |
| Ebooks | X | X | |
| Ultimate guides | X | | |
| Podcasts | X | | |
| Doc hubs | X | | |
| Press releases | X | | |
| LMS lessons | X | X | |
| Guest posts | X | | |
| Case studies | | X | X |
| Survey results | | X | |
| Solution briefs | | X | |
| Review sites | X | X | X |
| Playbooks | X | X | X |
| Webinars | X | X | X |
| Comparison pages | | | X |
| Product demos | | | X |
| Free trials | | | X |
Plan your B2B sales funnel
strategy with Productive Shop
Having a winning sales funnel strategy can help you turn pipeline into revenue. And consistent growth is attainable when you partner with teams that have a proven track record.  
Productive Shop is a B2B SaaS consultancy that helps smart teams develop an online presence and outrank competition with well-researched and search-optimized content, impactful web design, mobile-first web development and ongoing support. 
Ready to implement strategies tailored to each stage of your sales funnel? Get in touch with us.
Frequently asked questions
B2B vs B2C sales
funnel: what is the difference?
The main difference between a B2B (business-to-business) sales funnel and a B2C (business-to-consumer) sales funnel lies in the target audience and the sales process. 
In a

B2B sales funnel,

the focus is on selling to other businesses, and the sales cycle tends to be longer and more complex. The buying decision is often made by a team or a committee, and the purchase can involve significant investments of time, money and resources. 

A

B2C sales funnel

is typically shorter and more straightforward, as the buying decision is made by individual consumers rather than a team.
How does SEO enhance the
sales funnel stages
? 
Search engine optimization (SEO) can enhance the sales funnel stages in several ways: 
Driving more traffic to a website or landing page by offering helpful content and improving its visibility in

search engine results pages (SERPs)

.

Building credibility and authority and increasing exposure through off-page SEO tactics, such as link-building and guest blogging.

Optimizing the website's navigation and structure through keywords, making it easier for visitors to find the information they need.
🏷️ See how Productive Shop can help your company climb SEO rankings with competitor analysis, keyword research, content writing and web optimization. 
What type of content can Productive Shop help me with? 
At Productive Shop, we help B2B SaaS companies build an influential editorial calendar and output well-researched and search-optimized B2B marketing content, such as solution briefs, blogs, landing pages, playbooks and warpages that are tailored to different stages of the sales funnel. 
✍️ Explore our content writing services. 
I have relevant content that doesn't rank. What can Productive Shop do?
If you have relevant content that doesn't rank, Productive Shop can conduct a site audit to discover whether you're having a technical SEO challenge or just content that's not optimized. Depending on our findings, we'll provide you with issues such as thin content and cannibalization that need to be fixed for search engines to notice you. We can also optimize your web pages and blogs to follow the best on-page SEO practices. 
Either way, we can help your content rank on search engines and gain the exposure you desire with our web search optimization services.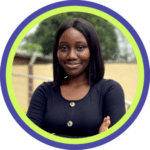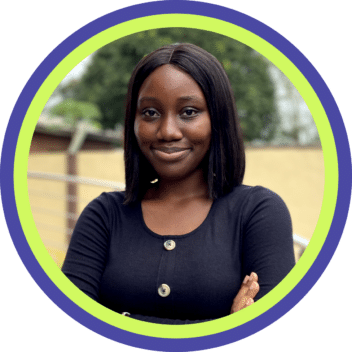 Mimi Adelakun
Mimi is a copywriter driven by a desire to simplify complex topics. Her recent interests include understanding project management tips and tricks to move content tasks forward. When she's not finding creative ways to discuss technical concepts, Mimi's out exploring new cities, learning about world history and trying to reduce her list of failed recipes.