How to build a data room to win investment deals: A guide for startups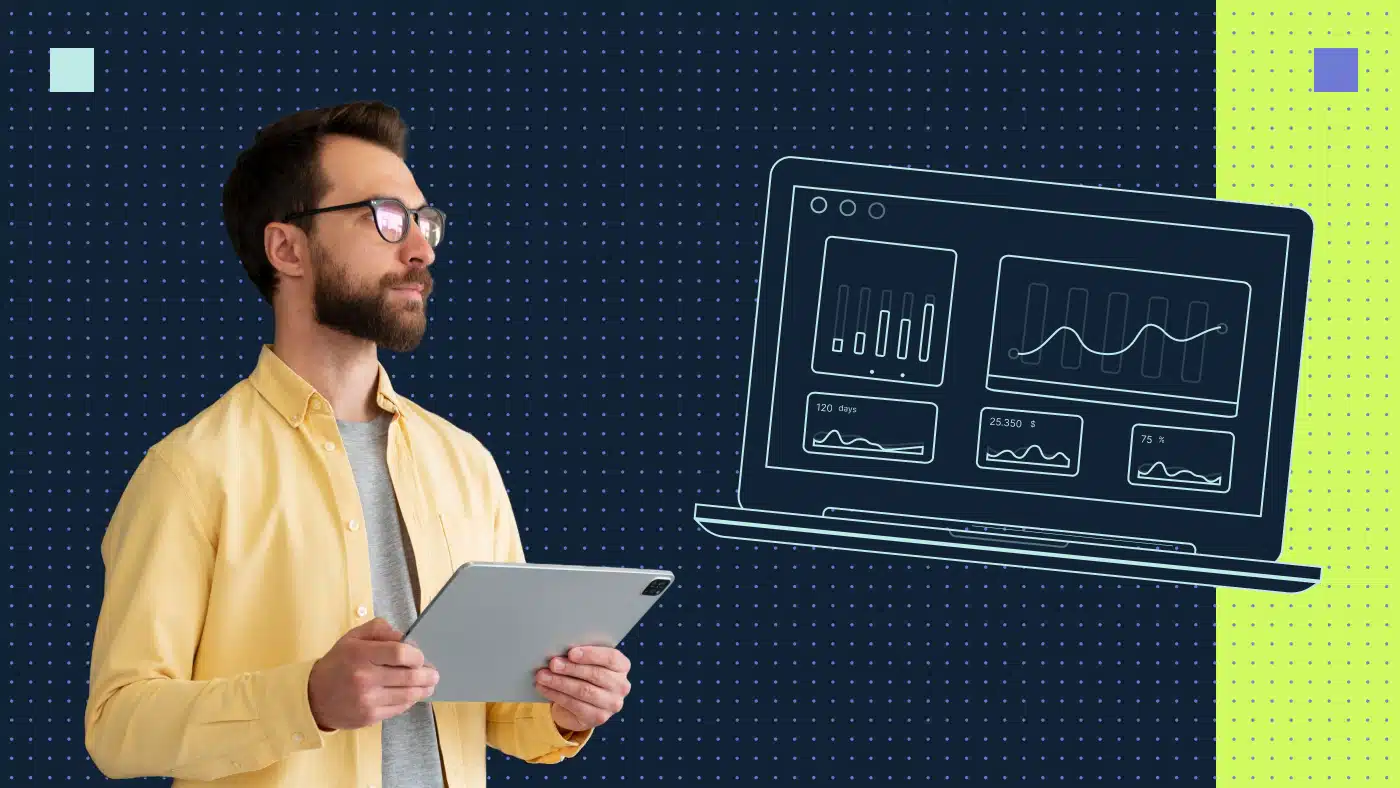 Imagine that your startup just made a fantastic impression on potential investors and they requested access to your data room. You quickly agree, trying to hide the fact that you're not entirely sure what an investor data room is. 
As a founder, you know the power of a killer pitch and a robust team, but a well-prepared data room is equally essential to showcase your business readiness.
Let's dive into understanding data rooms for startups and their significance in securing investment deals. 
What is a startup data room?
A data room is a centralized repository where a technology startup can safely store all essential company files. The startup data room allows information to be disclosed to specified individuals, minimizing the risk of access by malicious parties. The impact of unauthorized access was highlighted by an IBM report, revealing that the global average cost of a data breach in 2023 was $4.45 million, a 15% increase in the past three years — so do try to keep your intellectual property safe.
Considered a hallmark of a well-organized company, an investor data room is indispensable in the due diligence process of raising funds, selling your company, forming strategic partnerships or preparing for an initial public offering (IPO). 
A survey by Harvard Business Review found that for each deal a venture capital (VC) firm closes, it considers 101 opportunities — out of which only 4.8 proceed to due diligence and 1.7 move on to the negotiation of the term sheet. In the due diligence process, VCs typically consider factors such as the quality of the founders' team, the business model, the market, the industry and the company's valuation.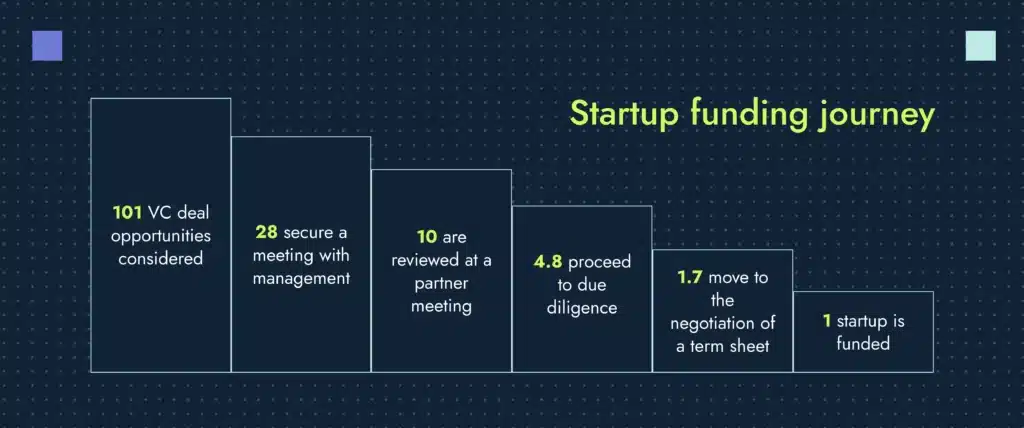 Whether your startup is in the early seed stage or making the leap to become a scaleup company, operating a data room for due diligence makes it convenient to store and share documents for financial transactions.
💡 If you are curious about how to secure early stage seed funding for your startup, we've got you covered.
What are the types of data rooms?
Physical data rooms
In the past, investor data rooms were physical spaces containing hard-copy documents that potential buyers could access as part of the due diligence process. These rooms, filled with filing cabinets of sensitive company information, were often physically guarded with strict security protocols of physical guards and padlocks to defend against data theft.
Virtual data rooms
Virtual data rooms (VDRs), also known as deal rooms, are an online repository to store, organize and share documents in a cloud environment. The cutting-edge security features of online data rooms such as multi-factor authentication, read-only permissions and digital watermarks, ensure that only authorized individuals can access and view sensitive information.
The increasing significance of operating data rooms online is evidenced by a study on Virtual Data Rooms that projects the global VDR market to grow from $2.2 billion in 2022 to $4.7 billion in 2028, at a CAGR of 13.9%.
Why B2B startups need
deal rooms?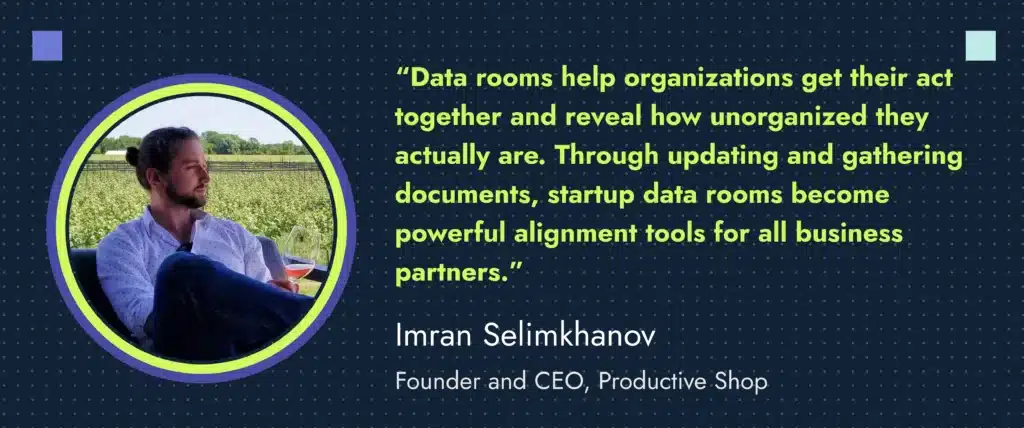 The four key benefits of data rooms for startups during early-stage venture deals include:
1. Help with due diligence
Due diligence is an integral step in the fundraising process wherein investors thoroughly investigate a startup's potential and credibility. 
Owing to the growth and performance risks associated with early stage companies, investors conduct audits to avoid any unpleasant surprises after the transaction. A data room for due diligence organizes all relevant information about the startup's operations including financial statements, legal agreements and contracts to minimize risk and save time for the investors.
2. Speed up the startup fundraising process  
Having an informed picture of your data room documents can help startups build strong strategic relationships, increasing the chances of securing startup funding and expediting the process. 
The speed of the process, however, depends on how organized your virtual data room is. As a rule of thumb, the clearer your information is, the more it will help speed up the startup fundraising process.
3. Efficient document management
By keeping everything organized in an investor deal room, startups can eliminate the need for scattered storage systems and reduce the chances of overlooking vital data.
With a virtual data room, you can effortlessly upload multiple documents simultaneously and execute bulk downloads, including ZIP archives. This streamlined approach accelerates data transfer processes, ultimately saving time and improving efficiency. 
You can also create structured folders and subfolders in online data rooms to readily locate the required files. With the advanced search capabilities of VDRs, startups can quickly find specific documents or keywords, reducing the time and effort spent on manual searches.
4. Post-signing relationship
After the VC deal is signed, the VDR data room helps to keep the investors reassured about your startup's performance through regular updates, the latest financial indicators and milestones achieved. Investors can provide feedback, ask questions and offer valuable suggestions directly through the platform. By leveraging this collaborative environment, you can foster a sense of true partnership.
When should you create an online data room
?
Your startup data room serves as the final piece of building a strong brand perception. When it comes to creating a deal room, you should avoid falling for the waiting game.  
Many startups have a common misconception that they can delay setting up a data room until they're actively seeking funding. The truth, however, is that building a comprehensive data room takes time — often several months. 
To ensure a smooth and efficient process, you should have the startup data room ready before any transaction or fundraising efforts kick-off. For instance, if you're expecting a fundraising round in six-months, start building the investor deal room at least three months beforehand.
If your startup is either in the seed funding or series A stage with minimal due diligence needs, here are the top tips to get you started with building a deal room:
Build a data room early to save time and prevent chaos later on.

Update the investor data room quarterly or when there are significant changes in your startup's operations.

Start small and gradually expand your repository to avoid the poor quality of a rushed build-out.
Following these practices will ensure you can conveniently access essential documents on the go, whenever and wherever you need them.
How to set up a data room for investors
If you're an early stage startup wondering where to build your data room, consider enterprise cloud document storage services such as Box, Dropbox or Google Drive. They are familiar, easy to use and cost-effective options for storing and sharing files.
Mainstream options, however, are not purpose-built to serve as data rooms. You need to ensure that your virtual data room software offers robust features such as encryption and watermarks. Security features become particularly important for industries with stricter regulations, where the document sharing solution must align with standards like SOC2 compliance, which governs the secure management of customer data.
Features to consider while choosing a
virtual data room software
Consider these four features when choosing a VDR:
1. Security controls 
To ensure unparalleled data protection, your VDR should offer the following security features:
Redaction:

This feature allows easy removal of sensitive information from documents, securing personally identifiable details and critical business data.

Dynamic watermarking:

The ability to add customized watermarks such as usernames, emails, company names and timestamps to documents for additional security. 

Fence view:

To prevent unauthorized viewing and maintain confidentiality, a restricted mode should be available, wherein only a portion of the document is visible to specific users.

Granular user permissions:

This control allows administrators to set viewing, printing, secure PDF downloading, original document downloading and editing permissions for different users based on roles and tasks.
2. User-friendly interface 
For a user-friendly experience benefiting both startups and investors, the online data room should provide the following features: 
Navigation:

Using the data room should be effortless and intuitive, ensuring seamless interactions. 

Cross-border collaboration:

D

ata room for startups

should simplify cross-border collaboration for global teams with a multilingual interface.

Native file viewing:

A reliable

virtual data room

should allow users to view files in their native format without the need for external software or plugins. This time-saving feature ensures that all documents are automatically prepared for easy viewing.

Efficient file review:

When you need to review hundreds of files, a

deal room

should allow you to instantly jump from the current document to the next one for a faster and more efficient experience.
3. Pricing and scalability
When purchasing a solution for an investor data room, consider these price factors:
Differences in pricing plans:

Assess the pricing plans offered by different

VDR data room

providers to choose an option that aligns with your startup's needs and budget. Some providers offer tiered plans with varying features and storage capacities.

Feature-to-cost comparison:

Compare the features offered by each provider against their respective costs. Some providers may offer advanced features you may not need immediately, while other providers might lack essential functionalities. Prioritize the features that are crucial for your business while being mindful of unnecessary expenses.

Scalability:

Whether you opt for

product led growth

or a different strategy, you will require more storage space and features as your startup expands. Evaluate if the

virtual data room software

has the potential to meet your future needs without significant disruptions or the need to switch platforms. 

Free trials or demos:

Before making a financial commitment, you can avail of free trials or demos to test the platform's functionality and see if it meets your requirements.
4. Analytics reports 
An online data room not only houses data but also presents it in a clear and organized manner by incorporating the following features:
Built-in analytics:

The VDR should have built-in analytics that offers

valuable insights into user interactions, facilitating better decision-making and compliance monitoring

.

Audit logs:

The data room should capture all the activities within the

acquisition data room

, ensuring internal compliance.

Color-coded reports:

To understand user engagement and interests, you can identify the most active user groups and frequently visited sections of your

data room documents

through color-coded reports.

Group overview reports:

The investor data room should provide a holistic snapshot of group activity such as the number of invited deal parties, logged-in users, accessed documents and posted Q&A questions. These reports help in better collaboration and decision-making.
What are the stages of an investor data room?
Data rooms for startups play a critical role in two distinct stages of the investment process.
Stage 1
Investors often request access to a company's data room before offering a term sheet. 
With limited information available, the data room serves as a spot check, enabling internal discussions among investors. 

This room grants access to interested investors with strategy documents, pitch decks and product plans. 

The investor needs stage 1 data to draft an investment memo for internal decision making. Post this due diligence, the investor will present you with a term sheet, also called an initial financing offer. 
Stage 2
This stage occurs after receiving a term sheet and involves a more comprehensive data room to streamline due diligence, offering granular details and documents. 
The second room, reserved for serious investors, contains more sensitive information such as legal agreements and HR documents.

This deal room includes additional information on existing areas of your business (e.g., financials) that have been reviewed in stage 1.
While some startups build the stage 2 room by adding additional resources to stage 1, keeping the two rooms separate is always a smart move. Not all of the investors you pitch will be in sync from a timing perspective. For instance, you might be at stage 2 with one investor but at stage 1 with the other, so maintaining two separate rooms with different levels of detail and permissions is the best strategy.
What to include in a data room
Here are the top documents to include in a data room for startups:
1. Business summary / Company overview
It provides an overview of the problem you are solving, your solution and competitors. Ensure to include:
1-page business overview

Proof of value documents

Links to your company website and social platforms

Product demo video

Pitch deck
According to a study by Gartner, 86% of seed round pitch decks are rejected before presentation. To maximize your chances of fundraising, you should identify the pre-screening criteria of investors and align your pitch decks correspondingly.
2. Traction / Product market fit
You should provide data that proves you're solving a real problem faced by a considerable number of people and they are willing to pay meaningful dollars for it. Documents to include:
Market size

Customer data

Number of current customers 

Engagement rate

Unique selling proposition (USP)
🆘 Need help building your ICP? Download this ideal customer profile worksheet used by 300+ SaaS startups.
3. Financials
According to a report by CB Insights Analysis, 38% of the startups fail because they either run out of cash or fail to raise cash. To verify the financial health of a startup, investors require an economic overview of your business from the day you started to the present day with forward-facing projections. Documents to include:
Profit and loss (P&L)

Balance sheet

Cash flow statement

Financial projections
4. Team and roles
You should provide an overview of your team, their experience and the roles they play in your business. Documents to include:
Brief profiles on each team member, role and time with the company

Employee contracts

Onboarding documents to showcase your culture and hiring process

Future critical roles 

List of contract workers and firms
Pro-tip: Building a collaborative team is the backbone of a startup's success. Read the top team building lessons from our recent corporate retreat.
5. Cap table
From an investor's perspective, it is essential to have an overview of who owns equity in your business. Documents to include:
Capitalization table summary

Details of previous fundraising rounds or liquidity events

Shareholder certificates

Vesting schedules

ESOP details

Voting agreements

Investor rights agreements

First refusal and co-sale agreements
👉 Read our guide to understand the difference between private equity and growth equity. 
Entity formation documents
To ensure your compliance and legal standing, the required documents may vary depending on your company's incorporation location and chosen business entity. Documents to include:
Shareholder certificate documents

Local/state/federal business licenses/letters of good standing

Articles of incorporation

Bylaws

Tax ID number

Operating agreement between founders

Shareholder meeting minutes/board minutes
6. Customer and partner contracts
Material agreements will vary based on the nature of business, but the general gist is to include anything that could significantly impact the business. For example: 
Standard terms of service signed between your business and customers

Property leases 

Licenses of any company IP to third parties

Any agreements that could have a material impact on the business

Any industrial licenses and permits required for operating legally 
7. Proof of intellectual property (IP)
The World Intellectual Property Organization (WIPO) highlights the importance of IP for startups that aim to attract venture capital. If your company has IP and that was part of the pitch, you will have to show proof of that IP. Include these documents:
Evidence that you have the right to the IP that you're developing

Patent information (proof of filing /issuing)

Trademark registrations

Copyrights
8. Technology
Technology documents provide clarity on your company's software products, their functionality, and the third party software that your company uses. Documents to include:
System architecture diagram

API documentation

Product backlog export 

Existing products (for safety, you can present these with screenshots)

Details on any extensive integrations

List of third party and open source software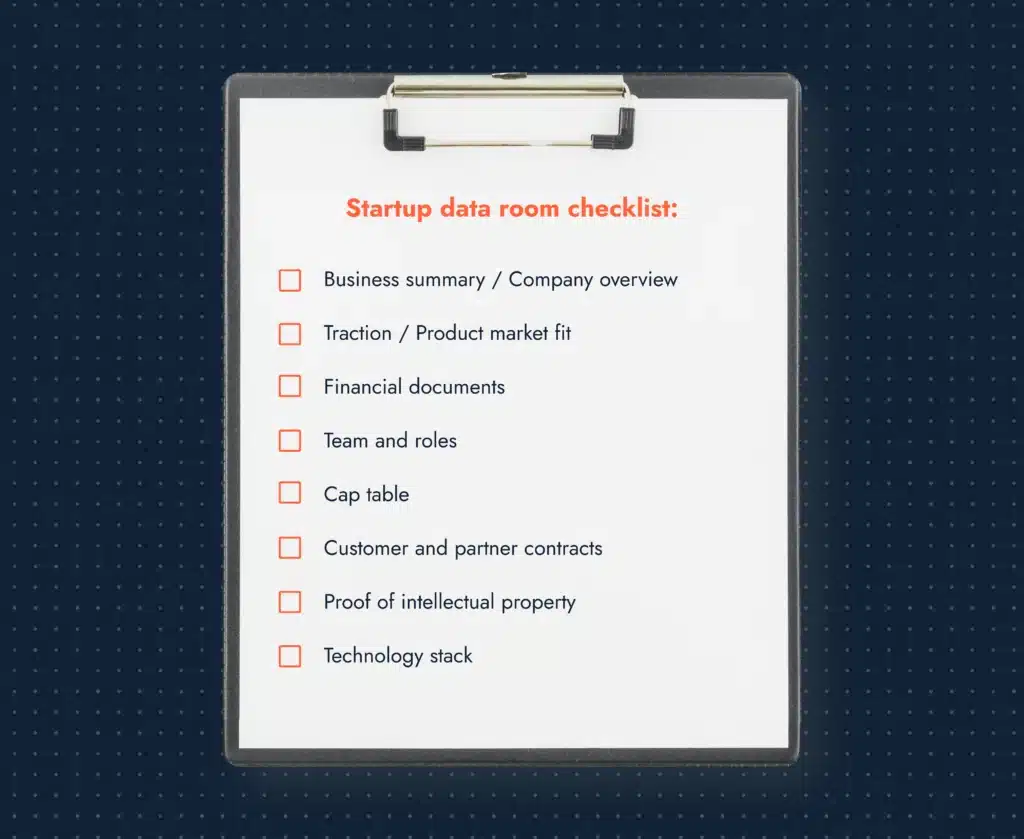 What to avoid in a virtual data room
While creating an effective data room to provide investors with the necessary information, you don't want to waste time compiling data they won't review.
Three elements that might not be worth including in an investor data room are:
Documents that are not relevant to investors for decision making

Sensitive data protected by privacy laws (e.g., HIPAA, CCPA)

Documents that are not important to the stage an investor is at – for example, if you are only meeting for a coffee chat, limit what you are sharing
Best practices for startup data room management
Statista says that more than 60% of all corporate data is stored in the cloud, growing the need to build a secure online data room for your organization's sensitive information. Here are the four best practices in data rooms for startups: 
1. Identify and prioritize data
The first step is to identify all the critical documents and data that should be included in the data room. Not every document of your business's operations is relevant to potential investors during due diligence. By prioritizing data, you can carefully assess and exclude sensitive information from the data room, safeguarding your business's interests.
Also keep in mind that including too much irrelevant data can overwhelm potential investors and dilute the impact of critical information.
2. Structure and organize data
Next, you must identify how to structure your data room into folders and subfolders to create a hierarchical structure. Another option for structuring is indexing, which allows you to tag documents with keywords or metadata for easily locating files using specific terms.
Plenty of companies do not pay attention to naming conventions while saving documents, making it downright aggravating to find a particular item. Instead of generic naming designations such as "contract" or "amendment," you should develop a specific document naming scheme.
3. Clean and validate data 
The startup data room is the building block of investor confidence. You should ensure the data room is reliable and free from any misleading or outdated details. 
You should be cautious about identifying and correcting errors, inconsistencies and inaccuracies in the data. This practice includes removing duplicates, correcting typos, standardizing formats and resolving conflicting information. 
To provide clean data, you can also implement version control: 
Ensuring that users are working with the most updated version of a document

Keeping track of changes made by other team members

Allowing you to revert to earlier versions of a document in case of data corruption 
4. Revoke access for unnecessary users
Once your online data room is set up, you need to ask: who has access to a data room?
For instance, investors at stage 1 may not need access to cap tables or shareholder certificates. By adhering to the principle of least privilege, you should determine the appropriate level of access for each individual within the data room, aligning it with their specific tasks and responsibilities. By applying this fundamental principle, you can ensure a secure and well-controlled environment, safeguarding sensitive information. 
The levels of access are generally as follows:
Administrator access, which is often reserved for the party that creates and manages the data room

User with full access to view and manage documents 

User with view only access 

User with restricted access to specific documents or folders

User with limited time access
Once a user's role in the due diligence process is complete, it is advisable to revoke their access to the data room to maintain data security and confidentiality. Regularly reviewing data room access is crucial as your startup grows and new parties join or existing users' roles change.
Let's help you grow your B2B startup
Whether you need to set up a startup data room or demonstrate business traction to investors, you should look for ways to stand out in a crowded market.
Our digital marketing and lead generation services have helped B2B SaaS startups earn more organic market share and high-quality leads by focusing on:
Reach out to unlock the full potential of your B2B SaaS business with our SEO-driven growth strategies.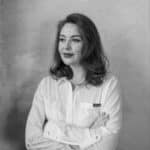 Anna Gladkaya
Anna Tymoshchuk is a seasoned business leader and strategist with over eight years of experience in B2B marketing and programmatic campaign management. She is currently serving as our Chief Operating Officer (COO), where she oversees operational improvement and project management at our company. She leads our PMO team and is committed to ensuring that all projects are delivered on time, within budget, and to the highest quality standards. Anna's expertise lies in designing and executing data-driven advertising campaigns and web builds that help businesses achieve their marketing goals. She has a deep understanding of the advertising ecosystem, and her ability to leverage data analytics to optimize campaigns has helped many clients achieve significant ROI. Anna's passion for continuous improvement and innovation is evident in her work. She is always looking for ways to streamline processes, reduce costs and improve the overall customer experience. Her ability to think outside the box and come up with creative solutions has helped our company stay ahead of the competition. Aside from her work, Anna is an avid foodie and loves starting her day with a latte and an almond croissant. Her colleagues often joke that her love for pastries fuels her energy to drive operational efficiencies and deliver exceptional results.