SEO content writing: Is sloppy copy hurting your search rankings and conversions?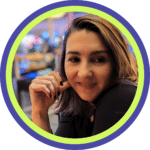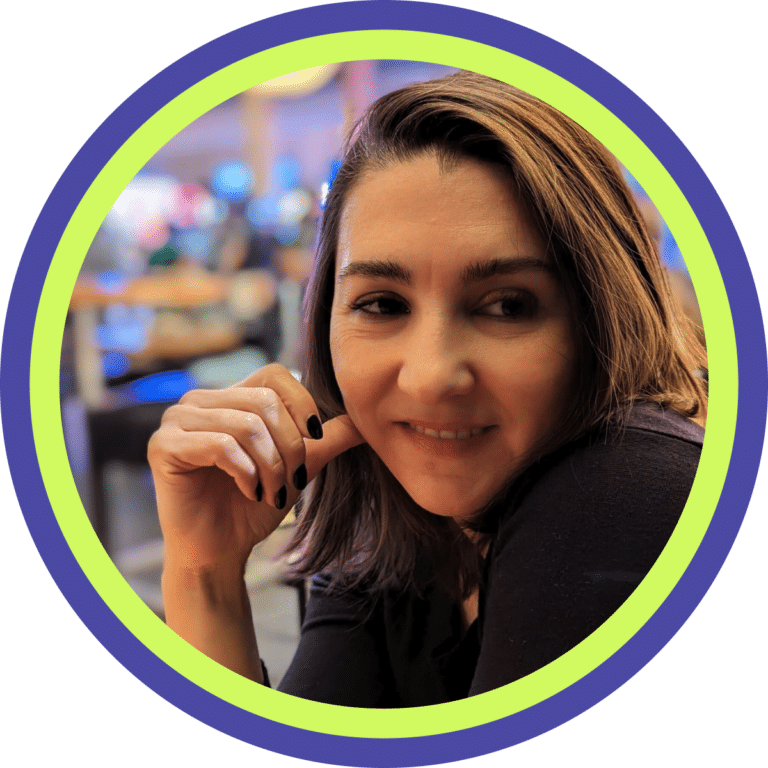 Vanessa Nunes, PhD
Content team lead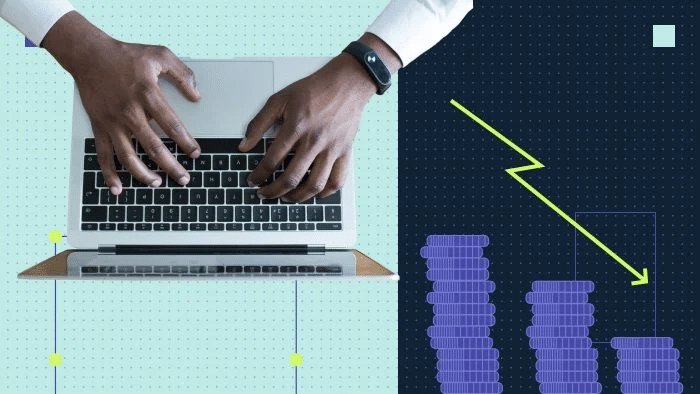 Learn how to avoid grammar and spelling errors that hurt your brand reputation and lead generation efforts [checklist included]
If you want to optimize your B2B website for search engines, you can start with spot-on spelling, grammar and punctuation. After all, quality content — with readability in mind — is one of the tenets of search engine optimization (SEO).
But the importance of well-written B2B content goes beyond your SEO rankings. Think of how you want your brand to be perceived:
Do you want to be seen as authoritative and trustworthy?

Or do you want to give the impression that you are sloppy?
What is sloppy copy?
A sloppy text is a draft that looks unfinished because it has not been revised and edited. It's full of typos, incorrect punctuation and grammar errors. 
Here are 10 content issues that can make your sentences look sloppy:
Incorrect grammar

Unclear sentence structure

Syntactic ambiguity 

Jargon and clichés

Vague word choices 

Typos and extra spaces

Misuse of commas

Run-on sentences

Excessive use of passive voice

Weak adverbs and adjectives
A sloppy copy is only acceptable (and even encouraged) as an initial part of the writing process. It's your first or rough draft when you only focus on getting your ideas on paper.
Then the next step is to revise and edit what you initially wrote. Here you add or remove sentences, make transitions smoother, elaborate on concepts and change words for precision. Finally, you proofread the copy to eliminate any grammar and spelling errors.
Content impact on SEO: the role of grammar and spelling
Grammar and spelling are NOT direct factors in determining your rankings on the search engine result page (SERP). They do, however, play a role when you look at the bigger picture of how Google algorithms work. 
Quality of content is one of the key factors determining search ranking results. Typos, grammatical errors, unclear sentences and awkward word choices are often a sign of low-quality content. 
What is high-quality content for SEO? 
High-quality content for SEO should be authentic and resonate with readers. It's all about expert knowledge and readability. Keep in mind that the internet is full of low-quality pages. To stand out, you must ensure your SEO copywriting is on point. 
In its SEO Starter Guide, Google is adamant that the content should be well-written and easy to read. As Google puts it, you should avoid "sloppy text with many spelling and grammatical mistakes." For Google Search Advocate John Mueller, these mistakes are "almost like a gray zone" because they make it difficult to understand what the page is about.
So yes, readability can affect the performance of your SEO content writing. Take Mueller's words on this:
"Sometimes it can appear that a page is lower quality content because it has a lot of … kind of … grammatical and technical mistakes in the text."
(John Mueller, Google Search Advocate)
Watch this video to hear from Mueller: 
How sloppy writing can hurt your website
and brand 
Poor readability, low engagement and untrustworthiness can affect your organization's ability to rank well on organic search, gain prospect trust and convert leads. Here's why. 
Poor readability impacts user experience 
We've established that user experience is pivotal for ranking well on Google. Jargon, difficult words, large blocks of text and long sentences hinder readability. According to Semrush's analysis of data from the SEO Writing Assistant tool, 43% of low-scoring texts had too-long sentences.
From the reader's point of view, sentences that are too long are hard to follow. From the writer's point of view, it's easier to get grammar right when dealing with direct, simple sentence structures. 
👉 Actionable takeaway: Choose simpler words, write short sentences and be direct when presenting information.
Low engagement hurts your B2B SEO results 
If the users are unsatisfied with your content, they won't engage. They will leave your page as soon as they get there. And engagement matters. In fact, three out of four respondents in the Content Marketing Institute's B2B Content Marketing survey said that their organizations measure content performance by looking at metrics such as website engagement, conversions and traffic. 
SEO metrics to watch out
Poor engagement signals to Google that you don't have trustworthy content. The result is lower rankings, traffic and conversions. Watch out for these SEO metrics:
Time on page

measures how much time a user spends on the page. 

Number of sessions

indicates how many times a user visits your website within a timeframe. 

Pages per session

indicate how many pages, on average, the user visits before leaving your website.

Bounce rate

is the percentage of users who leave your website after visiting only one page.
Careless content can have a direct impact on these metrics. A survey on the cost of typos shows that landing pages with typos have an 85% higher bounce rate than their typo-free versions.
If your content is low quality, the user:
Won't spend time on your page

Won't want to view more pages on your website

Won't come back to your website
Sloppy copy tends to be spammy and unhelpful
Spammy content is not only unsolicited but also unhelpful — and you don't want your B2B copy to be considered spammy. Poorly written sentences with typos are often perceived as a sign of phishing scams. 
So what is helpful content?
Helpful content is the term of the hour in the SEO world. In August, Google rolled out its helpful content update that helps to reward content that is original and written by people, for people. 
Helpful content, as the name suggests, helps the user. 
As Google puts it, "This ranking update will help make sure that unoriginal, low-quality content doesn't rank highly in Search." Google wants content creators to stick to their areas of expertise. For example, you might have a Ph.D. in mathematics, but it doesn't make you an authority on grammar. 
Next week, we will launch the "helpful content update" to better ensure people see more original, helpful content written by people, for people, rather than content made primarily for search engine traffic. Learn more & advice creators should consider: https://t.co/fgf2TPNIqD pic.twitter.com/xOuX2iVk2d

— Google Search Central (@googlesearchc) August 18, 2022
👉 The takeaway: Your readers should leave feeling like they've had a satisfying experience and learned enough about the topic in question. By producing thin content full of typos and grammar errors, you won't achieve these goals. 
Need help identifying thin content? Use this guide: 👇
How to check for thin content and actually fix it
Careless writing puts your E-A-T into question 
E-A-T (expertise, authoritativeness and trustworthiness) is also an important concept in SEO. Google discusses this concept in its Quality Raters' Guidelines. This document helps to determine if the content is high-quality and valuable to the readers. 
Consider these questions:
Expertise:

Is the content produced by a subject matter expert (SME)?

Authority:

Is the website reputable? What are the credentials of the writer?

Trustworthiness:

Is the content updated and accurate?
E-A-T can also help you build a successful backlinking strategy. You demonstrate your E-A-T when other websites link to your content, or when you have content produced by subject matter experts with credentials in the field. If your copy is sloppy, other websites won't want to link to you. 
✍️ Discover why SME interviews are the secret to successful content.
Untrustworthy content damages your
brand reputation
and conversions
Sloppy copy hurts not only your B2B SEO results but also your brand perception. Poor grammar and typos make your readers perceive you as careless about details and lacking professionalism and credibility. 
Let's say your website has a landing page encouraging readers to download your latest market survey with industry trends. How can the user trust your data if you keep misspelling your own product names? 
These content marketing mistakes will leave your prospects with a bad impression of your organization. Not surprisingly, a survey by surveymonkey.com shows that 85% of millennial shoppers are less likely to buy a product advertised with spelling or grammar errors.
☝️ Remember why you are spending your precious B2B marketing budget on content in the first place. Creating brand awareness and building credibility and trust are the top goals of a successful B2B content strategy, per Content Marketing Institute's latest report.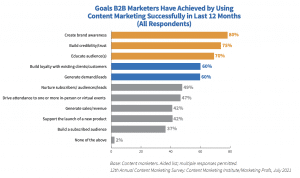 Source: Content Marketing Institute's B2B Content Marketing Benchmarks, Budgets and Trends.
To achieve these B2B marketing goals and drive more conversions, you need trustworthy content. In fact, improving the quality of content is the top tactic for a successful content marketing strategy, according to 55% of the respondents of The State of Content Marketing report by Semrush. 
So how to write trustworthy content?
The first step is to ensure that your draft doesn't have errors. Grammar and spelling are only part of the equation. Equally important is to ensure that your facts are updated and accurate. 
Doing extensive research and linking to credible sources is also critical to creating trustworthy content. For 75% of the respondents in a SurveyMonkey Audience survey, data-backed content is more trustworthy than content without supporting data.  
👉 Actionable takeaway: Write content with precision and back up your claims with data. 
Sloppy text can be distracting and lead to misunderstandings
Sloppy copy can be distracting to readers. How can you focus on the content itself when all you see are typos? Worse, you might make an effort to guess what the author has to say but can't get past vague and confusing statements. 
You know the typical villains: unclear pronoun antecedents and misplaced punctuation. A missing comma, for example, can change the meaning of an entire sentence and cause misunderstandings, as the meme below shows: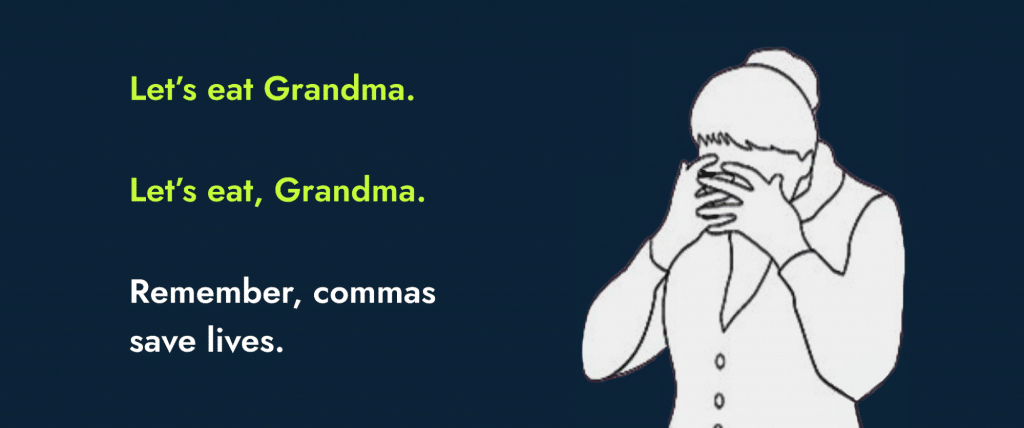 👉 Actionable takeaway: Check your punctuation to ensure you are not conveying misinformation or misguiding users into taking the wrong interpretation. 
The Oxford comma lawsuit 
Some writing style guides — ours included – opt to not use the Oxford comma, which is the final comma in serial lists. Proponents of the Oxford comma argue that, by using this punctuation, you remove ambiguity from sentences. 
Case in point: The lack of an Oxford comma in a Maine state law cost Oakhurst Dairy $5 million. The legislation exempts certain tasks from overtime, but a group of drivers argued they were entitled to the compensation. Their interpretation was based on the lack of an Oxford comma in the law. The court sided with the workers, and Oakhurst Dairy ended up settling the dispute.
👉 Actionable takeaway: Commas are more powerful than you think. Never underestimate them. 
Top 9 strategies to minimize spelling and grammatical errors and make your
SEO copy shine
You might be a captivating storyteller, but a bad speller. You can still produce neat content to rank well on organic search – as long as you are self-aware of your shortcomings and work on them. 
Here's how to avoid sloppy writing for SEO:
1. Refresh your grammar knowledge 
You are never done honing your grammar knowledge. One of the best ways to improve your writing is to revisit grammar rules.
My top tips: 
Find free resources on the internet. 

Need help finding the right word? Ensure you have a dictionary or thesaurus on hand. There are great options online, and you can always type on Google the word you want to check, followed or preceded by the word "define." 

Uncertain about a grammar rule? Do a Google search and find a reputable source with information on the topic. Writing centers from universities are a good place to start. 

Take an online course on platforms such as Udemy, Coursera and LinkedIn Learning.

Read writing books and manuals. Start with these 2:👇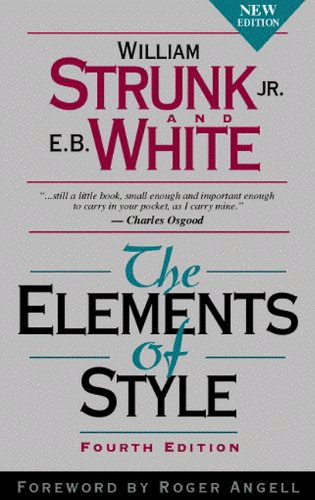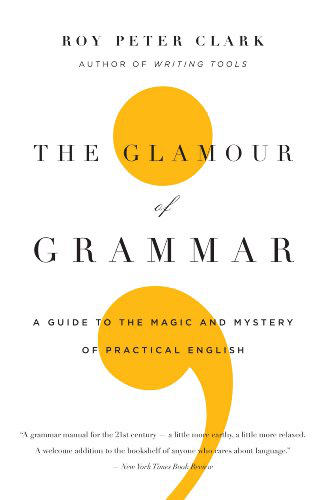 📚 Here's why I recommend these writing guidebooks:
The Elements of Style by William Strunk Jr. and E.B. White

is one of the best-known writing style books used by language students and professional writers alike. The authors educate on the principles of composition, clarify grammar rules and preach precision, encouraging writers to get rid of unnecessary words and sentences.

The Glamour of Grammar by Roy Peter Clark

— the same author of Writing Tools — offers a good reminder that spelling matters. Even though I don't side with the author on his advocacy for the serial comma, I appreciate his insights on concise writing.
2. Use a writing assistant tool to catch typos and improve readability
Let's stop the stigma. You are not less of a writer for relying on a writing assistant tool. On the contrary, it shows you take your craft seriously. A spelling checker won't make your copy error-free but can help you improve the quality of your content.
These are the three writing tools I use and recommend:
Hemingway Editor 
The Hemingway Editor helps you check your writing for stylistic issues. 
Where to find: hemingwayapp.com
The online version is free but requires an internet connection. For offline access, you can purchase a desktop app (for MacOS and Windows, at $19.99 USD). 
What I love about the Hemingway app 
Hemingway Editor is all about the readability level, highlighting your use of difficult words or sentences that are hard to read. These recommendations can help you simplify the text, which is critical for effective SEO content writing. Hemingway, however, offers limited grammatical help. If grammar is not your forte, you should use another tool like Grammarly.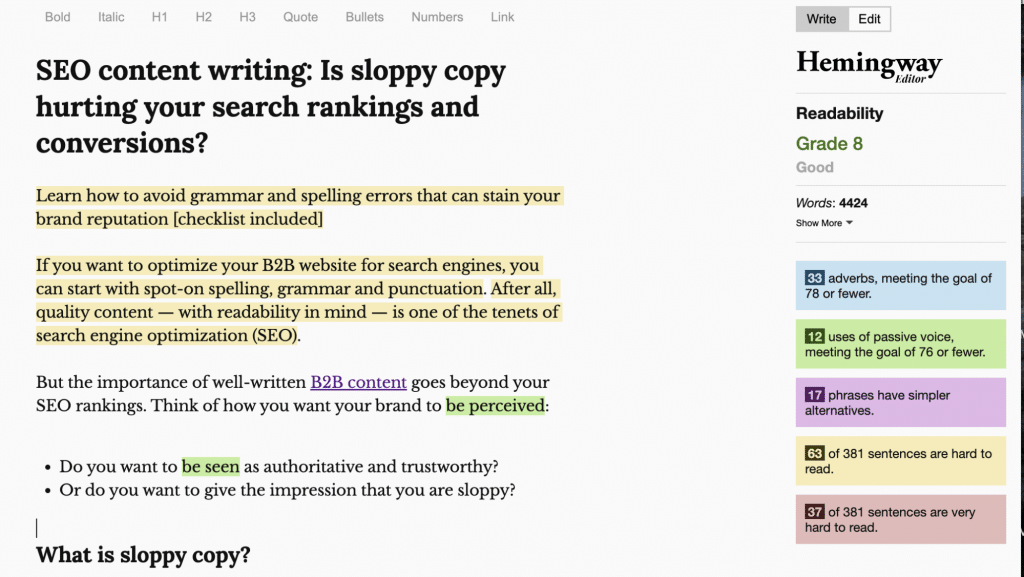 Grammarly 
Grammarly is a writing assistant tool that helps you to check your text for grammar and punctuation issues, misspellings and misused words. 
Where to find: app.grammarly.com
Grammarly has a free version with limited features. For word choice suggestions, plagiarism checks or the capability to rewrite full sentences, you need the Premium ($12 USD per month) or Business versions ($15 USD per member per month). 
What I love about Grammarly
Grammarly is a more complete tool for writing and editing, especially if you have the Business version, which also offers style guides, brand tone books and analytic dashboards. 
If you are working with freelance writers, the plagiarism check feature is very handy. Google penalizes unoriginal and duplicate content. And plagiarism, of course, can damage your brand reputation.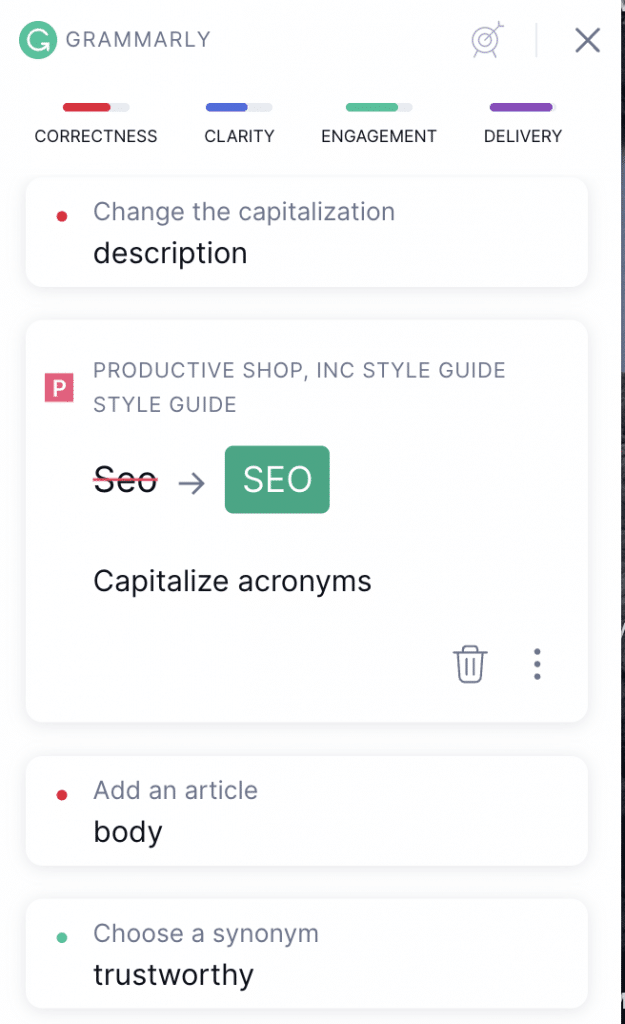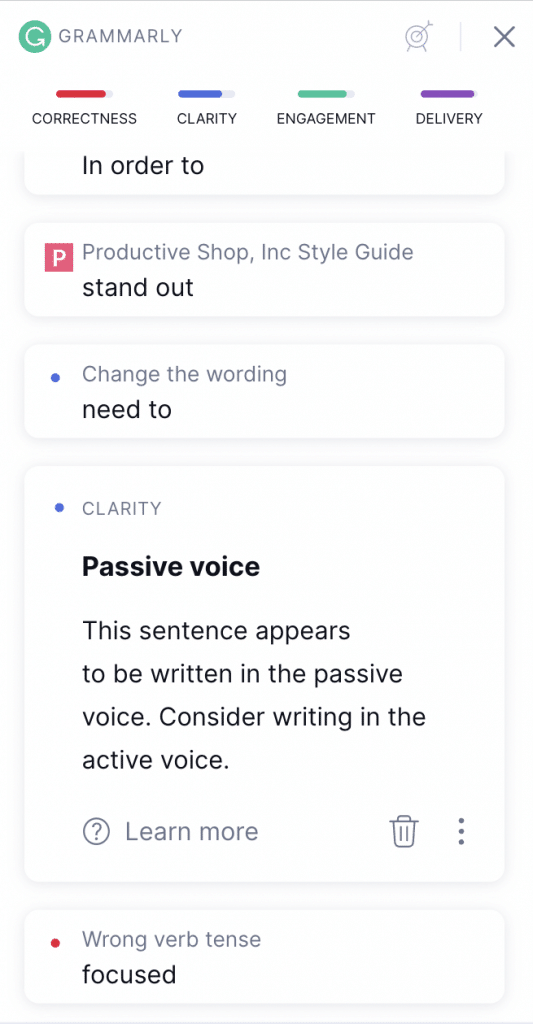 Semrush Writing Assistant
Semrush is an SEO software suite for keyword research, website audit and competitor analysis. Semrush Writing Assistant is part of the Content Marketing toolkit, available with the Guru and Business packages. 
Where to find: www.semrush.com 
Semrush Guru plans start at $191.62 USD per month. This investment makes sense if you are part of a marketing department or an agency that can benefit from the extensive list of features that the Semrush suite offers. 
What I love about Semrush Writing Assistant
Semrush Writing Assistant won't help you with grammar but it'll help you improve the readability score of your content.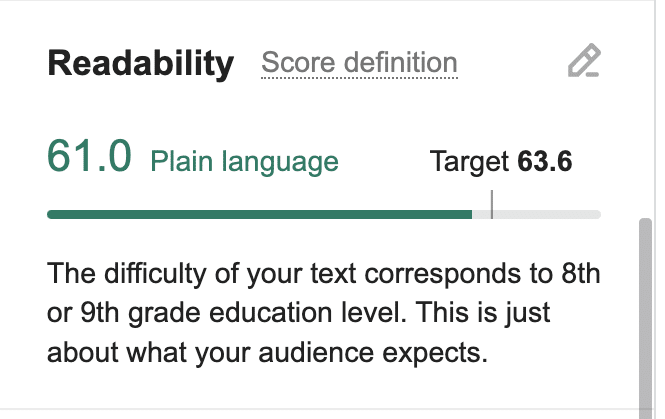 You can upload your document on Semrush or download the add-on for Word, WordPress or Google Docs. The Writing Assistant will ask you to split long paragraphs, rewrite hard-to-read sentences and replace too-complex words.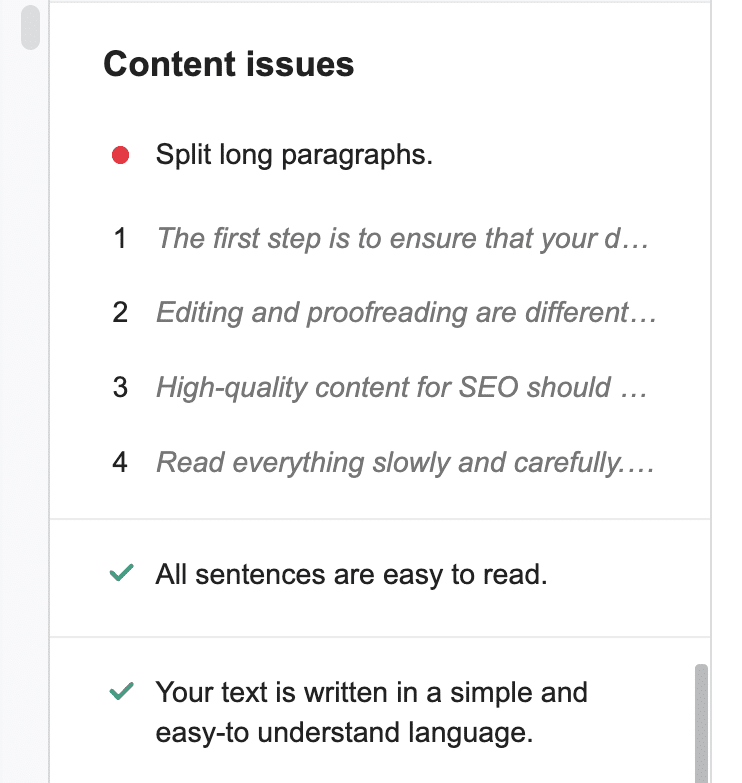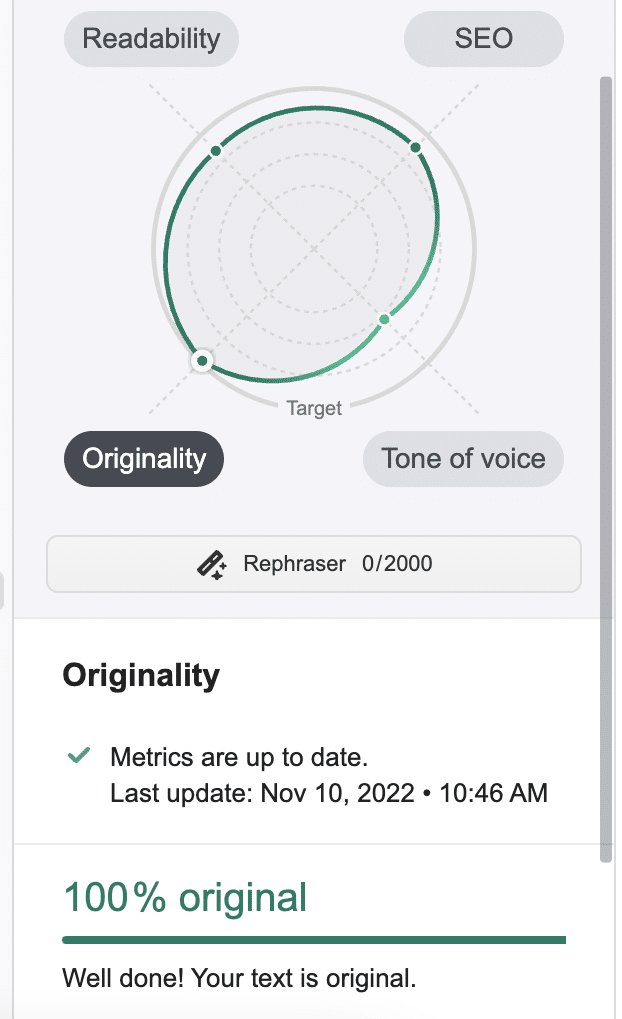 If you are looking to optimize your B2B content for SEO, you can also use Semrush Writing Assistant to identify keywords you should add to your post and check for plagiarism. 
🤖 Can AI writing help you with SEO? Read our guide to find out.
3.  Stick to a writing style guide to avoid inconsistency 
Your brand's writing style guide should be your best friend. If you don't have one yet, build one. 
A style guide is important to give clarity about your standards for spelling, grammar and punctuation. You need the set the rules in order to enforce them. 
Your readers typically don't care if you use a title or sentence case for your headings, as long as you stick to one style. An inconsistent style makes your content look sloppy. 
What to include in a style guide when writing for SEO
Setting style guidelines makes the writing process easier because you can just follow the rules rather than second-guessing how you should spell a certain word.  
Based on my experience reviewing and building writing style guides for B2B companies, here's what you should include in those documents:
Brand voice and tone

Capitalization of headings (title vs sentence case) 

Use of Oxford comma

List of special spellings (e.g., choosing between "cyber security", "cyber-security" or "cybersecurity")

Terms to avoid (at Productive Shop, for example, we prefer the term "team member" rather than "employee")

Acronyms, contractions and emojis 

Punctuation in bullet points

Spelling of numbers 

Hyphens (e.g., we write "zero-trust security" or "zero trust security" depending on the client)
If you need help creating a writing style guide, contact our team.
4. Double-check spelling and numbers
Effective proofreading is all about attention to detail. Trust no word. Read everything slowly and carefully. Take nothing for granted. 
You should focus on each sentence separately, before moving to the next one. Always ask: Does the structure of the sentence make sense? Are there any grammar or punctuation issues? Are all the words spelled correctly? 
Here's what you should also double-check:
People's names

Company's names

Names of products or services

Acronyms and industry terms

Statements under quotations 

Numbers, stats and research claims

Dates, locations and other facts 

Hyperlinks (broken links frustrate users and harm your SEO performance)
5. Make a checklist with your typical grammar and spelling mistakes
Being self-aware of your own patterns and typical copywriting mistakes can help you improve the quality of your SEO copy. Make a list of the errors that you make repeatedly. 
Let's say that you tend to confound "they're" and "there," then make sure that you proofread for this type of error in your copy. Use the search feature in the word editor to scan the text for those words.
This strategy is helpful in minimizing the overuse of certain words. Let's say you tend to overuse the adverbs "therefore" and "moreover." After you finish your draft, use the search and look for these words and replace them.
6. Read aloud everything you
write for SEO
Reading aloud forces you to say each word, so it helps you to catch errors that you may not see when just reading it silently. This strategy is useful for detecting awkward, unclear or wordy sentences. 
Another reason to read aloud is to better identify chopped or disconnected sentences and paragraphs. When reading aloud, it's easier to notice abrupt transitions.
7. Proofread with fresh eyes
After you finish writing, let your draft rest for a few hours or a day so you can come back to it with fresh eyes. For the same reason, don't proofread your copy when you are too tired. 
We've all been there. If you are too immersed in your draft, you won't be able to see your own errors. For example, your mind might trick you to see a correct spelling rather than an outrageous typo. 
This approach is not always possible if you are running against time or under a tight deadline, but try to plan ahead, giving yourself a buffer time. 
8. Get a second pair of eyes to read your draft
We all make mistakes. After spending too much time on a draft, you can no longer see it clearly. So ask someone to read your draft. 
This strategy is especially helpful when it comes to SEO content writing because you want to ensure improved readability. For you, something might be too obvious because you are deep into the topic. Your reviewers, who are detached from the copy, can better identify concepts that are unclear or terms that need clarification.
9. Check the text again after each round of revisions 
If you use collaborative software such as Google Docs, you might notice that after a round of revisions, there are always extra spaces or repeated punctuation markers. Or perhaps by adjusting a sentence, you now have 2 sentences that sound repetitive.
Tools like Grammarly make it easier for you to spot things like extra spaces (see below 👀👇), but it's always a good practice to go through the draft once more.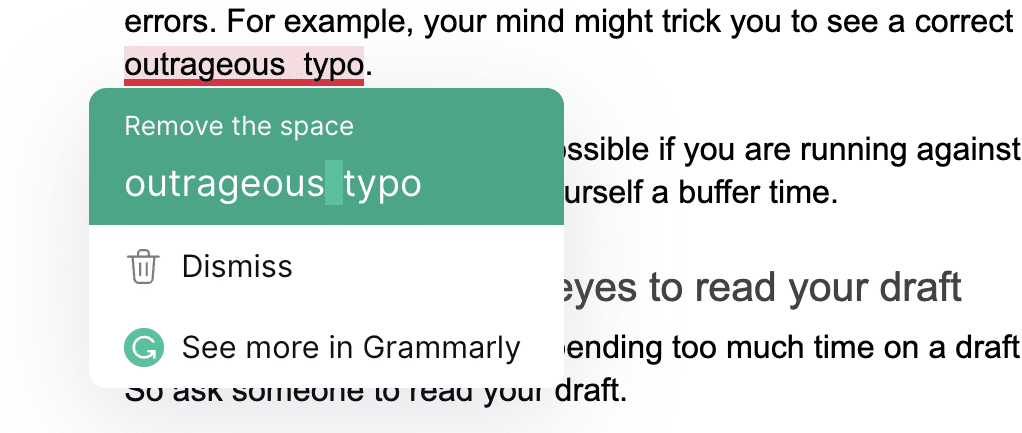 Key takeaway: SEO-friendly content
has the user in mind
To ensure your target audience understands your content, you need to pay attention to the details. It's all about precision. Following this checklist can help: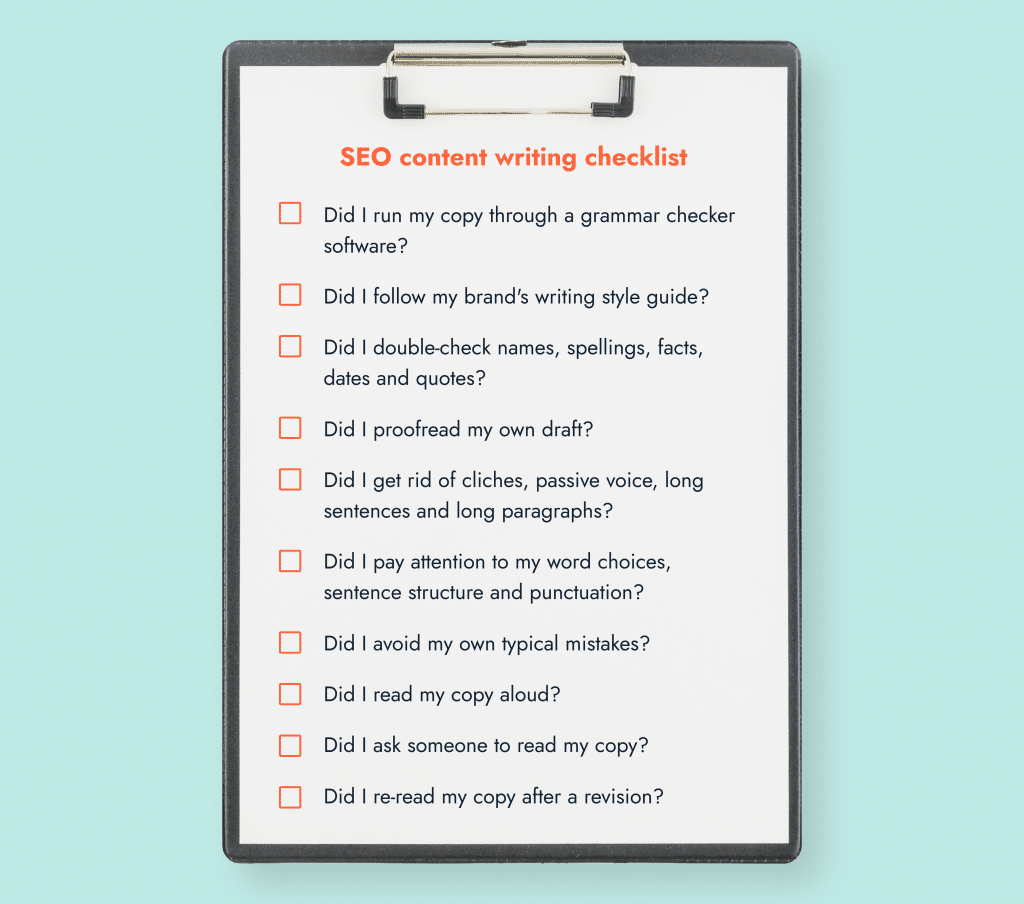 ☝️ New to B2B content marketing? Check out our top SEO writing guidelines and checklist.
Don't let grammar derail your
conversion-focused content marketing strategy
We hope you are convinced now of the importance of proper spelling, grammar and punctuation in making your content shine and delivering better B2B SEO outcomes. 
💡 Use our checklist as a guide when creating new content for your website. You should also revisit your previously published content and make any necessary fixes to ensure a smooth reading experience. 
Here at Productive Shop, we obsess over proofreading every single draft we deliver to our clients. Get in touch to hear more about our B2B content writing services. We can help you build a highly-converting marketing editorial calendar and craft impactful SEO copy.
Contact us — and let's create engaging content together.
Frequently asked questions
How much content is too much content
to be outputting monthly? 
The amount of content that you should output monthly depends on your industry and the resources you have available. More content can help with your rankings and traffic but you should always think of quality over quantity. 
For some industries, four pieces of content each month might be more than enough. For others, you should aim at 8 to 12 posts monthly. To find the right number, the first step is to conduct competitor analysis research, so you can uncover gaps and understand opportunities.
These insights will also help you build a killer B2B content calendar, based on industry trends and keyword research. Instead of outputting content for the sake of it, focus on producing resources that can solve the pain points of your target audience and better guide them through their buyer journey. 
Equally important is to keep a regular and consistent schedule so your audience knows what to expect from you. For example, if you are posting 4 blogs per month, aim at posting one blog per week rather than all of them on the same day.
☝️ Need help with B2B copywriting services? Learn what we bring to the table.
B2B copywriter vs content writer
: What is the difference?
Both B2B copywriters and B2B content writers produce texts for a business audience, as B2B stands for business-to-business. Even though the terms copywriter and content writer are often used interchangeably, there's a distinction based on their writing purpose. 
B2B copywriters

craft copy to persuade business buyers and influencers. B2B copywriting tends to be more punchy and salesy, as they write copy for ads, sales brochures, email marketing, PPC campaigns, slogans and CTAs. 

B2B content writers

create content to inform and educate a business audience.

B2B content writing

involves significant research and thought leadership. Typical outputs include white papers, e-books and blog posts.
☝️ Want to learn more about B2B marketing? Read our guide on the B2B buyer journey.
What does proofreading mean?
Proofreading means that you are reading a draft to find and eliminate errors such as typos and punctuation issues. It's the last stage of the writing process.
Use our proofreading tips in this article to ensure you avoid sloppy writing — one of the most common SEO content mistakes.
A
re editing and proofreading the same
thing?
Editing and proofreading are different stages of the writing process. Both demand close reading and attention to detail. 
Editing helps to improve the quality of the text, for example, by rewriting sentences for clarity and style. Major changes to content structure occur during this stage. After you write your first rough draft, you first edit it and then proofread it for the final corrections. 
What are the
most common writing mistakes
?
Here's our list of the 10 most common writing errors that you should avoid for more compelling B2B content marketing.
Unclear pronoun antecedent.

When your sentence involves multiple nouns, using pronouns such as "this" and "it" can cause ambiguity.

Faulty parallelism.

When listing items (for example, in bullet points), you should use the same grammatical element (for example, verbs or nouns).

Misplaced or dangling modifiers.

Words, clauses and phrases that are disconnected from what they are supposed to modify or describe. 

Comma splice.

This error refers to the use of a comma to join 2 independent clauses. You should use a period instead. Example: He's great with words, he loves writing. 👎 

Run-on sentences.

This error happens when you join 2 independent clauses without appropriate conjunction or punctuation. Example: She loves writing she wants to be a copywriter. 👎 

Wordiness and vagueness.

For better writing, you should get rid of the fluff, prepositional phrases, unnecessary adverbs and pointless fillers.

Overuse of clichés, adverbs and adjectives.
Excessive reliance on passive voice

, in which the subject receives the action. These sentences tend to be wordy. Opt for an active voice to get to the point faster.

Misplaced apostrophes.

You should use apostrophes to indicate possession or the contraction of words. A common error is to use apostrophes to make a word plural. Examples: FAQ's or CTA's. 👎

Confused homophones, in which words have the same pronunciation but different spelling. Take the example of it's vs its. It's is short for "it is" while "its" is a possessive pronoun.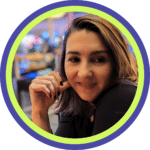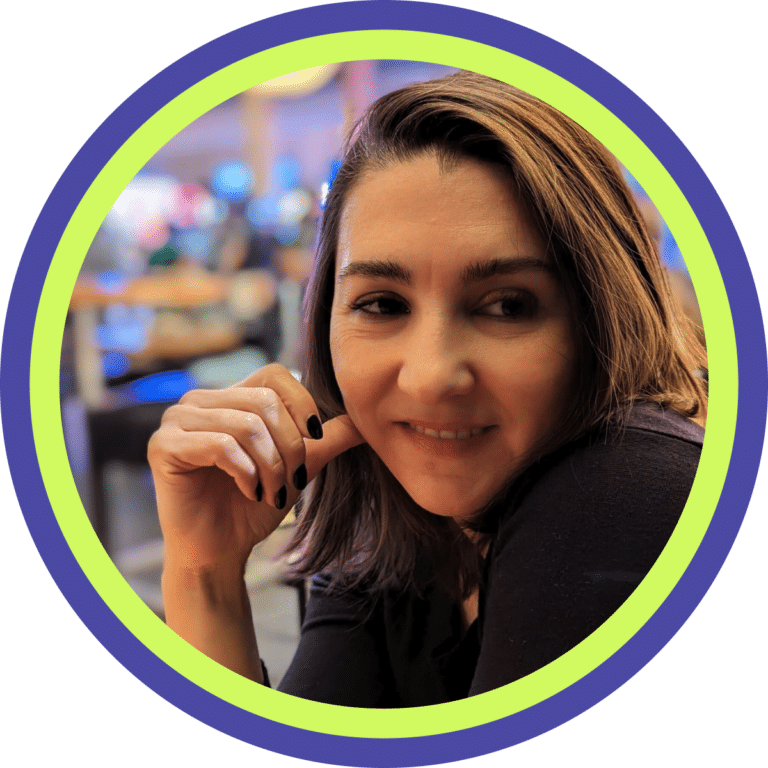 Vanessa Nunes, PhD
Vanessa Nunes leads the content team at Productive Shop, based in our downtown Toronto office. She oversees our B2B SaaS content strategies across our entire portfolio, ensuring our growing team delivers resonating copy that is optimized for search. Her own expertise is in researching and writing thought leadership content in the cybersecurity and GovTech industries. As a journalist, Vanessa has over a decade of experience covering the tech sector for a leading daily newspaper. Prior to Productive Shop, she worked for a research center at a Canadian university, chairing academic discussions and editing scholarly work for publication. Vanessa's formal training includes an undergraduate degree in Journalism, a master's degree in Cultural Studies and a Ph.D. in English. Her doctoral research — funded by the prestigious Social Sciences and Humanities Research Council of Canada (SSHRC) Fellowship — focused on issues of language and representation in the transnational imaginaries of the Americas. When she's not writing or reading, Vanessa is running, cycling or traveling the world. She has visited over 20 countries and is currently training for her first marathon.