The best copywriting tools for B2B teams to drive efficiency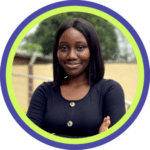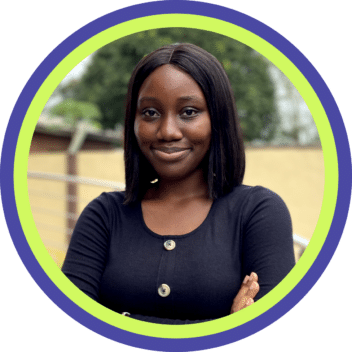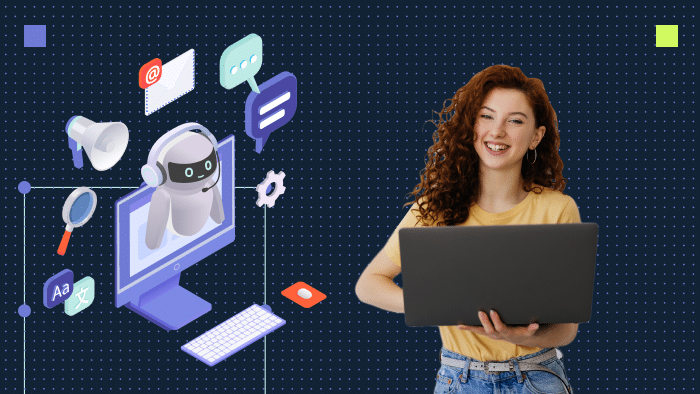 If you want to create search-optimized B2B content efficiently, a tech stack with essential tools to complement your writing efforts is a great place to start. 
Depending on article length, topic difficulty and other internal factors, creating high-quality content can take a few hours to a few days. So how can you conveniently scale your writing process?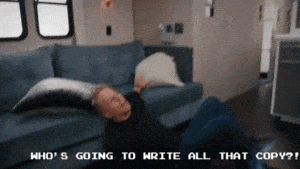 You have two options:
You can either

partner with a marketing agency

that specializes in B2B content creation.

Or

invest in copywriting tools

that can help you save time creating content while maintaining the quality of work you desire.
🤓 Leaning towards the marketing consultancy route? Check out our B2B content writing services at Productive Shop.
If you are going to invest in a tech stack, here are the best content writing tools you can leverage to enhance critical stages of the writing process: research, drafting, editing and optimizing. 
Copywriting research tools 
From understanding your buyer persona, gathering data and discovering high-value keywords to outlining your piece, research is invaluable in creating thought-leading copy. In fact, 75% of respondents in a SurveyMonkey Audience survey believe that data-backed content is more trustworthy than content without data. 
While Google and credible authors should be your primary sources of information, you can use copywriting tools to enhance your research process and create copy that resonates with your audience. 
Here are three copywriting research tools that I recommend:
1. Answer the Public 
Answer the Public is an insightful tool that can help you create compelling, relevant content that speaks directly to your audience. 
With Answer the Public, you can easily discover what questions people ask about your product, service or industry. You simply enter your keyword or topic and the tool generates a list of related questions people search for on the internet. It also makes it easy to create content that directly addresses your audience's needs and moves readers along the B2B sales funnel.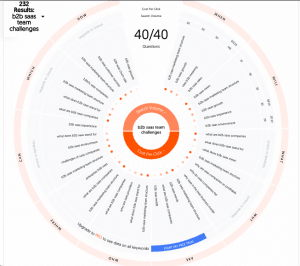 What I love about Answer the Public
With Answer the Public, you can discover the different types of queries people make, including the most common keywords and phrases associated with your topic. The ability to save and export your results is a handy feature when creating B2B content on a schedule since you can research in batches and pull up the relevant folders from your computer. 
Where to find this tool: answerthepublic.com
How much it costs: There's a free seven-day trial. The Individual plan starts at $9 monthly for a single user, Pro plan at $99 with unlimited searches for three users and the highest plan at $199 per month for unlimited users and searches. 
2 & 3. Reddit and Quora 
I'm combining these two tools because they serve the same purpose of helping you get into the mind of your readers. Resonance is the hallmark of great copywriting. And to create resonating and compelling content or copy, you need to understand and master how your target audience speaks, forms their thought and interacts. 
What I love about Reddit and Quora 
Both platforms provide an excellent opportunity to ask questions from industry peers. Subreddits can be a goldmine for gathering information about your persona's pain points and topics for your company blog.   
Where to find these tools: www.reddit.com & www.quora.com
How much it costs: Both tools are free to use. 
AI copywriting tools
Artificial intelligence (AI) tools are all the rage in B2B, with organizations trying to maximize their limited resources. While these tools can help write various types of content, it is vital to highlight the need for quality content. 
As with any AI-powered writing tool, these writing assistants are only as good as the data they're trained on. This structure means there's a risk of bias, inaccuracies and off-brand results in their responses. And high-value content is more crucial than ever. 
In fact, 53% of respondents in a State of Content Marketing report by Semrush reiterate that improving the quality and value of content is a top tactic for a successful content marketing strategy.  
The need for quality content doesn't diminish the value of AI copywriting tools. On the contrary, their natural responses can be rather impressive. And I've used one of these tools to write a paragraph in this article. Can you tell the difference? 
Here are my top picks for AI writing assistants you should consider:
ChatGPT 
ChatGPT is a language model that answers your requests, paying attention to the guidelines you share in its question bar. You can ask questions in natural language, just as you would when speaking to a real person. As the brainchild of OpenAI, ChatGPT is most helpful for industries such as customer service, where you have day-to-day conversations. 
You might experience a bit of downtime due to the sheer volume of people trying to access the tool. Just refresh your browser and try again. 
I asked ChatGPT to write an overview of itself. Here's what I got: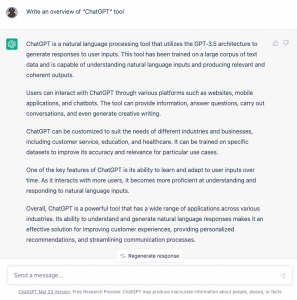 What I love about ChatGPT 
ChatGPT is a great place to begin research. The tool gives you the start you need to begin writing, especially if you're suffering from writer's block. You can improve on ChatGPT results by rewriting sentences that sound odd, including relevant data points and adding illustrations or graphics to your article. 
Where to find this tool: openai.com
How much it costs: This tool has a free version. The premium plan, ChatGPT Plus, starts at $20 per month. 
Copy.ai 
Copy.ai is a writing tool that uses machine learning algorithms to generate content in seconds. The tool can generate content optimized for search engines by leveraging SEO software to identify keywords and phrases for a topic. Copy.ai's user-friendly interface can help users with limited experience in writing to streamline their content creation process and produce high-quality, engaging content faster.
ALT text: Copy.ai results from a search query on Bing AI
What I love about Copy.ai 
Copy.ai analyzes the user's writing style and preferences and uses this information to generate content that closely matches the writer's tone and style. This feature makes it easy for users to create authentic and natural content.
Where to find this tool: www.copy.ai
How much it costs: Copy.ai has a free plan with a 2,000-word limit per month. For unlimited words, the cost is $36 per month. 
Bing Chat
Bing Chat is a writing assistant tool developed by Microsoft that provides users with various features designed to improve their writing and productivity. Using advanced natural language processing technology, Bing Chat helps users analyze written content, identify errors and suggest improvements.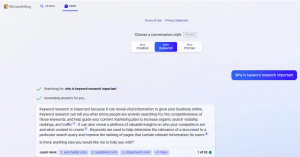 What I love about Bing Chat 
For me, Bing's research tool is rather impressive as it allows users to quickly find relevant information and sources for their writing and a citation generator that helps users create accurate and properly formatted citations. You can paste a link and ask Bing AI to gather all of the data points on that page. As a writer, that is a rather helpful resource. 
Where to find this tool: Launch the Microsoft Edge app on your PC or download the browser.
How much it costs: This tool is free. 
ChatGPT vs Copy.ai vs Bing Chat 
ChatGPT

is accessible through the main OpenAI website and is free once you create an account, but it has a premium plan known as ChatGPT Plus. ChatGPT is a better tool for creative writing and following a certain style. Bear in mind that the tool cannot fact-check itself against multiple sources.

Bing Chat

is entirely free but requires you to download the latest version of Microsoft Edge to access it and has a cap of 150 conversations daily with a limit to the total number of words per chat. Although this tool and ChatGPT can gather data up to 2021, Bing can pull data from more recent web sources, is a bit more nuanced and offers a broader array of non-English sources.

Copy.ai's chatbot

is tailored toward understanding individual needs, which makes it helpful for research. While users can train ChatGPT to understand industry terminology and jargon, Copy.ai is better suited to providing personalized recommendations based on user input. 
Remember to fact-check the results you get for each of these tools and watch out for plagiarism as well. Bing Chat, for example does not output completely unique results but adds a link to the source. To avoid the risk of being penalized by Google for plagiarism, use tools like Grammarly while editing your article. 
🤖 Get an insider's perspective on the impact of AI writing on content marketing.
Copy editing tools 
We're all trying to wade through the controversy of the Oxford comma and the right use of the apostrophe in writing. And it's easy to forget what your style guide provides when you've spent all day looking for data points to prove that your B2B clients value your SaaS solution. 
With content editing tools, you can catch little mistakes you may have overlooked and get suggestions to ensure that your copy is in compliance with your company brand book and writing style guide. 
Check out these editing tools for SEO copywriters:
1. Grammarly 
Grammarly is an essential tool for anyone who wants to communicate effectively. As a writing assistant that helps you with everything from spelling and grammar to style and tone, Grammarly ensures that your copy is clear, concise and error-free.
Whether you're writing an email, a blog post or a social media update, Grammarly can catch even the most minor typos and grammar mistakes and suggest corrections, making your writing more polished, professional and free from the sloppy copy blunder.
And if you're concerned about security and privacy, rest assured that Grammarly takes these matters very seriously. It uses state-of-the-art encryption and data protection measures to keep your writing safe and secure. So no unauthorized person has access to your drafts before they go live. 

What I love about Grammarly 
Asides from being easy to use, Grammarly integrates seamlessly with your browser and other applications, allowing you to quickly and easily check your writing. If you upgrade to the Business plan, you can access brand tone books, style guides and analytic dashboards. 
You can save time reviewing your team's work with Grammarly suggestions for improving your writing style. This feature includes tips for word choice, sentence structure and tone.
Where to find this tool: app.grammarly.com
How much it costs: Grammarly has a free version. But to access extensive features such as the plagiarism checker, citations, full-sentence rewrites and style guides, you'll need access to the Premium ($12) or Business ($15) versions. 
2. Hemingway Editor 
The Hemingway Editor is a user-friendly tool that helps you improve your writing by making it more precise and concise. This tool analyzes your text and provides suggestions to simplify and tighten your writing. The Hemingway Editor highlights complex or convoluted sentences, adverbs, passive voice and other elements that can detract from the clarity and impact of your writing.
If you want to make your messaging on B2B landing pages, blogs and other copy pieces as clear and compelling as possible, consider using the Hemingway Editor. By streamlining your writing, this tool helps you avoid getting bogged down in unnecessary details and distractions and lets you focus on the message you're trying to convey.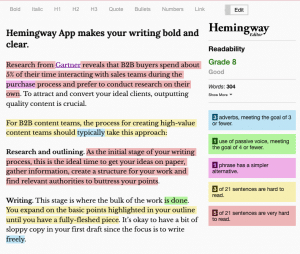 What I love about Hemingway 
The Hemingway app's readability score is valuable for understanding how easy or difficult your text is to read. For your B2B team, a tool that guides how to make your copy more accessible to your audience is especially useful in keeping jargon or technical terms to a minimum. 
Where to find this tool: hemingwayapp.com
How much it costs: The free online version requires internet access. To use the tool offline, you need to purchase a desktop app at $19.99. 
Grammarly vs Hemingway Editor 
While Grammarly and Hemingway have some similar features that can help users improve the quality of their writing, they have differences in their uses. 
Grammarly

uses AI to analyze text for spelling, grammar and punctuation issues.

The Hemingway Editor

focuses on improving the readability of text and provides suggestions for simplifying text. 
Both tools have their strengths and can be helpful for different writing tasks, depending on the user's needs. 
3. Thesaurus 
Any writer knows how easy it is to use your favorite words multiple times in a single draft. Having variety in your word choice is crucial to avoid repetition and carry your reader along. Yet, finding the right term can sometimes be challenging. 
Thesaurus.com is a handy tool for finding synonyms and antonyms for any given word. This word replacement tool helps you diversify your vocabulary and improve the clarity of your expression. 
When writing copy for our clients, I'm fond of using "optimize." 🤭 I have to run a search in my drafts to ensure that I keep my usage to a minimum by using synonyms. 
What I love about Thesaurus.com 
In addition to ranking word suggestions in order of relevance to guide your selection, this online thesaurus has a free dictionary to help you clarify the meaning of words. This capability helps you quickly check word replacements to ensure the words are contextually relevant and avoid misleading your readers. Plus, a word quiz keeps you engaged during writing breaks.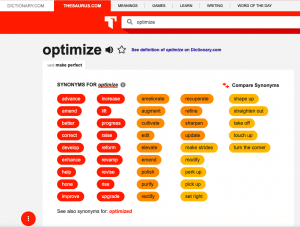 Where to find this tool: www.thesaurus.com
How much it costs: Thesaurus.com is free for all users.
😇 Tired of writing and publishing inconsistently? See how our team can help you create a defined structure for your content with an editorial calendar. 
SEO copywriting tools
Getting to the first page on Google is the goal for most B2B content teams. But you need more than highly engaging, error-free copy to get those rankings. Search engine optimization (SEO) is the key to writing content that ranks and converts. If you're debating what tools should take priority in your B2B marketing budget, SEO tools should top the list.
And before you get into how overwhelming sitemaps, structured data, keyphrase cannibalization and frequent algorithm updates can be, we're focusing our SEO skills as writers on keyword research — for now. 
SEO copywriting tools eliminate the guesswork in the keyword research process by providing you with the features to understand intent, volume, difficulty and cost per click for each keyword. 
Keyword research — the process of identifying and analyzing the terms and phrases that people use on search engines — enables you to:
Discover and incorporate keywords that are best to target — less

difficulty

and high volume — for your site. 

Understand your target audience and their preferences.

Optimize your content so you can climb search rankings for your target keyword.
Consider these SEO content writing tools to optimize your copy for search:
Semrush 
Semrush is an SEO toolkit that can help you improve your online visibility, attract more traffic and boost your search engine rankings. Semrush analyzes search data to help you identify the keywords most relevant to your topic and provide insights into optimizing your content for those keywords.
The content writing toolkit within Semrush can help you analyze your competition. By providing insights into your competitors' marketing strategies, Semrush can help you identify opportunities to outperform them and gain a competitive edge.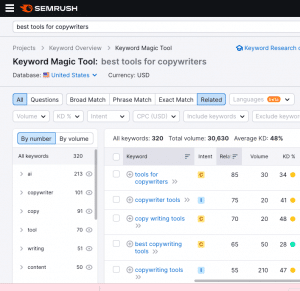 These capabilities include analyzing their keywords, backlinks and social media activity and monitoring their ad campaigns and content marketing efforts. As part of a B2B marketing team, you can align your copy to company campaigns and discover relevant topics to add to your editorial calendar. 
What I love about Semrush 
As a writer, tracking the progress of your copy on each keyword you intend to rank for is crucial to improving your craft and understanding what search engines are looking for. With Semrush's detailed reporting, it's easy to track all of your copy and see the impact of your marketing efforts over time. 
Semrush writing assistant is another feature helpful in discovering keywords that are relevant to your blog post. This tool also provides insights on readability, tone of voice and originality of your draft with suggestions on how you can improve. Incorporating these recommendations in your copy can help you increase your chances to rank for more keywords. This feature is available in the Guru or Business plans. 

Alt text: The Semrush writing assistant making keyword suggestions for an article
Where to find this tool: www.semrush.com
How much it costs: The Pro plan — the lowest tier — starts at $99.95 monthly. To access comprehensive Semrush features, you'll need the Guru plan, which starts at $191.62 per month. I'll only recommend this investment if your entire marketing department wishes to leverage the extensive features Semrush has to offer such as product listing ad (PLA) research, influencer analytics, brand monitoring and display advertising. 
MarketMuse  
MarketMuse is an AI-powered SEO platform that can help you create high-quality content that resonates with your target audience. With its algorithms, MarketMuse can analyze your content and provide insights into how to optimize it for search engines, social media and other channels. This SEO copywriting tool can help you identify content gaps, provide suggestions for new topics to cover and even generate content briefs to guide your writing. 
If you're searching for a content planning tool that can help you identify the topics and types of content that are most likely to resonate with your audience, you should consider MarketMuse. This SEO tool for B2B teams can guide you on the types of content most effective at different stages of the customer journey and help you plan your content accordingly.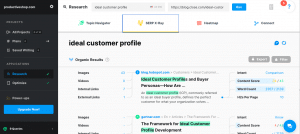 What I love about MarketMuse
MarketMuse's ability to help you optimize your content for specific keywords and topics puts it at the top of the list of SEO copywriting tools for B2B teams. MarketMuse conducts search data and competitor analysis to provide insights into how to structure your content and what keywords to target. 
I especially love that there are other capabilities, such as content auditing, optimization and tracking, to help you monitor the performance of your content. 
Where to find this tool: www.marketmuse.com
How much it costs: MarketMuse has a free plan with limited page-level insights. For full insights and up to 100 queries, you'll need to upgrade to the standard plan starting at $149. To access unlimited queries and briefs for up to three users so you can publish content frequently, you need the team plan, which starts at $399 per month. 
Clearscope
Clearscope is a content optimization tool that can help your B2B team create high-quality content that ranks in search engines and resonates with your target personas. Whether you're looking to optimize before or after publication, Clearscope can help you enrich your content with reports. 
These reports include suggestions for topics and themes to address, recommended secondary keywords for your H2 and body copy, the ideal word count, questions to include in an FAQ, top-ranking competitor content and the ideal reading level of your post.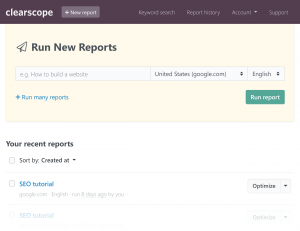 What I love about Clearscope
To help you outrank competitors, Clearscope scores your content between A and F on the factors above and allows you to edit the content directly in its editor. Clearscope provides H2 and H3 entries across competitor content for your outlines. You can begin writing based on this outline or share URLs of optimized outlines with writers outside of your team.
Where to find this tool: www.clearscope.io
How much it costs: Clearscope's lowest tier plan starts at $170 monthly with access to one user seat, ten content reports and 20 content inventory pages. You'll need to contact their sales team for a quote for other plans. 
Clearscope vs Semrush vs MarketMuse 
All three tools have a suite of features for different teams. To ensure you get the best out of any of them, define your needs, budget and requirements from an SEO tool. Then use that as a guide in making your selection.
Semrush

is a comprehensive digital marketing tool that includes a content optimization feature, more like a jack of all trades. Unlocking its full suite, however, gets very pricey, very fast. If your SEO, digital marketing, content and paid advertising teams are on board, Semrush will be well worth the investment.



MarketMuse and Clearscope

are more specialized content optimization platforms geared towards improving quality and relevance. 

MarketMuse

's users have mentioned clunky data sharing and a frustrating mobile performance, so that might be something you want to watch out for during a free trial. 

Clearscope

is the costliest option and is most suitable for teams that are looking to publish content frequently and at scale. 
📝 Trying to understand the basic SEO skills you need as a writer? We've put together a guide on SEO writing for beginners. And it's even got a checklist so you can take actionable steps. 
Honorable mentions 
I can't put all the tools on this list. But some great tools help enhance your copy, protect your work and save time. 
Consider the following tools for B2B copywriters:
Leverage B2B
copywriter tools to drive efficiency in your content writing process 
Writing high-quality content at scale is vital for B2B teams that prioritize growth. With copywriting tools, you can save time and costs and empower your writing team with resources to become more efficient. 
At Productive Shop, we leverage industry-leading tools in crafting compelling content that ranks in search engines and converts for our B2B SaaS clients. 
Skip the learning curve that comes with some of these copywriting and SEO tools by partnering with a B2B marketing consultancy that obsesses over understanding your personas and tailoring content to your needs. 
Get in touch with our team today and let's create impactful content. 
Frequently asked questions 
Is there any free AI for content writing?
Yes, there are some free AI tools available for content writing that you can try out: 
Copy.ai.

This tool uses AI to generate copy for social media, blogs, ads and more. It offers a limited number of free trials per month.

Textio.

This platform uses AI to help improve your writing by providing suggestions for more effective language. It offers a free trial for individuals.

ShortlyAI.

This tool uses AI to generate blog posts, social media content and more. It offers a limited number of free trials per month.

Writesonic.

This platform uses AI to generate content for social media, blogs, landing pages and more. It offers a free plan with limited features.
Paid tools do offer more features, though. Consider these options too:
Jasper.AI.

This AI platform for businesses generates content for social media, blogs and landing pages. Jasper also offers writing templates. With a browser extension, Jasper plans begin at $40 per month.

Neuraltext.

As an AI writing assistant, this platform has an extensive suite of features to help you cut down research time, discover keywords from a seed keyword, generate an editorial plan from keyword clustering and get

SERP

insights. Plans start at $19 monthly.
While these tools can be helpful for generating content quickly, keep in mind that the quality of the content may be lower than that produced by a human writer. It's also important to carefully review and edit any content generated by an AI tool to ensure that it meets your brand standards, has relevant data and citations and accurately conveys your message.
How can I write content faster?
Writing content faster is a skill that requires practice. 
By following these steps, you should be able to reduce your writing time:
Plan ahead.

Before you start writing, take some time to plan out your content. This process might involve creating an outline, brainstorming ideas or researching your topic. Having a clear plan in place can help you write more efficiently.

Set a timer.

Challenge yourself to write for a set amount of time, such as 30 minutes or an hour. This approach can help you stay focused and avoid distractions.

Eliminate distractions.

Turn off your phone, close your email and eliminate distractions that might slow you down. This system will allow you to focus solely on your writing and increase productivity.

Write in contextual batches.

Instead of writing an entire article or content in one sitting, consider breaking it up into smaller sections. Write for a set amount of time or until you've completed a certain section, then take a break before returning

.
Edit later.

Don't get bogged down in editing as you write. Instead, focus on getting your ideas down on paper and worry about editing later. This approach can help you write more quickly and avoid getting stuck on minor details.

Use writing tools.

Various writing tools are available that can help you write more quickly, such as dictation software or text expanders. These tools can help you save time and increase your writing speed.
What platform do writers use to write?
There are many platforms writers use to write, depending on their personal preferences and the type of writing they are doing. 
Here are a few examples:
Microsoft Word.

Many writers use this popular word-processing program for everything from novels to business documents. It is known for its robust formatting and editing features.

Google Docs.

This cloud-based platform is free and easy to use, making it a popular choice for writers who collaborate with others or want to access their work from anywhere.

Scrivener.

This software is specifically designed for writers and provides a range of features such as outlining, note-taking and research organization.

Evernote.

This platform is not designed specifically for writers, but many use it for its note-taking and organizational capabilities. It allows users to sync their notes across devices, making it easy to access their work from anywhere easy.

Ulysses.

This writing app is known for its minimalist design and distraction-free interface. It offers a range of tools for organizing and structuring writing projects.

Box Notes

. Powered by Box, this tool allows team members to securely share ideas online and take live notes in real time, which makes collaboration easy.  
At Productive Shop, we recommend using Google Docs for your B2B content writing as it's easily accessible, fosters team collaboration and shares a revision history that enables teams to retrieve previous versions of a document. 
What should the B2B writing process look like?
For B2B content teams, the process for creating high-value content should typically take this approach:
Research and outlining.

As the initial stage of your writing process, this is the ideal time to get your ideas on paper, gather information, create a structure for your work and find relevant authorities to buttress your points. In a

B2B content marketing report

, 73% of respondents find case studies to be the most helpful resource in creating quality content. 

Writing.

This stage is where you do the bulk of the work. You expand on your outline's basic points until you have a fully-fleshed piece. Having a bit of sloppy copy in your first draft is okay since the focus is to write freely. 

Editing and revising.

Your priority is ensuring that your copy complies with writing style guides, brand tone books, pre-defined grammar rules and SEO best practices.

Proofreading.

There's bound to be a few extra spaces or double punctuation, especially on collaborative posts or revisions from other team members. The proofreading stage is the best place to catch and correct them. 

Publishing.

After reviewing your work with fresh eyes, it's time to get your content to your target audience.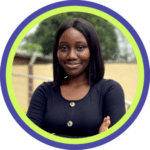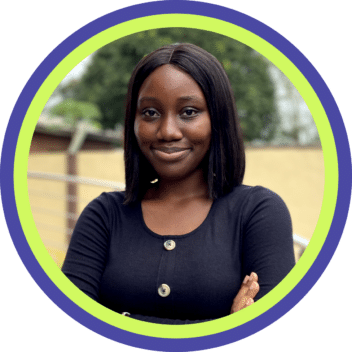 Mimi Adelakun
Mimi is a copywriter driven by a desire to simplify complex topics. Her recent interests include understanding project management tips and tricks to move content tasks forward. When she's not finding creative ways to discuss technical concepts, Mimi's out exploring new cities, learning about world history and trying to reduce her list of failed recipes.