8 reasons why people listen to audio content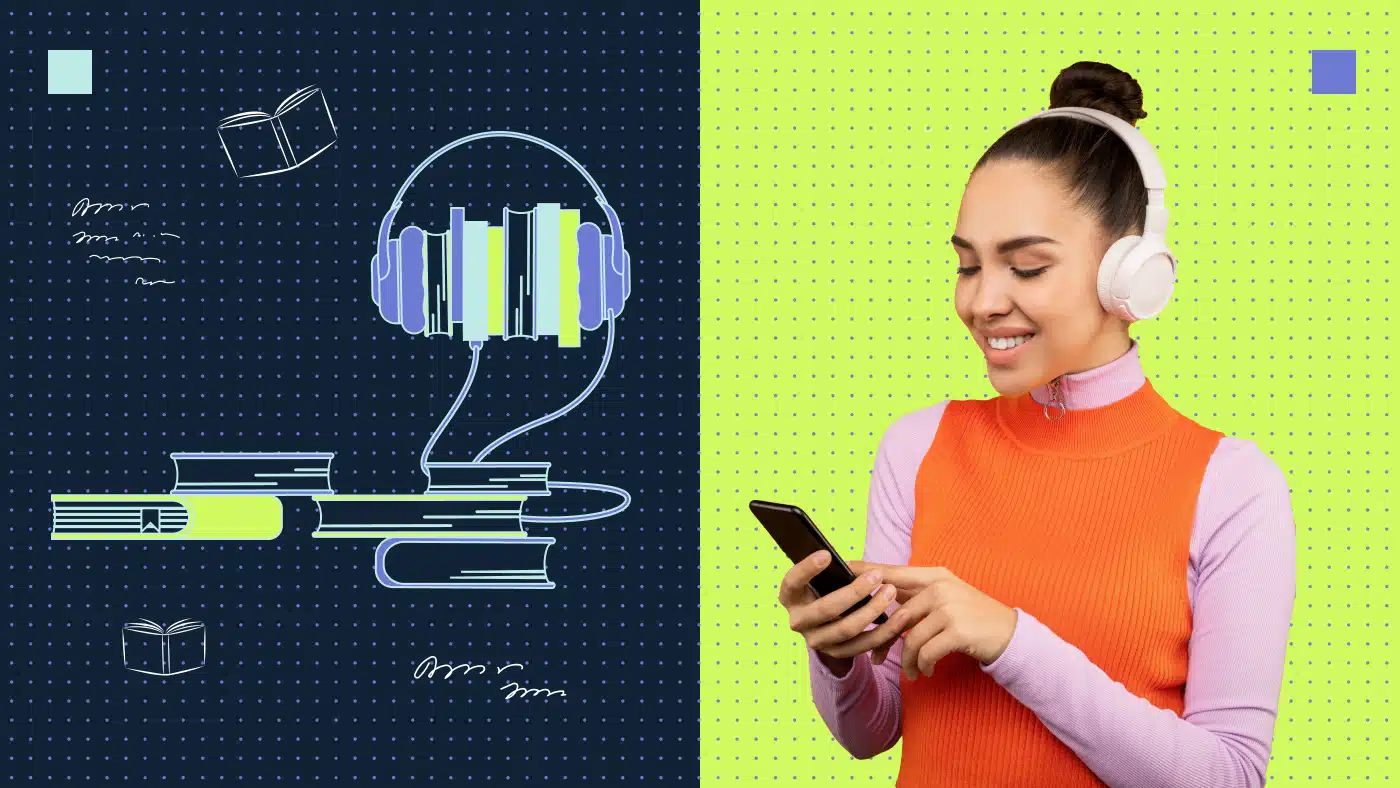 Modern audiences have embraced all types of audio content. Podcasts and audiobooks have become mainstream, and the past year saw rapid development in audio articles, flash briefings and text to speech (TTS) technology. 
In this article, we go over the top eight reasons why people listen to audio content: 
1. On the go content
A 2023 NPR and Edison report estimates that 131 million people in the U.S. listen to audio content daily — and three-quarters of the U.S. population over 12 years of age have listened to spoken content the previous month.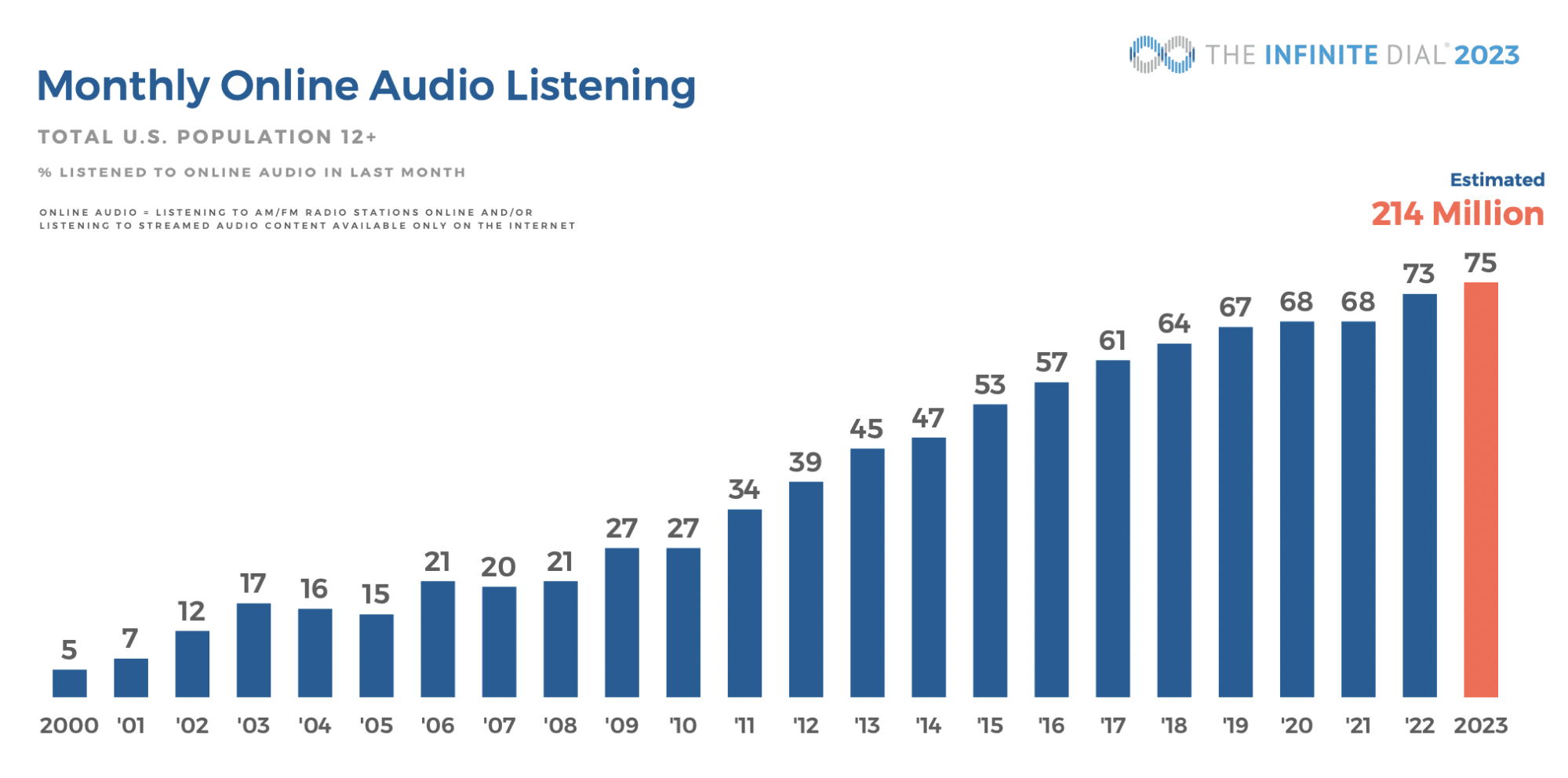 Part of this popularity is because audio can be listened to while on the go. According to another NPR and Edison report, 71% of monthly listeners use spoken word audio to multitask. They can engage with audio content while doing other tasks.
Audio allows people to integrate content listening into their daily life without setting aside time. In fact, a monthly estimate from the Infinite Dial report indicates that 87% of the U.S. population relies on in-car audio media while they drive. Media companies like The New York Times have used this information to inform the length of their audio content. Their news podcast, The Daily, has a runtime of 20-25 minutes and is released on weekday mornings in time for the morning work commute, which the U.S. Census Bureau estimates to be 26 minutes long.
2. Enhanced understanding
Integrating audio in addition to your website's textual content can enhance user engagement and increase the time they spend interacting with you. Reading and listening at the same time is a bimodal learning method that enables deeper comprehension by enlisting both sight and hearing. 
This bimodal method is particularly beneficial if the user finds the material complex or has limited time to absorb information. Integrated audio can provide an additional tool to users with learning impairments such as dyslexia, which affects 20% of the population, and ADHD, which affects more than 8 million adults.
👉 Not sure if the quality of your content would make good audio? We can help you write content that translates. 
3. Personal development 
Podcast listening is one of the fastest-growing user behavior trends, forecasted to reach 160 million listeners in the United States by 2026. Today, 83% of the U.S. population is familiar with podcasts. According to Pew Research Center, about half of Americans have listened to podcasts in the past year. When questioned why, 87% say they listen to podcasts for personal development and learning about topics.
Podcast content often contains insightful observations and insider knowledge, which is why 55% of U.S. podcast listeners cite learning as a "major" reason for listening. Nearly nine in ten podcast listeners expect the information to be accurate and trust what they hear.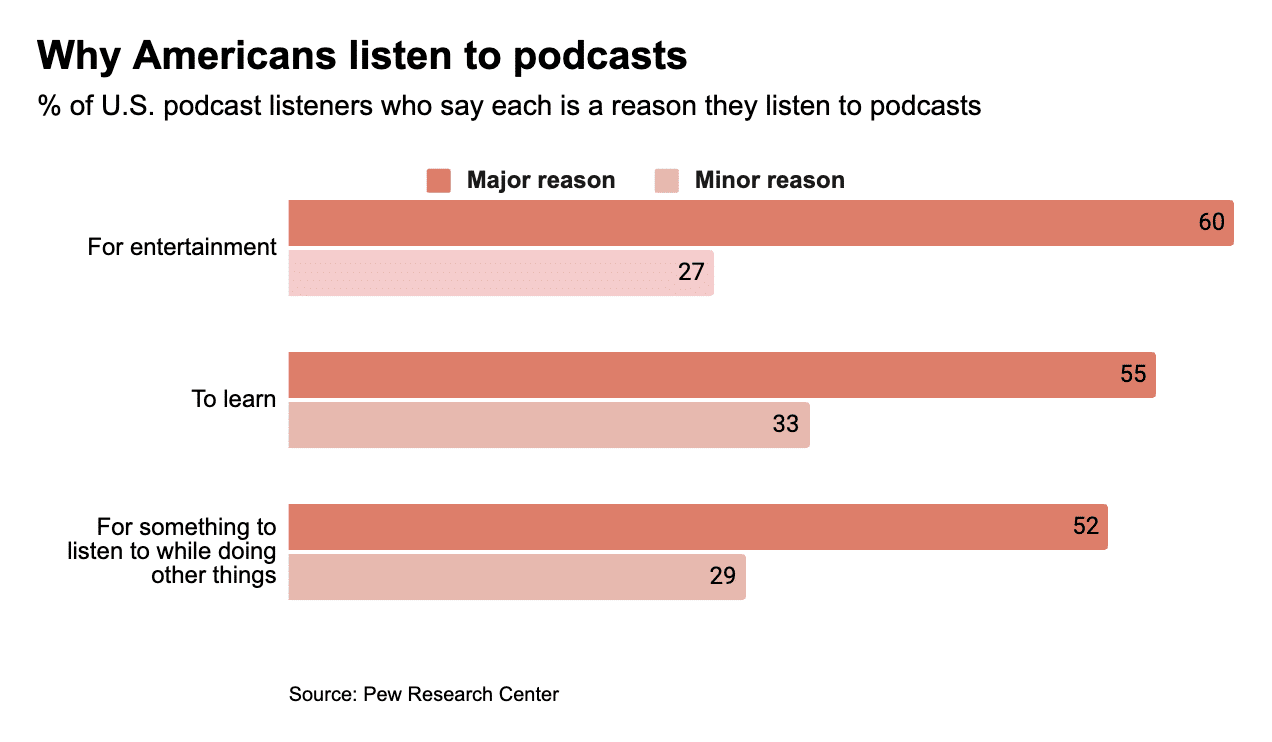 4. Fewer distractions 
Listening to audio without checking your device screen can increase productivity — as you can play digital audio on monitors and phones without needing to scroll or click. Audio listening allows you to better engage with the content as no other posts or feeds are visible to compete for attention. 
When reading content online, users often click on links and look up terms, which often makes them leave your website prematurely. You are more likely to remain attentive without distractions offered by the screen. Audio listening also keeps your focus from slipping to email and social media. 
5. Personal and sharable 
For many people, audio content is a companion to their everyday life. You can listen to live news coverage in the morning with integrated audio features on sites such as CNN and BBC, stream personal development podcast episodes on your work commute and end your evening with an entertaining audiobook. (You can also listen to our blog, too!)
The intimate nature of audio listening through earbuds, in-car streaming or in-home smart speakers creates a more meaningful connection between the brand and the customer. An Edelman survey reveals that 64% of decision-makers prefer a more human tone when interacting with businesses. 
Users can listen to audio content on their terms and seek out content they are interested in. They can then share audio snippets across platforms to connect others to their interests. 
6. Control over preferences
A research study on learning styles finds that 30% of the sample population is auditory learners who comprehend information better when listening. An audio option would accommodate auditory learners and retain them over websites that do not have audio. 
The Spoken Word Audio Report found that 56% of audio listeners prefer content listening over reading. Respondents state that they appreciate the freedom of audio listening as it allows them to adjust the volume and speed to match the pace of their productivity. Having an audio option also caters to people who want to take a break from reading, allowing them to keep engaging where they would otherwise have stopped.  
7. Reduction in screen time
Screen time refers to how long individuals spend looking at their electronic devices. Increased screen time can cause eye strain and fatigue. According to a Global Statshot report, the average screen time for Americans is estimated to be seven hours a day, which is in the higher range. Health experts from the National Heart, Lung and Blood Institute make an allowance for screens at work but recommend spending no more than two hours on them for entertainment. 
Content listening provides an alternate way to consume information and reduces dependency on visual media. This screen-free alternative helps minimize screen time and engage with content in a more balanced way.
8. Accessibility 
Voice content caters to individuals with visual impairments and learning difficulties. About 6% of the U.S. population have some form of visual impairment and 19% have low literacy skills. Audio lowers the barrier to information and increases website accessibility.
The audio listening option on your website signals to visitors that you are up to date with website accessibility expectations and are fostering an environment of inclusion. The addition of audio also demonstrates the forward thinking nature of your brand. 
Take advantage of the audio listening boom with text to speech technology 
With audiences engaging with all types of audio content in an unprecedented manner, they have come to expect an audio option in every article, too. Audio search engine optimization (SEO) and voice search are rising, meaning that B2B audio will add value to your SEO strategy. 
With a text to speech (TTS) tool, you can convert all your written content to separate audio files. This way, you can broaden your reach with the added benefit of a ready-to-share audio library. 
At Productive Shop, we experimented with several third-party TTS software to find the perfect one to recommend to our clients. The options came up short — so we decided to build our own. 
Deliver the best content audio with Productive Shop
The PRO TTS tool is an online text to speech converter we developed to make audio feel native on your B2B and B2C website. We use natural language processing (NLP) to analyze your text and convert it to speech synthesis markup language (SSML). Your text is then ready for narration by an AI voice that is expressive and humanlike to bring your brand's story to life. 
For brands seeking to future-proof their audio marketing strategy, our tool will strike the right tone with over 200 premium AI voice options. It is compatible with any content management system (CMS). We offer a marketplace plugin for WordPress users and a JavaScript player for easy integration with other CMS like Sanity, Drupal, Contentful etc. Our customizable player also lets you easily match its visuals to your brand identity.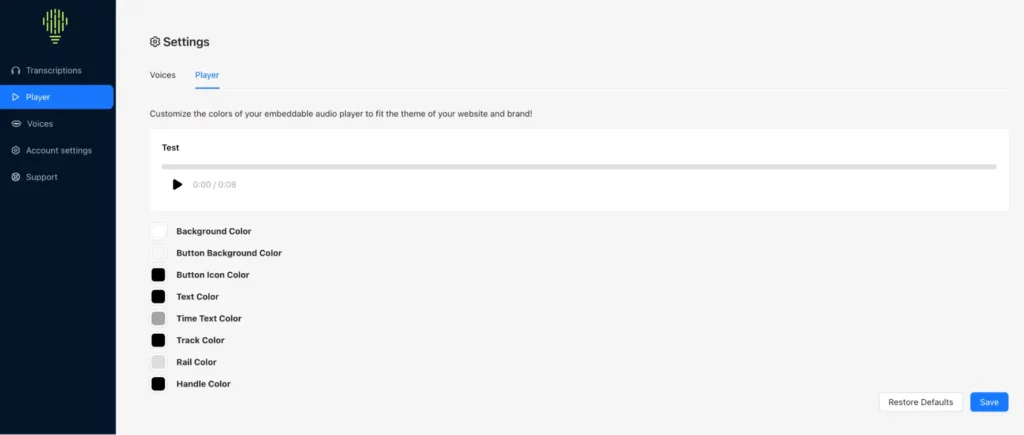 With our player, you can automatically segment your TTS content, so you don't have to tag headings manually. The segmentation enables users to select or skip to the section they want to listen to, which saves them time and improves their experience with your site.
PRO TTS also empowers you with analytics dashboards to better understand your target audience's listening habits. You can view the number of people that use the tool, the parts of the content they engage with, when they stop listening to and where they are listening from. You can leverage all this data to fine-tune your content marketing strategy. 
👉 Ready to capitalize on audio content and grow your business?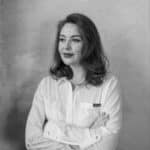 Anna Gladkaya
Anna Tymoshchuk is a seasoned business leader and strategist with over eight years of experience in B2B marketing and programmatic campaign management. She is currently serving as our Chief Operating Officer (COO), where she oversees operational improvement and project management at our company. She leads our PMO team and is committed to ensuring that all projects are delivered on time, within budget, and to the highest quality standards. Anna's expertise lies in designing and executing data-driven advertising campaigns and web builds that help businesses achieve their marketing goals. She has a deep understanding of the advertising ecosystem, and her ability to leverage data analytics to optimize campaigns has helped many clients achieve significant ROI. Anna's passion for continuous improvement and innovation is evident in her work. She is always looking for ways to streamline processes, reduce costs and improve the overall customer experience. Her ability to think outside the box and come up with creative solutions has helped our company stay ahead of the competition. Aside from her work, Anna is an avid foodie and loves starting her day with a latte and an almond croissant. Her colleagues often joke that her love for pastries fuels her energy to drive operational efficiencies and deliver exceptional results.