From written to spoken: Can text to speech online tools enhance your B2B marketing strategy?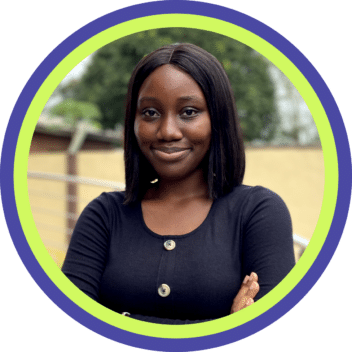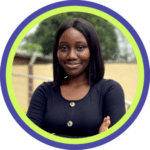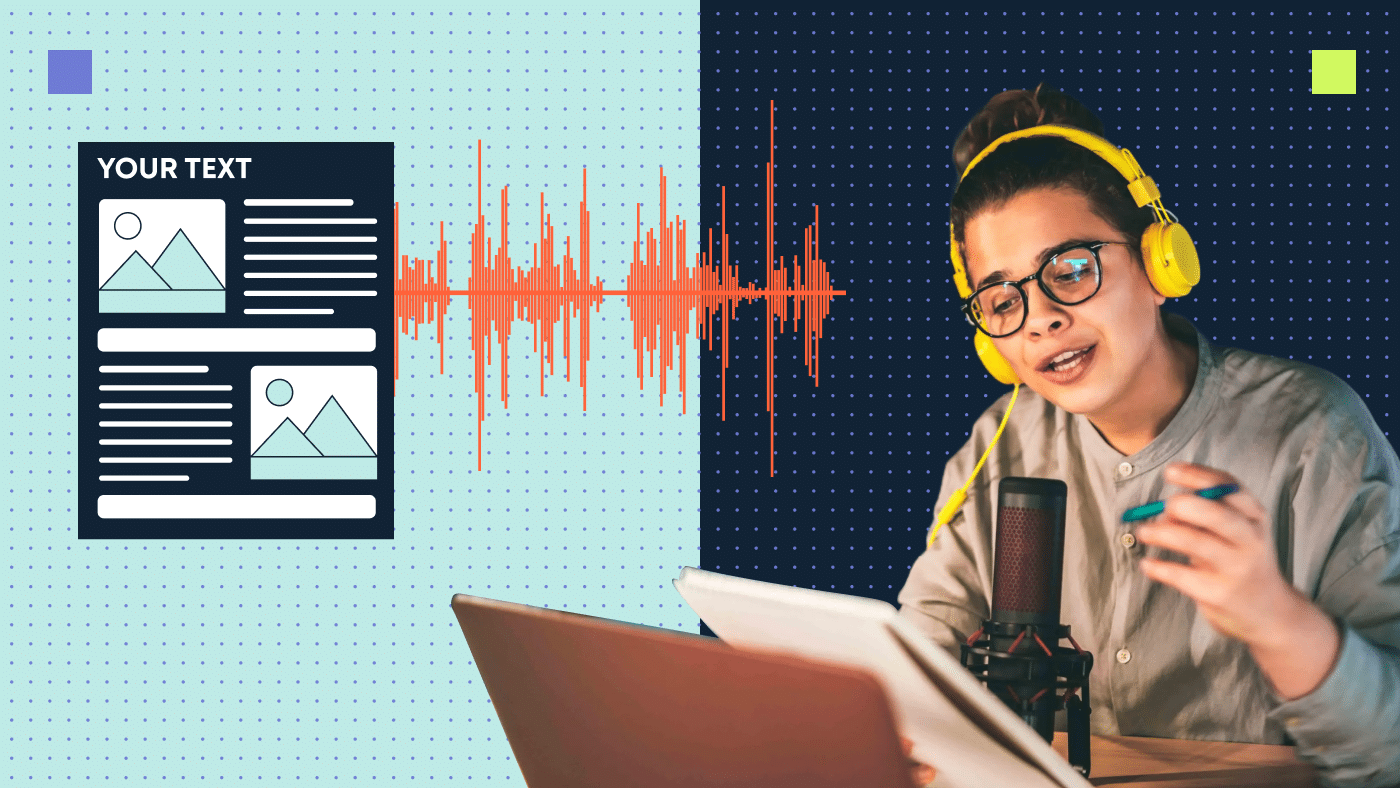 Audio content has been on an upward trend and just like video, voice resources are only going to grow in the years to come. Does it mean you need to start incorporating audio in your B2B marketing strategy? 
The short answer is yes. In this blog post, we tell you why. We'll go over the benefits, challenges and factors to consider when selecting text to speech (TTS) online tools for your B2B company. 
What is text to speech (TTS)?
Text to speech is a type of assistive technology that reads digital text aloud. It's sometimes called "read aloud" technology. In essence, TTS tools convert written text into spoken words. 
How does text to speech work?
A text to speech online tool uses an algorithm to analyze the text and generate a synthetic voice that speaks the text aloud. The specific techniques and algorithms used in text to speech technology can vary depending on the system and application. Still, they generally involve a combination of rule based and machine learning based approaches to analyze and generate speech from written text. 
Here's a simple six-step process on how TTS technology works:
Text input.

You input text into a text to speech system, such as a software program or web application.

Text analysis.

The system uses natural language processing techniques to analyze the text, including sentence structure, punctuation and grammar.

Language selection

. If the system supports multiple languages, you select the language of your B2B target audience for the speech output.

Voice selection

. From a range of available options, which can vary in tone, accent and gender, you can select a voice to output text for your B2B listeners. 

Speech synthesis.

The system uses speech synthesis techniques to generate a spoken version of the text, including prosody, intonation and other speech characteristics to make it sound more natural.

Output.

The synthesized speech is output through speakers or headphones, allowing your B2B audience to hear the spoken version of the original text.
😣 Can't get past the first stage of text to speech because you lack great content? See how we can help you with B2B content that converts.  
Benefits of text to speech tools: Should B2B teams invest in them?
With the proportion of U.S. residents who subscribed to an audio service reaching 45% in 2021 (it was 23% six years before), it's safe to say that content consumption in audio format is on the rise. 
The versatility and accessibility of TTS online tools make them valuable for a wide range of applications within B2B marketing. In fact, 33% of marketers in a B2B content marketing report leverage audio content assets to achieve business goals. 
See these three benefits of a TTS tool and determine if you should include it in your B2B marketing budget: 
1. Increase in platform accessibility
About 7 million people in the U.S. live with visual impairments. With the call for website accessibility, there's an increased need to create other forms of content. This point is where TTS tools come in.
Much like how alt texts make images more accessible to web users, TTS technology makes digital content accessible to visually impaired people who have difficulty reading due to dyslexia, learning disabilities or other conditions. 
2. Convenience
With B2B decision-makers spending only about 5% of their time interacting directly with vendors, it is in the best interest of service providers and sellers to make the buyer journey as convenient as possible. For example, TTS software enables your B2B prospects to listen to your text while doing other activities, saving them time. 
This capability helps you establish a connection with prospects as they become familiar with your solution. It also moves leads along the B2B sales funnel while enabling the hands-free operation of devices. 
3. Cost-savings
TTS technology can be a cost-effective way to create content for multiple platforms by minimizing the need for voice actors. Since TTS tools output audio at a less expensive rate, B2B marketing teams can output more forms of content while maintaining existing budgets. 
Practical uses of text to speech solutions for your B2B marketing team
Here are top use cases for TTS tools in B2B marketing:
Blogs.

Convert all articles in your company blog to audio and provide B2B prospects with the option to listen to your content at any time. According to

Insider Intelligence

, the average U.S. adult — which includes your B2B target audience — spends at least 1 hour 29 minutes daily consuming audio content. Your company blog should have a piece of the pie.

Videos, presentations, courses

. Online text to speech tools can be used in e-learning applications, providing audio versions of courses, educational videos and other materials to help your B2B users understand your solution. By adding audio to written content, subject matter experts (SMEs) within your team can improve the accessibility and engagement of their courses. 

Podcasts

. U.S.

podcast advertising revenues

witnessed a 72% year-on-year increase, amounting to $1.4 billion in 2021. In addition to your blog, you can create playlists within podcasts. This approach encourages your B2B audience to binge-listen to your content, strengthening the relationship between your organization and prospects. 

YouTube voice-overs.

YouTube content consumption is at an all-time high. If you want to create a bank of video resources for your prospects and customers. TTS technology can help you create multiple audio files for your YouTube videos. And you don't have to worry about inconsistency since the voice remains the same. 

Product demo videos.

Want to create a bank of resources to show new customers around? Or short videos to convert prospects? Throw in a TTS recording of a "How-to" blog with some graphic slides, and you're ready to go. Now you have a library of helpful resources and reviews from great customer experiences. 
Challenges with text to speech assistive technology 
While TTS technology has a multitude of benefits, from personalizing reader experiences to accelerating the buyer journey, these tools also have room for improvement. 
Here are a few challenges that I've noticed with text to voice tools: 
Robotic delivery.

While TTS software has come a long way in recent years, synthesized voices sometimes lack natural-sounding speech and may sound robotic, especially when it comes to intonation, emphasis and pronunciation of certain words.

Contextual understanding.

TTS systems may struggle to understand the context of a text and convey it accurately, leading to errors and misunderstandings. Some tools may also, have difficulty conveying emotional expression, such as sarcasm, irony or humor, which can be important in certain contexts.

Multilingual support.

While a text to speech online tool can generate speech in multiple languages, it may not be able to capture the nuances of each language, such as regional accents, dialects or slang, leading to a break in the learning flow. In a

2022 survey

, 61% of respondents reported that they used subtitles to learn because accents are sometimes difficult to understand. 

Processing power.

TTS systems require significant processing power to analyze text, generate speech and synthesize audio. This requirement can be a challenge for devices with limited processing capabilities, such as smartphones or low-end computers.
As with most artificial intelligence (AI) technologies, TTS tools are constantly evolving to incorporate the nuances of language and human interactions.
Factors to consider when selecting text to speech technology
With multiple online TTS tools on the market at various price points, wading through the available text to speech options can be as overwhelming as an inbox full of Slack messages.
Consider these seven factors when selecting high-quality text to speech technology for B2B:
Range of voices

. Look for a solution that provides a natural-sounding voice that is easy to understand, doesn't sound too robotic or artificial and aligns with your brand's tone. Imagine using the voice of a toddler for a cybersecurity company. Exactly. 

Customization options

. Some text to speech apps allow you to customize the voice, speed, pitch and other parameters to suit your preferences. Select a tool with a synthesized voice that can be customized to have different accents, intonations and speaking speeds.

Cost

. While text to speech online tools are generally less expensive than voice actors, the price variations between tools can be significant. Some options may be free, while others may require a subscription or one-time payment for access to extensive features. To determine whether a solution is offering value for its cost, consider capabilities such as maximum word count in each plan.

Ease of use.

Look for a tool that is easy to use, with a user-friendly interface and intuitive controls for your

buyer persona

. Improving your B2B prospects' experience should not come with a steep learning curve. 

Sharing capabilities

. Ensure the tool allows you to share generated audio content on multiple social platforms, especially the ones your company has a presence on.

Multilingual support

. If you're targeting an international B2B audience, make sure that your text to speech online tool can generate speech in multiple languages, including the markets you're in.

Formatting

. To accommodate a wide range of impairments, look for a tool that includes accessibility features such as high-contrast modes, keyboard shortcuts and screen reader compatibility. Also, watch out for a tool that understands text formatting such as titles, headings and sub-headings. 
😥 Know what's worse than grammar errors in your content? It's a text to speech tool reading your mistakes out loud to your B2B audience. Learn more about how to avoid writing sloppy copy.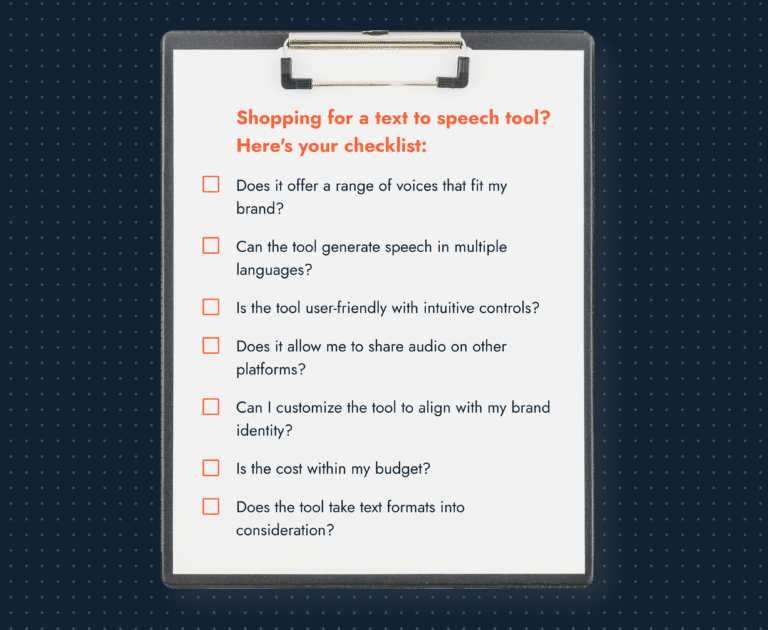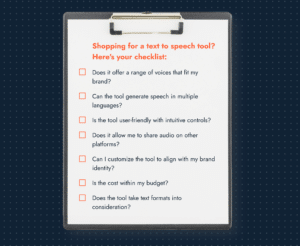 Create voice narrations of your articles with the
best text to speech tool
With audio content maintaining its growth over the last few years, it's high time you tapped into the potential of audio with your B2B audience. Text to speech tools can help you transition into voice content creation fast while maintaining high-quality audio. 
Productive Shop's CMS-agnostic text to speech tool enables you to convert all content in your resource library into audio and share it with your audience. As one of the best text to speech technology, our online TTS tool offers multilingual support to empower you with accessible content for a worldwide audience. 
In addition, you have access to a range of male and female voices and customizations to make your audio align with your brand identity. From blog posts to scripts for video content, you can create world-class audio without breaking your marketing budget.  
Learn more about how our text to speech tool can help you expand your content formats. 
Frequently asked questions 
How can I turn text into speech?
Depending on your needs and preferences, you can turn text into speech using methods such as: 
Text to speech software.

You can use specialized software that converts written text into spoken words. Many paid and free tools are available, such as NaturalReader, Balabolka and TextAloud.

Online text to speech tools.

You can use online text to speech services to enter text and generate voice in real time. Some popular options include Google Text-to-Speech, Amazon Polly and IBM Watson Text-to-Speech.

Voice assistants.

You can use voice assistants like Siri, Alexa or Google Assistant to read text aloud. Simply activate the assistant and ask it to read the text you want to hear.

Built-in operating system features.

Many operating systems have built-in text to speech features allowing you to select text and read it aloud. For example, on Windows, you can use the Narrator feature; on Mac, you can use the built-in text to speech tool in the Accessibility settings.

Productive TTS tool

. You can turn all forms of text content into speech and share with your audience — for example, embedding the audio on your blogs. Our free plan allows up to 10,000 words to help you get started.  
Are text to speech tools free? 
Yes. There are free text to speech online tools. However, depending on your preferences and requirements, such as customization options or multilingual support, you may need to consider paid text to speech tools. 
Text to speech tools with free plans include:
Balabolka.

A free text to speech software that supports multiple languages and allows you to customize the voice, speed and pitch.

NaturalReader.

A free online text to speech tool that supports multiple languages and allows you to choose from different voices.

Google Text-to-Speech.

A free online service that can be used on Android devices, which allows you to convert text to speech in multiple languages.

Windows Narrator.

A built-in text to speech tool for Windows that can be used to read text aloud and includes accessibility features.

MacOS text to speech

. A built-in text to speech feature on MacOS that can be used to read text aloud and includes accessibility features.

Productive TTS tool

. As an online text to speech tool, Productive Shop's TTS gives you access to a range of voices, player customization and up to 10,000 words for conversion on its free plan. 
Which is the best software for text to speech?
The best text to speech software depends on your specific needs. It's a good idea to try out a few different options and compare their features, usability and pricing before deciding.
Here are a few great ones to choose from:
Amazon Polly.

As a cloud-based text to speech service, Amazon Polly offers natural-sounding voices, customizable speech parameters and support for multiple languages. This tool offers a free tier for up to 5 million characters per month.

Google Text-to-Speech.

This TTS solution is an online service that offers natural voices, support for multiple languages and integration with other Google products. It's free to use and can be accessed from any device with an internet connection.

TextAloud.

This desktop software for Windows offers a range of voices, customizable speech parameters and support for multiple languages. TextAloud also has a free trial and paid versions with more advanced features.

Productive TTS tool

. To help B2B organizations make their content more accessible, Productive Shop offers an online text to speech converter. With this tool, you can embed your generated audio in blog posts and share on social platforms. You can convert your content with the free plan and upgrade to access extensive features.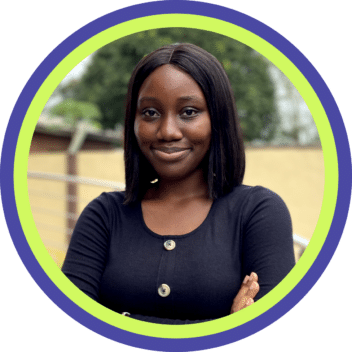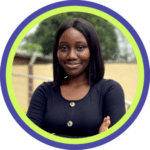 Mimi Adelakun
Mimi is a copywriter driven by a desire to simplify complex topics. Her recent interests include understanding project management tips and tricks to move content tasks forward. When she's not finding creative ways to discuss technical concepts, Mimi's out exploring new cities, learning about world history and trying to reduce her list of failed recipes.