Series B funding explained: Definition, how-to and examples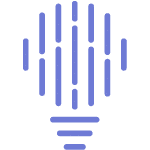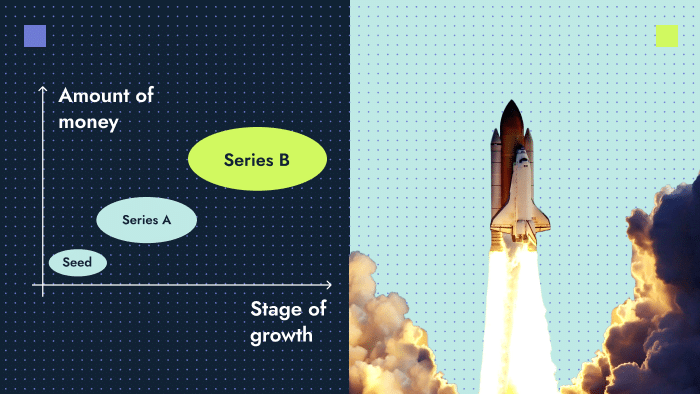 In the world of B2B SaaS startups, funding is king. Whether it's to fuel growth, expand into new markets or develop new products, your startup needs cash to make things happen and gain even more momentum. And while seed funding can get a company off the ground and series A can provide the necessary runway, series B funding separates the wheat from the chaff.
Series B is the critical funding round that can make or break a startup. It's the point at which a company has to prove its strategy and demonstrate that it has the potential to become a viable, profitable business. But what exactly is series B and why is it so important?
Let's take a deep dive into series B funding. We'll explore what it is, how it differs from other funding rounds and what technology startup teams can do to position themselves for success.
What is series B funding?
Series B funding typically follows seed funding and series A. At this stage, companies have already proven their concept and achieved some market traction but need additional funding to scale their operations, expand into new markets or develop new products.
Series B funding is often led by venture capital and private equity firms, although it can also involve other types of investors, such as angel or corporate investors. The funding round can range from a few million to tens of millions of dollars, depending on the startup's needs and growth potential.
One of the defining characteristics of series B funding is that investors are looking for evidence that the startup has the potential to become a successful, revenue-generating business in the long term. Their exit strategy can vary depending on the industry, the startup's growth trajectory and the overall market conditions. 
Series B is not just about historical metrics and data, however. There also has to be a clear vision of how the business will use the injection of capital to grow and fill the market gap. As a result, companies that receive series B funding are often seen as having proven their worth and achieving a certain level of validation.  
👉 In case you missed our first post, catch up on seed vs series A funding.
Series A vs series B funding: What's the difference?
In both rounds, investors provide capital in exchange for equity in the company, but there are some differences between series A and B funding:
Series A funding is typically the first significant round

of financing a startup raises. This funding is used to help the company achieve key milestones, such as launching a product or service and building a team. Series A investors are often focused on the potential for the company to disrupt its industry and create considerable value in the future.

Series B funding, on the other hand, is raised when a company has already achieved some degree of success

and is looking to scale and grow. This round is often used to fund expansion into new markets, develop new products or services and acquire new talent or other companies. Series B investors are typically looking for more concrete evidence of the company's potential for success, such as user growth, revenue and market share.

Another

difference between series A and B funding is the amount of raised capital

. According to

Fundz

, the average series A round in the U.S. raises $17 million, much less than the average series B round. Since series B investors put larger sums of money into a startup, they often demand

more governance, reporting and other requirements than early-stage investors

. 

Series A is known for its higher risk

, which translates to lower equity prices.

Investors become more risk-averse in series B

, with the business now seemingly settled and a financial track record to scrutinize. This risk reduction means that equity comes at a premium, making for a pricier — yet safer — investment for those willing to come aboard.
How does series B funding work?
Securing series B funding typically begins with a pitch to venture capital firms and other investors through a warm introduction and, rarely, outreach efforts. If you already have a stellar reputation within the industry, investors may also reach out to you if they see an opportunity. 
Once investors express interest in a startup, due diligence begins. This process involves a detailed examination of the company's financials, operations and management team and discussions with existing customers, partners and industry experts. The due diligence process can be extensive and time-consuming, lasting several weeks or months.
If the investors are satisfied with the due diligence results, they may offer the startup a term sheet outlining the investment details. These can include the size of the acquisition, the percentage of equity the investors will receive and any other rights or preferences that the investors may require.
Assuming that the term sheet is accepted, the startup and the investors will then work to finalize the investment, which typically involves legal and accounting work to ensure all the necessary documentation is in order.
What is the average series B funding round size?
The average series B round for a U.S. company was $45 million in 2021, up nearly 50% from 2020, according to Crunchbase. The average series B deal size also increased across every industry tracked, with the largest rounds going to biotech and clean energy startups.   
Types of series B investors
Series B funding typically comes from late-stage venture capital firms, corporate investors or online equity crowdfunding programs. Investors who previously participated in series A may also return to increase their stake in the company. 
Late-stage venture capital firms 
Venture capitalists are the most common type of investors in series B funding rounds. They often lead the round and provide the bulk of the financing. These firms typically have a deep understanding of the startup ecosystem and can provide strategic guidance, access to networks and other resources that can help these companies scale and grow. Here are a few VCs to check out:
Corporate investors
These strategic investors may include industry incumbents or companies with complementary products or services. By investing in a startup, corporate investors can access innovative technologies, products or talent to help them stay ahead of the curve. Examples include: 
M12

: Formerly Microsoft Ventures, M12 is a corporate venture capital subsidiary of Microsoft that invests in early-stage enterprise software companies. 

Google Ventures:

A venture capital arm of Alphabet that invests in various sectors, including health care, biotechnology, consumer, enterprise and frontier technology.
Online equity crowdfunding programs 
Online crowdfunding programs are a popular alternative to traditional venture capital and angel funding. These platforms allow startups to raise funds from many individual investors, often with smaller investment amounts than typically required in a series B funding round. 
Crowdfunding campaigns require significant marketing efforts and can be time-consuming to manage. However, they can be a viable option for startups that may not fit the traditional venture capital model or those looking to diversify their funding sources. 
Our favorite picks for crowdfunding platforms are:
Indiegogo:

A crowdfunding website that allows people to raise funds for an idea, charity or startup business. According to their website, they have hosted more than 800,000 campaigns from 235 different countries and territories.

SeedInvest Technology

: An equity crowdfunding platform that connects startups with investors online. According to

Crunchbase

, SeedInvest has made 195 investments, 37 diversity investments and 31 exits. 
How to raise series B funding
To succeed in a series B round, startups need to be prepared, strategic and focused on demonstrating their potential for success. Here are our top five tips and strategies to help technology startups raise series B funding: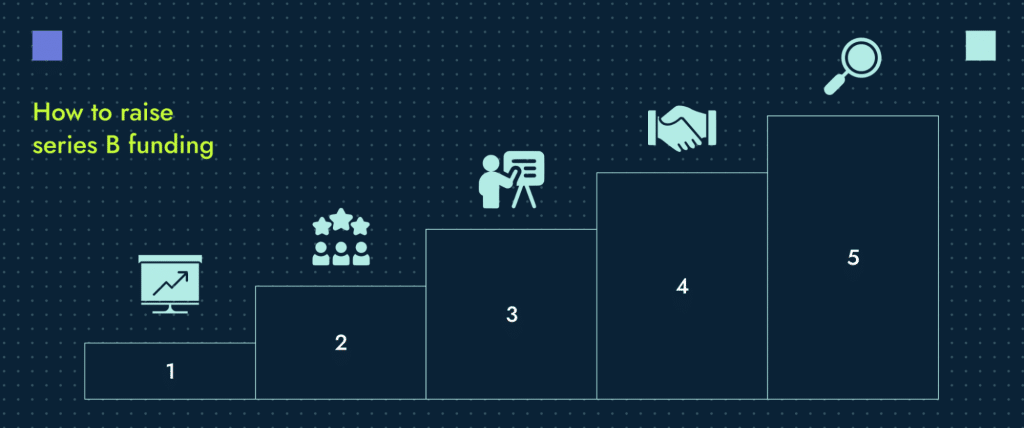 One of the essential things series B investors will be looking for is evidence of success. You should be able to show that you have achieved product-market fit (PMF), which means that you have a loyal and engaged customer base that loves your product or service and is willing to pay for it. Historical data and key performance indicators (KPIs) such as user acquisition, revenue growth and market share are also important signals of your progress and potential success.
Besides metrics, series B investors seek evidence of a solid and capable team. In other words, do you have the core "ride or die" crew? Or did you surround yourself with quiet quitters? For startups to be successful, they must build a team of experienced, passionate, capable and innovative individuals who bring diverse perspectives, ideas and experiences to the table.
Believe in the power of storytelling 
To stand out in a crowded market, startups need to be able to tell a compelling story that captures the attention and imagination of series B investors. Among other things, this story should highlight the company's vision for the future, its ability to disrupt the industry and the value that it delivers to its customers. 
You should be able to articulate how you plan to use the funds to achieve your goals and milestones, such as expanding into new regions or verticals, launching new products or features and improving your unit economics.
Raising series B funding can be more competitive than raising seed or series A funding because fewer investors specialize in this stage. It's important for startup founders to leverage their network and build relationships with potential series B investors before needing to raise funds. 
Make sure also to keep them informed of your progress and achievements on a regular basis.
Learn to navigate the complexities of the round 
There are plenty of pitfalls for startups, both during and after the series B round. Expectations are high, you're too developed as a business to get by selling a great idea anymore, and you need to maintain the momentum to make the leap into the big leagues. 
The seed round was raised on hope and vision alone (and maybe a great founding team). Series A had you showing some early progress, a few adopters and a bright future to investors. Series B rounds, however, run on cold hard numbers. And to make matters worse, the investor pool for series B is also considerably smaller, leading to more competition for VC dollars. Setting an unrealistic valuation for your startup or failing to differentiate yourself could drive already hesitant series B investors away. 
Doing your prep before going into the shark tank is essential. This groundwork includes developing a knockout pitch deck, conducting due diligence on target investors, having a lawyer you trust and polishing your negotiation skills to get favorable terms and valuation.
Examples of series B funded startups
Looking for inspiration? Here are four startups that successfully won over investors and raised series B funding:
Chime
Chime is a mobile banking app that provides fee-free banking services and early access to direct deposits. The company raised $18 million in series B funding in 2017, led by Cathay Innovation, to expand its customer base and develop new features.
Evernote
Evernote is a note-taking app that lets users capture, organize and share their notes and ideas. The company raised $10 million in series B funding in 2009, led by Sequoia Capital.
Slack
Slack is a team collaboration platform that allows users to communicate and work together in real time. The company raised $10.7 million in series B funding in 2011, led by Andreessen Horowitz, for a browser game called Glitch. The startup pivoted in 2014 to launch Slack or the "Searchable Log of All Conversation and Knowledge."
Vanilla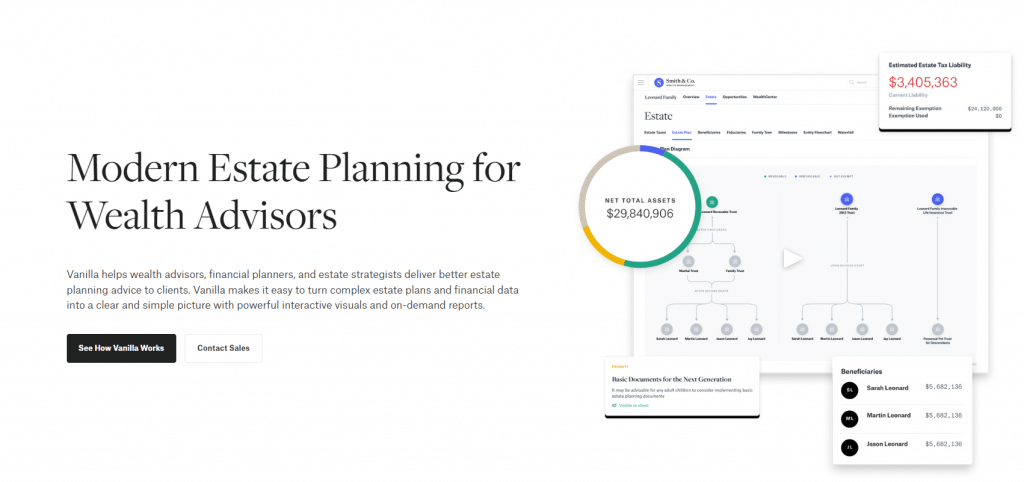 Vanilla is an award-winning estate planning and wealth management platform. The startup recently raised $30 million in a series B round led by Insight Partners.  Vanilla plans to transform the estate planning industry with its latest capital injection by offering a state-of-the-art digital platform. Vanilla's all-in-one approach aims to streamline the legacy-building process and revolutionize how advisors and businesses approach estate planning.
Series B financing: Expected growth and next steps
Series B financing can be a critical milestone in the development of a startup, but it also comes with significant expectations and responsibilities.
Expected growth
Startups with series B funding are expected to snowball and achieve important milestones — increase in revenue, market share and profitability — in the following years. After a series B round, important metrics to track include:
Customer lifetime value (CLTV)

, which is the total revenue a business can expect to generate from a single customer over their relationship. Along with

customer acquisition cost (CAC)

, CLTV can be an important metric to track as it helps determine the efficiency and effectiveness of customer acquisition and retention strategies.  

Customer churn rate

measures how many customers stop using your product or service over time. The churn rate is inversely related to CLTV, as higher churn means lower revenue per customer. Use this metric to understand why customers leave and how to improve retention.

Burn rate

, a metric that measures how much cash you spend each month to run your business, is a critical factor for survival. A lower burn rate means a longer runway and less dilution in the next round.
Next steps
The next steps that a startup may take after raising series B funding include:
Continuing to innovate and develop new products or features.

Investing in

marketing

and customer acquisition.

Building out internal teams and hiring new employees. Teams that receive a significant portion of series B funding include:

Sales and marketing:

To ramp up

enterprise SEO

efforts and increase customer acquisition, retention and revenue growth.

Product development:

To improve the existing product or service.

Operations:

To scale up the production, distribution or delivery of the product or service.

Talent acquisition:

To hire skilled employees for new roles.
Developing strategic partnerships or acquisitions.

Preparing for a potential Series C funding round or IPO.
B2B marketing for series B technology startups 
Making it to and past the series B stage means you're ready to compete against established players within your industry. But that also means getting the word out, generating leads, acquiring new customers and obsessing over the share of voice domination. 
At Productive Shop, we've got the experience and expertise in driving demand generation that lets B2B SaaS startups take their businesses to the next level. We have SEO consultants to optimize your website and landing pages for better conversion. Our content writing team can work with you to generate a steady stream of articles, white papers and other engaging content to grow your online presence. As a final touch, our design team will ensure everything looks great for all your new traffic.
Tell us what you need. We'll take care of the rest.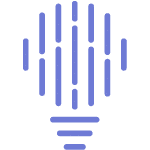 Productive Shop Team
With diverse backgrounds and a shared enthusiasm for innovation and growth strategies, our passionate team of consultants brings together a wealth of experience and skills to meet the marketing and lead generation needs of B2B SaaS startups. Our seasoned writers, SEO specialists, project managers, designers and developers are always eager to share their knowledge and drive thought-provoking conversations.