Cornerstone content: From chaos to connection in 8 steps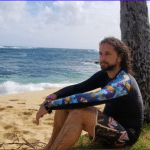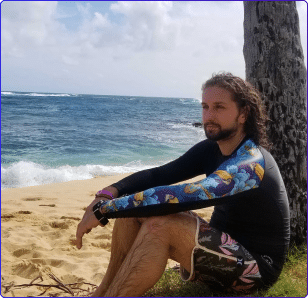 Imran Selimkhanov
Founder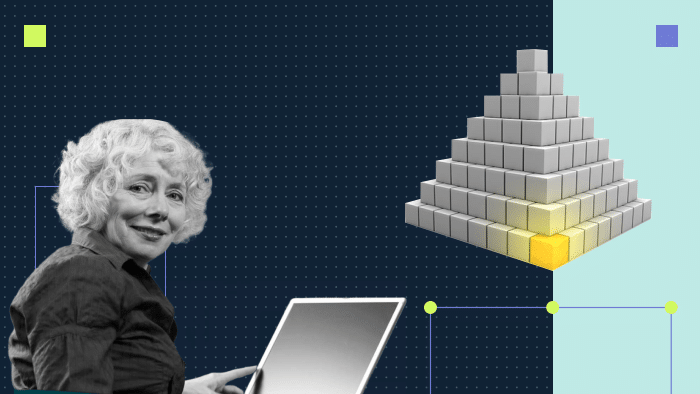 This guide explains what cornerstone content is (and what it isn't), why it works for SaaS companies, and how to create it. It helps with the difficult parts, like choosing relevant topics with the best potential. It clears up the confusing bits, like the difference between cornerstone and pillar pages (Spoiler: they are different, but you need them both.) And you'll walk away with practical pointers.
If you are creating a brand new company website, start with cornerstone content. If you're upgrading an existing site, invest in new cornerstone content. Get the fundamentals right and you're on your way to winning an organic share of voice (OSOV).
Cornerstones are designed to generate brand awareness, build credibility and trust, and educate your target audience, all of which is essential at the top of the sales funnel. 
But what makes cornerstone content so effective as a digital asset and, more importantly, how can you make it work for your team?
What is cornerstone content and how does it work?
Cornerstone content is the core of your website. Its primary function is to showcase your expertise and establish your company's position as a legitimate thought leader in its field.
Educational in nature, it is a comprehensive explanation of a topic that matters to your customers and can be improved by your product. It is long-form (because it is so thorough), well organised (for easy navigation and user experience) and evergreen (not time-sensitive, always relevant).
This kind of content serves as a focal point. From here users can deep dive into aspects of the topic by following internal links, or download resources, watch explainer videos – all things that lead them down your sales funnel.  For SaaS companies, this is the place to educate potential customers on how the tech works and how and why to use it.
The best cornerstone content is actionable and brings value to your prospects immediately.
In terms of search rankings, it is a high-value piece of content because it contains keywords you want to rank for above all others.
Here's an explanation of how it works from Yoast: 
"At Yoast, we write a lot of different posts about SEO copywriting, each looking at a different aspect of SEO copywriting. The cornerstone article for this topic is the ultimate guide to SEO Copywriting, and whenever we write a new post on SEO copywriting, we add a link to that cornerstone article. In doing so, I'll make clear to Google that the ultimate guide is the most important article about SEO Copywriting on our site, thereby increasing its chances to rank."
Why is it called cornerstone content?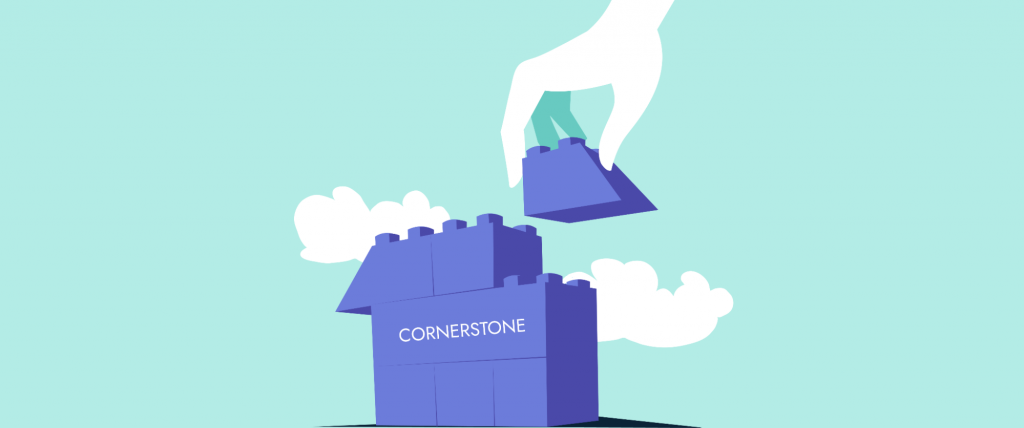 In construction, "a cornerstone is traditionally the first stone laid for a structure, with all other stones laid in reference." It's the chief foundation on which something is constructed or developed making it essential and indispensable.
In marketing, cornerstone content refers to pages that form the foundation of your content strategy. These comprehensive, authoritative pages support the rest of your content as you build out your website with pages.
Cornerstones act as a guide to help customers with selecting software, or to share with colleagues to help them make a B2B purchasing decision.
Cornerstone vs content pillars
These terms are often used interchangeably, probably because they function so similarly. However, one important distinction between cornerstone content and pillar content is how each is positioned: a cornerstone page is strategic; a pillar page is tactical.
In other words, cornerstones are pillars, but pillars are not cornerstones.
Cornerstones are foundational      
They educate on the evergreen fundamentals of your business. A broad and comprehensive overview of what it is and why it is important. For instance, in SaaS there are certain technical concepts that a customer will have to understand either to be able to compare yours with another, or to see whether your product will solve their common challenges.
Secondly, the rest of your site and content is built on and around the cornerstone. You will link any other contextually-relevant content to this piece, even pillar pages.
This is a good example of cornerstone content (also see the image below). 
Pillars are centerpieces
Pillars are the most comprehensive pages (the hub) within a cluster of offshoot articles on a particular topic that interests your customers. 
"Pillar pages broadly cover a particular topic and cluster content should address a specific keyword related to that topic in-depth." 
Unlike with cornerstones, these topics may not necessarily be fundamental to your business. 
Pillars are not specifically educational or evergreen. 
This is a good example of pillar content.
How to create cornerstone content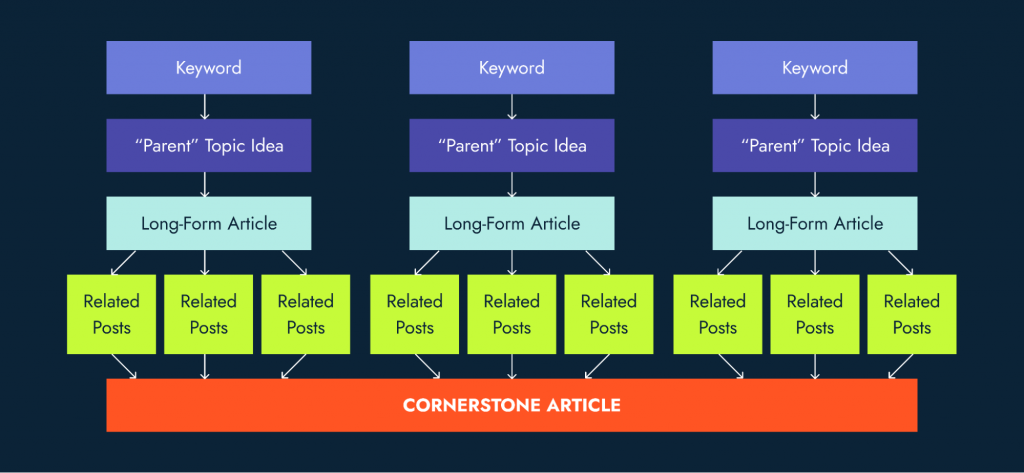 Step 1: What problem is your customer trying to solve?
Identify your customer's pain points. They're searching for something to reduce or remove this problem. For instance, pages like these are directed at relieving the fear of getting it wrong:
The Ultimate Guide to Software as a Service (SaaS)
Learn how the SaaS industry works and discover everything you need to know to launch and grow a successful SaaS product
(You'll notice that even the first line addresses this fear by giving encouragement:  "If you've been thinking about launching a SaaS product, now is the time to do it.")
How to Build Your First Software-as-a-Service Product Step-By-Step
(This one is reassuring because it gives advice from someone who has done it, something it makes clear right upfront: "In this extensive write-up, I'll cover how all the main pieces came together for the first SaaS I ever launched.")
An effective method of discovering the pain points that drive your ideal customers is to create buyer personas. 
Start with this step-by-step guide: The Ultimate Guide To B2B Buyer Personas
An effective buyer persona slide looks like this:
Do not rely on what your team thinks they know about your ideal customer. This is an exercise in identifying new opportunities. Gather data through interviews with existing clients, the sales team, surveys, online communities and competitor research.
Step 2: What does your business offer that solves your customer's problem?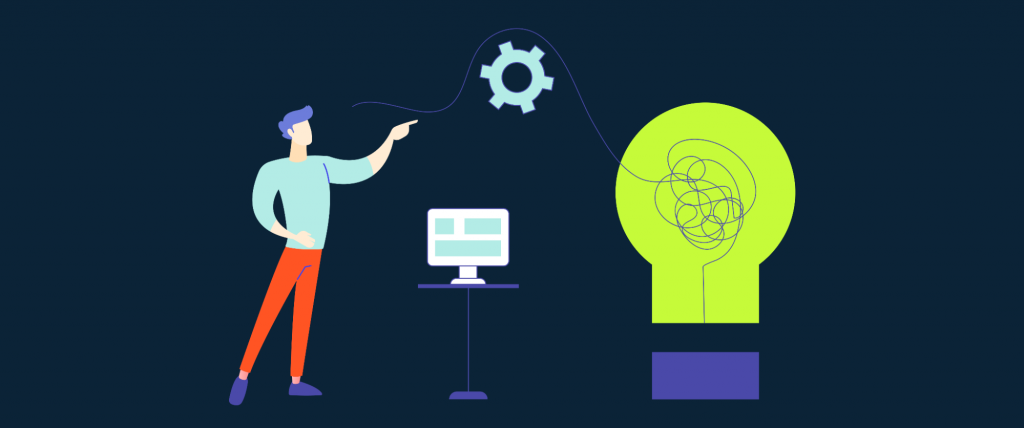 Match your SaaS solution to your customer's pain points. As with every features-to-benefits exercise, interrogate how your SaaS business, service or product can satisfy the customer. Look for value that will differentiate you from competitors. 
It's natural to assume that this will lie in product features (requiring a deep dive with your production team),  but don't underestimate the power of information. For instance, putting your product into context (The History of SaaS: From Emerging Technology to Ubiquity) or sharing how you did it (The SaaS Handbook – How to Build Your First Software-as-a-Service Product Step-By-Step)
Step 3: Is there sufficient interest in this topic?
Measuring demand reduces the error of applying resources to create low-value content. Interest for particular topics is measured in keyword search volume. If nobody is searching for it, then it is a dud.
A simple search gives a good idea of topic popularity. 
Bear in mind that the way we search has evolved. What started as single keyword searches are now four words or more for more than 60% of people. In other words, while looking at search volume for single keywords is vital, it isn't enough. 
Broaden your research to include long tail keywords. These longer, specific queries reveal the user's search intent.
The implication is that by using versions of the keyword, you'll reach a more targeted audience. What longtail keywords lack in search volume they make up in quality of traffic.
For more accurate data, use paid tools such as Moz Keyword Explorer and  Semrush or free tools like Google Keyword Planner.
Step 4: Research your competitors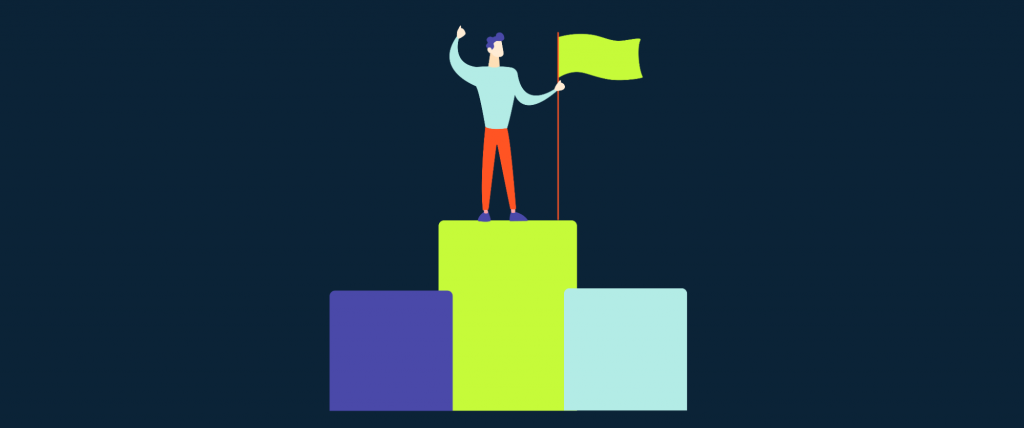 Search the resource centers of your competition to find their highest-ranked pages. If you notice a pattern of focus on one particular topic across competitors, take note as they might be onto something based on search demand.
Read this content gap guide for an intro on competitive content research.
Step 5: Are users getting the answers they need?
What turns up when you Google your keyword? Do the ranking results actually address the user's need? There may be many results that look relevant, but turn out to be generic, insufficient, or clickbait. On the other hand, there may be an overabundance, which will make it difficult for your cornerstone page to make it onto the first results page.
Insight into what users really want to know can be found with tools like https://answerthepublic.com/ and in the People Also Search For (PASF) section on the Google search results page.
Step 6: Create value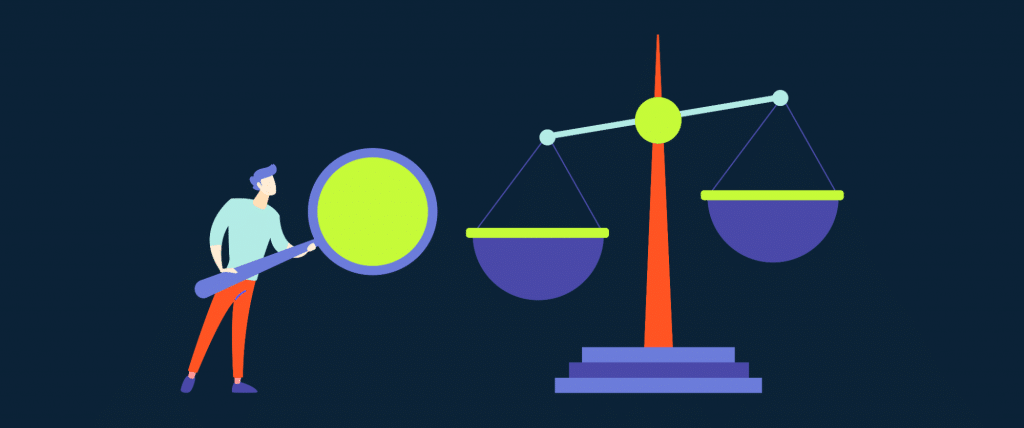 6a. Benchmarking
Authority is impacted both by the quality of your messaging and the way in which it is presented. Not only should your cornerstones offer something unique even if your SaaS solutions are similar to that of your competitors, the pages must deliver a cohesive message across the site and be of the best quality.
This requires attention to detail, from the obvious (grammar and spelling) to brand consistency (voice, colours, fonts etc), accuracy (zero plagiarism, fact-checking) and ease of reading.
6b. Perception of Value
Another authority driver in marketing is customer perception of value (CPOV). Users are prepared to pay more for a similar product when convinced that it delivers superior value. Besides, the high-value evergreen content CPOV also lies in the extra, free things they can get, like ebooks, case studies, white papers,  guides, templates.
Users pay in time: they will give more of their attention to a page that looks like it will satisfy their search intent, has great design and no errors.  After their first impression, the quality of your content will keep the user reading, promote sharing and bookmarking as a trusted resource
Step 7: Important components of your cornerstone page
Cornerstone content is a micro-project of its own that requires the product marketing team, content team and SEO team and design team to work together.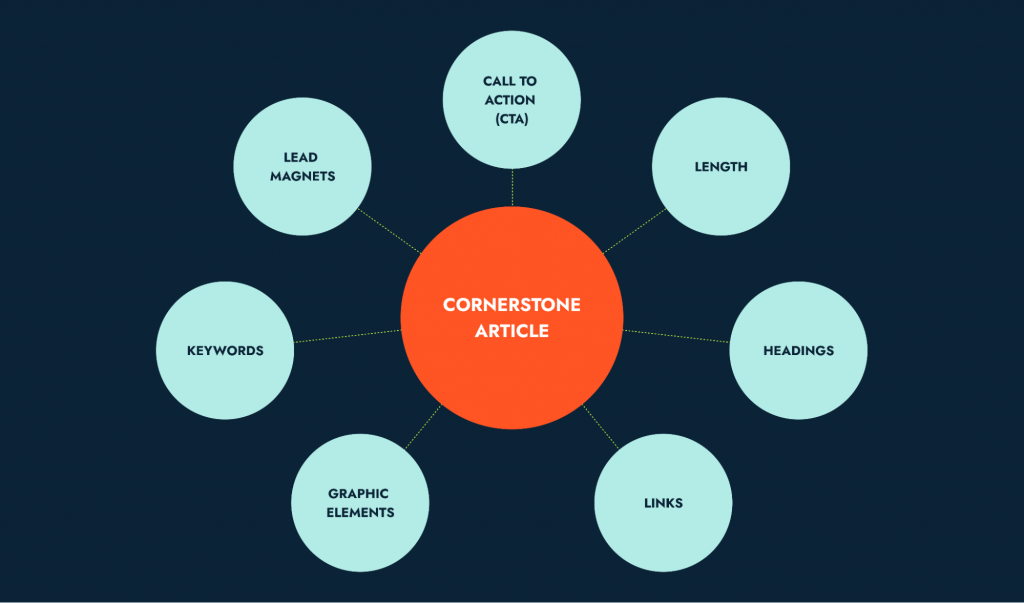 Length: 
There is no ideal or prescribed length, but it will be naturally lengthy to be comprehensive.
Headings:
The main heading's job is to grab attention and tell the user that they will get the solution to their search here. Subheadings (H2 and H3) are important for skim readers, who will go back and read the piece properly if the outline looks promising.
You'll find the following examples of compelling headings on this cornerstone page. Notice how they keep the content cohesive.
OT/IT convergence has already changed your industry. What's next?

And you thought air gaps would keep you secure…

Why and how the White House wants to ramp up critical infrastructure protection
Another thing: avoid clickbait
Links:
Include links to relevant posts and pages on your website.
Graphic elements
: 
These retain the reader's interest and are handy for explaining or illustrating technical topics. Use bullet points, infographics, photos, multimedia and videos. Free design tools complete with images, illustrations, typography and templates for web pages include Canva and Adobe Express.
Keywords: 
You went through a lot of effort to find the most powerful keywords, but how you use them is important both to keep the user reading and to avoid being penalized by search engines.
Your content should read naturally. Incorporate your selected keywords in their various forms, but avoid keyword stuffing. Your primary keyword should appear both in the URL and in the title. Use keywords in your image file names. Use related keywords in the subheadings (H2s, H3s, and H4s).
Lead Magnets: 
Cornerstones are top of the funnel. This is the discovery/awareness part of the customer journey – and it is also where you can generate leads. A tried-and-tested method of convincing users that your business provides significant value is with opt-ins or downloadable content. These lead magnets exchange valuable, free (no paywall) information or tools for email addresses.
The downloadables and opt-ins are typically middle funnel – your cornerstone has succeeded in moving the user along the buyer journey and closer to the sale.
Call to Action (CTA): 
Include a clear and enticing call to action (but do not sell).  Examples of subtle CTAs are:
Need more help with understanding SaaS? Download our Simple Guide For SaaS Beginners.

Follow developments in the SaaS industry. Sign up for our weekly newsletter. It's full of tips and insights from industry leaders.

Download this checklist to make an informed decision.
Step 8: Search engine optimization (SEO)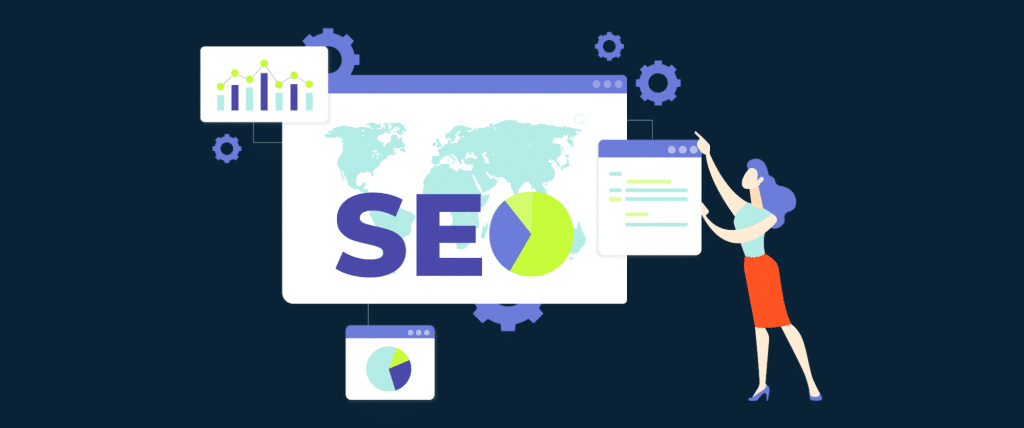 The function of SEO is to alert search bots and to build your domain authority so that your content will rank on the search engine results page. It is recommended that you use an SEO plugin like Yoast for smart on-page optimization.
SEO isn't a one-and-done activity. Continually enrich your pages with relevant, high-performance keywords as you discover them.
Activate your content marketing
The holy grail of content marketing is to get visitors to your website and impress them with how much you know about the challenge they are looking to solve. Of your digital assets, cornerstone content is one of the most powerful.
Follow the steps above to rank on search engine results pages, build your reputation as a thought leader, become a trusted resource, and feed your sales funnel.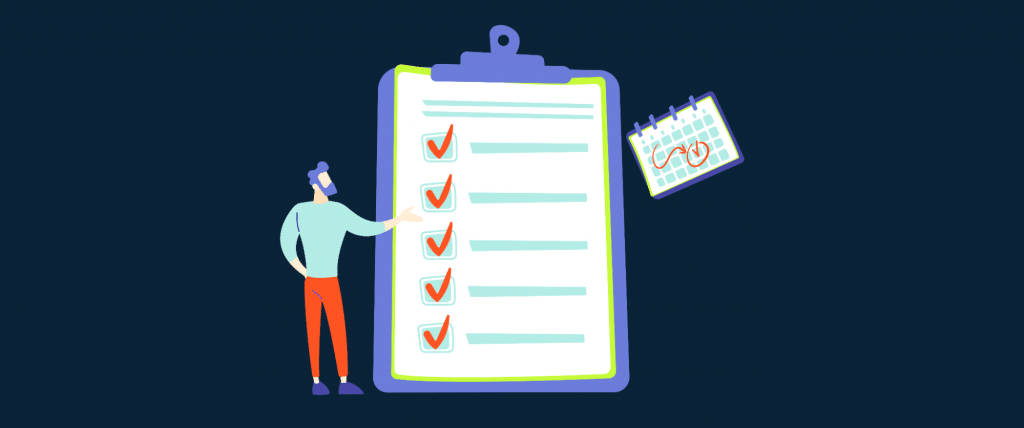 19-point checklist for creating cornerstones
Relevance.

Is the topic fundamental to your business and resonates with your customer's needs?

Title.

Is it more compelling than your competitors?

Clickbait.

No, just no.

Rapport.

Does the copy create a connection to the reader?

Information.

Is everything covered? What's missing?

Length.

Cut any fluff or repetition.

Value:

Is the content educational, up-to-date, and supported by facts?

Lead magnets.

What freebies are offered in exchange for subscriber contact details?

Calls to action.

Are there strategically placed, compelling CTAs?

Value Reminder.

Does the piece finish by reminding the reader of the value they received?

Images.

Swap out stock images that look generic. Is the keyword in the alt text?

Multimedia.

to create an academy/learning center feel, are images, videos, and audio files included?

Subheadings.

Do the H2s, H3s, and H4s include keywords supportive of the H1?

URL.

Is the short-tail seed keyword included in the URL?

Search intent

. Are variations of long-tail keywords used throughout (without stuffing)?

Navigation.

Can you get to it from the homepage or navigation?

Links.

Are there lots of links to other pages of your website? Do articles link back?

Responsive.

Does the page work properly on mobile devices?

Proofread.

Ensure your product and sales team reviews it before launch.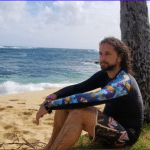 Imran Selimkhanov
Imran is the founder and CEO of Productive Shop. He writes on B2B demand generation and SEO strategy topics to help startups understand how to win digital share of voice. Prior to Productive Shop, Imran led demand generation at an Oracle consultancy, ran an e-commerce site servicing LE teams and helped build PMO offices at technology startup companies. When he's not at work, Imran can be spotted hiking in the Rockies, honing his clay shooting skills and tumbling off of black diamond ski tracks due to overconfidence in his skiing abilities.