Growth Insight | Do marketing initiatives actually add value to PortCos?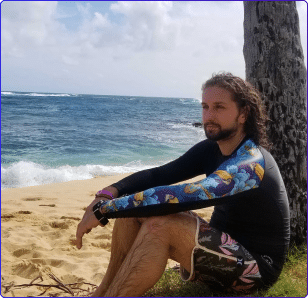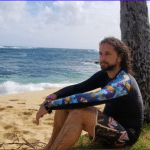 Imran Selimkhanov
Founder
Drink Pairing: Smoked Old Fashion
"In the current environment, investors are learning that a penny saved is just a penny saved, and the ability to grow brands, accelerate new growth and find new sources of value are premium capabilities." ~ Stephen Diorio, Director, Forbes Marketing Accountability Initiative
Summary: Why are PE companies focused on growth marketing now?
The short answer to this question is because growth marketing is where the value creation opportunities are right now.  The longer answer involves how marketing builds value, the current state of the market and why older value-building strategies are less effective now. Let's take a look.
Strategic marketing can increase the value in PortCo brands 
What kind of value can strategic marketing deliver for private equity firms? It's not uncommon to get a 20% to 30% return on investment from a commercial acceleration program. The logic for this is simple: Reducing the PortCo time to market is a good way to increase top- and bottom-line revenue. 
With a sound marketing strategy, PEs can:
Expand brand awareness to increase market share and gross sales.

Strong brands are valuable but difficult to value consistently. That creates room for negotiation with prospective buyers and the potential for higher exit values.

  

Improve customer experience (CX) to increase customer retention

, increase lifetime customer value and reduce cost per customer acquired. Exceptional CX is fast becoming table stakes for brands. 84% of all customers (B2B and B2C) say CX matters as much as a company's products or services. 66% will pay more for a great experience.

  

Strengthen the PortCo employer brand and improve the candidate experience

to attract and retain top talent and reduce cost per hire. With unemployment at a 50-year low, jobseekers have unprecedented choices, leverage and expectations. IBM applicants who felt they had a good candidate experience were 38% more likely to accept a job offer than applicants who were dissatisfied with their experience.

 

Leverage customer and candidate data insights

for continuous experience improvements and innovation. Big Data can detect patterns and trends that move portfolio companies' brands forward.
PE firms are typically shy about approaching the go-to-market model of PortCos. Due to the complexities involved in sales and marketing strategy, the majority, focusing on cost cutting measures. There is however a compelling case to be made for go-to market strategies in that on average, they help grow revenue by 10% to 30% ~ Imran Selimkhanov, Founder | Productive Shop
Why focus on strategic marketing now?
Private equity firms have to contend with two hard facts right now.  
1 –  Cutting PortCo costs and improving operational efficiency are no longer enough to deliver sufficient ROI to satisfy investors. Often, those value-focused changes have already been implemented by past investors or leadership. 
Even if there's room for improvement in costs and efficiency, slower growth in mature markets means these steps alone may not deliver enough value to appeal to potential buyers.
2 – The record $1.5 trillion in available cash held among PE firms is driving up the price of deals. 
With few bargains available, analysts say it's now harder to deliver the kind of returns on PortCos that investors have come to expect.
The result of these facts? PortCo value is harder to create, but potential investors and prospective buyers still expect it. In 2019, US PortCo exit values were the lowest since 2012. 
PE firms seeking to maintain the kind of returns they've earned in the past are pivoting to top-line value creation through organic growth. For that kind of value creation, strategic marketing is a must.
Barriers to implementing value-growth strategies at PortCos
Shifting from a cost-cutting mindset to a value-growth one isn't always easy. In a survey of 50 CMOs of midsize businesses with Fortune 500 experience, the biggest growth challenge for PortCos in 2020 will be recruiting growth-minded, strategy-focused executives:
"They view this as a bigger hurdle than a possible recession. It's especially important for GPs to get this right because LPs will be even more demanding of growth in 2020 than they were in 2019." 
However, with PE firms paying more to acquire PortCos, many "easy wins" in value creation have already won, and investor/buyer expectations as high as ever, the time to adopt a marketing-driven approach to value-growth is now.
With the right operations team in place and tactical support from an experienced B2B marketing agency, PortCos can ramp up growth through marketing and develop a strong internal team for long-term marketing value.
What is value creation in marketing, exactly?
"Marketing creates value by delivering growth – in customer acquisition and retention, sales, market share, the reputation the company has with customers and talent. All of these pieces contribute to a brand that's more valuable to investors and buyers." ~ Anna Gladkaya | Productive Shop
Not sure what the value creation process in marketing looks like? Here are just some of the private equity marketing initiatives that can fuel growth to increase PortCo value.
1. Optimize marketing operations and data analysis
Effective marketing operations can improve a company's return on marketing investment (ROMI) and customer engagement from 15 to 25%.
That kind of improvement starts with a marketing operations team that takes a holistic view of brand development and the experiences of customers, candidates and employees. We'll look more at each of those aspects of value-building next.
The key here is that all of those activities happen in a coordinated, strategic way, powered by data analytics. But more than 60% of companies currently fail to fully leverage their own marketing data.
That means PortCo marketing operations teams can start to build value quickly by mining that neglected data and gathering new data for insight to: 
Increase brand awareness and marketing reach.

Improve customer experience.

Improve candidate experience.

Identify areas for product innovation.
Let's look in more detail at each of these value-creation areas.
2. Increase brand awareness and marketing reach
How many of your PortCo's prospective customers know the services the company offers? Is the company reaching its target audience & providing them with compelling reasons to buy?
An effective strategic marketing team will use existing customer analytics, market data, surveys and interviews with current and prospective customers to spot areas where brand awareness needs a boost.
For example, surveys might show that many prospective customers aren't aware of what the PortCo offers them. Or perhaps current customers and channel partners don't realize the full range of the PortCo's products and services which enable cross-selling.
With this kind of information, the marketing operations team may need to
Clarify and update PortCo's unique value proposition.

This can help customers and prospects understand the brand better.

Leverage existing customer data

to develop upsell and cross-sell strategies.

Identify and target lookalike audiences

to expand the relevant customer base.

Identify and focus on PortCo's most profitable markets and channels

by understanding analytics and market research.

Improve remarketing and retargeting programs

to increase sales and repeat business and to reduce average cost to acquire customers.
3. Improve customer experience
Today's customers—both B2C and B2B—expect a great experience every time they interact with a company. But many companies fail to deliver.
82% of B2B customers are willing to pay more for a better experience. 

59% of B2C customers are willing to pay more for a better experience.

But only 51% of all customers say companies "generally understand their needs and expectations."
By analyzing the marketing data that most companies already collect, the marketing team can identify areas for improvement in customer service and product quality. The August 2019 CMO Survey found that marketing executives expect customers to focus on "excellent service and superior product quality" this year, while focusing less on price.
Investing in data analysis and a strong digital marketing infrastructure can also deliver the seamless, omnichannel experience that consumers and business buyers have come to expect. That includes:
Recognizing the customer in all channels

Keeping track of the

customers' journey

across all channels

Personalizing offers and recommendations based on each customers' profile and purchase history

Making product and shipping information easy to access across channels in as few clicks as possible.
4. Improve candidate experience
"The number one and universal challenge we heard PE firms wrestle with is their ability to attract high-caliber talent, and the time it takes to do so." ~Tallman Insights, Private Equity Blind Spots report
Companies often overlook their employer brand while they focus on their customer brand. That's a mistake. 
Why? Historically low unemployment makes talent hard to attract and retain. Candidates often check review sites like Glassdoor and social media accounts, to decide where to apply.
Source: Human Capital Institute
What's more, the candidate and customer experiences are converging, which means a bad candidate experience can cost you a customer—and vice versa.
Source: Hire by Google
The impact of candidate experience on customers isn't limited to B2C brands like Virgin Media. A yearlong survey of hundreds of CMOs, executive decision-makers and consumers found that, year after year, business decision-makers increasingly make choices on B2B brands the same way consumers evaluate B2C brands: 
"It is apparent that the B2B marketing playbook must be rewritten to address these new trends. The lines between B2B and B2C are blurred and audiences are colliding. The 'end-user' is a consumer… and the high expectations they have of brands is a constant."
To meet these changing expectations, your marketing team can work with HR to create a more valuable employer brand. Improving candidate experience helps your PortCos attract and retain top talent. 
Clarify the PortCo's mission, vision and values and its culture, then build those elements into an appealing employer value proposition.

Improve the candidate experience, which includes messaging, recruiting, vetting, onboarding and internal communication with employees.

Leverage internal knowledge of the possible career paths for each role to develop better messaging to reach motivated, qualified candidates.

Review and possibly expand outreach channels to reach a larger pool of qualified talent.

Leverage past applicant data, market knowledge and digital marketing tools to maintain warm relationships and build a healthy candidate pool.
5. Identify areas for product innovation
All the customer data and feedback has value beyond building the brand and boosting sales over the short run. Increasingly, marketing teams are part of the design thinking approach that innovates products and solutions based on what customers really want.
For example, consider Microsoft's experiences developing Windows 8 and Windows 10. Windows 8 was developed mostly with input from the company's engineering team, and the resulting product generated customer frustration and headlines like "Five Reasons Why Windows 8 Has Failed." Ouch.
But for Windows 10, Microsoft connected directly with customers through its Windows Insider program to get their feedback as the product was developed. This design thinking approach got much more positive results. Customers adopted Windows 10 faster than any past release.
Design thinking is a complex topic but at its core, it's about understanding customer needs by working directly with customers.
Who knows where to find customers and how to engage them for design thinking programs? Your marketing & sales teams. 
How much should management plan to spend on marketing?
Every PortCo has its own marketing budget needs and goals, but recent CMO surveys have found that:
The average marketing budget as a percentage of firm budget hit 12% in August 2019 for U.S. companies, matching the highest percentage in past CMO surveys by Deloitte.

The average marketing budget as a percentage of company revenue was 10.5% in July-August 2019 for North America- and UK-based companies surveyed by Gartner.
From our experience working high growth B2B SaaS companies, we've learned two key things:

Marketing spend will vary greatly depending on key company attributes like average deal size and company size. Generic benchmarks are not enough. 

Marketing teams at high growth companies are focused on driving new logo business. Thus, spend should be compared to new business bookings, not revenue."

~ Insight Partners 
Exact marketing spend will vary based on value creation goals. For example, your company may need better sales channel results, a brand overhaul, new product development, or an expansion—or some combination of those three. Those initiatives may require:
Building an internal team

Working with an outside agency

Creating a hybrid internal/agency team

Adding to your marketing technology stack

Conducting or commissioning market and customer research
For a detailed breakdown of marketing spend by company size, industry and marketing team type, read our post: When do I start marketing & how much does it cost? 
What else influences your marketing spend? The technology you use, types and frequency of campaigns you run are major factors. Let's look at how CMOs typically allocate their marketing budget. 
How do CMOs allocate their budget? 
Each company has its own strategy, goals and marketing mix. However, there are some trends that hold true in general. 
1. Knowledge investments are increasing across the board.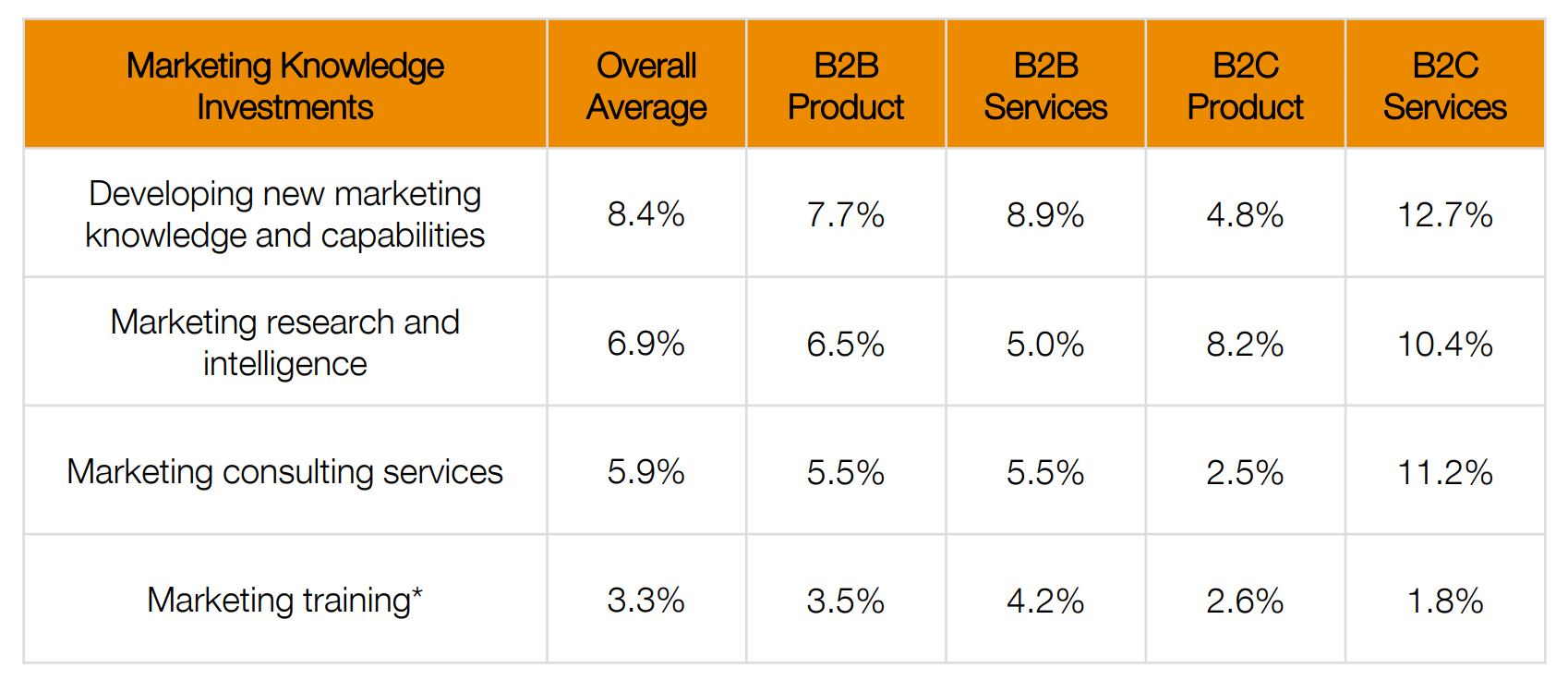 2. Paid social, sponsorships and search engine marketing are part of most B2B marketing budgets.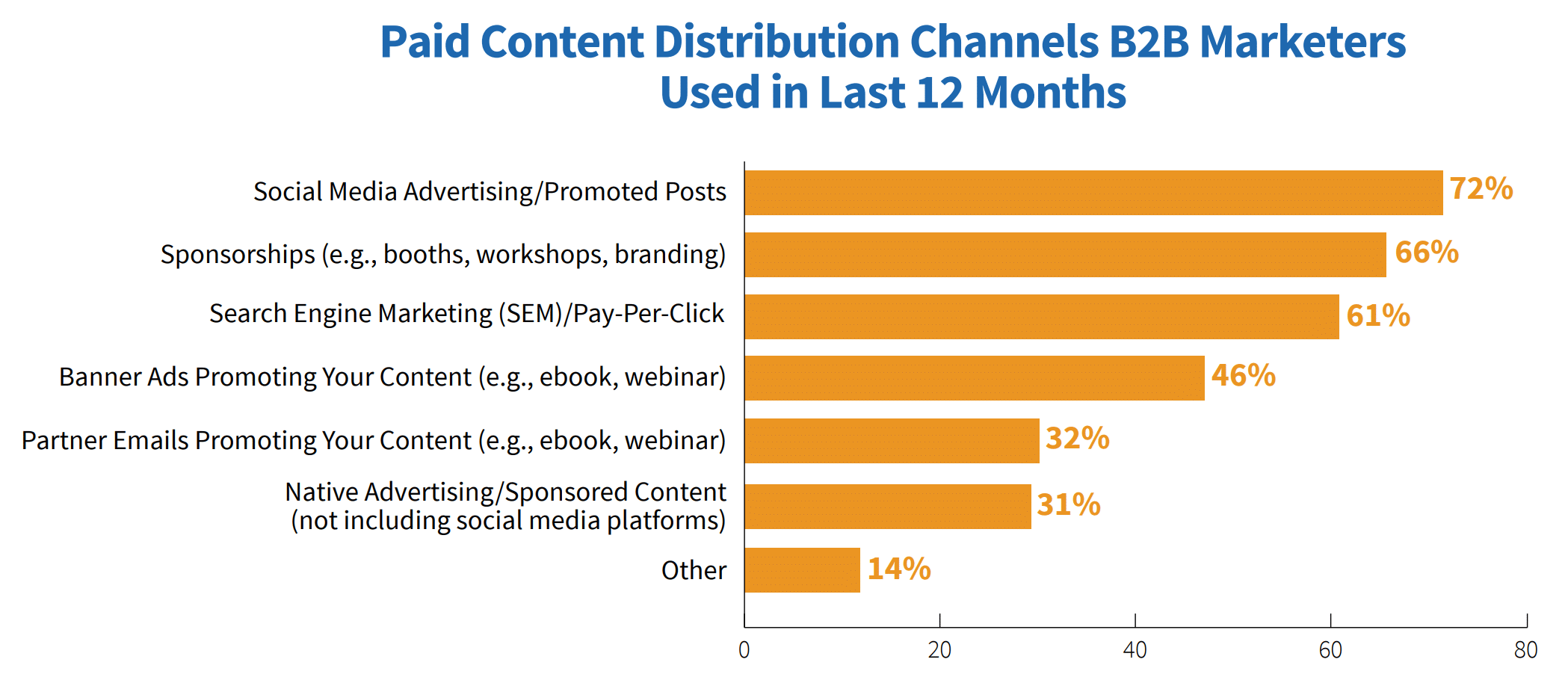 3. CMOs spend heavily on trade shows, sponsorships and direct mail (Paid Other).
What should your PortCo marketing spend allocation look like? That depends on where you need to reach your target audience. Are they on Facebook, at trade shows, watching YouTube or searching for eBooks to help them make purchasing decisions?
Your allocation also depends on:
Whether it's the right time to start a marketing initiative

How carefully you select and monitor your KPIs

Your marketing team's structure and activities

Your marketing technology stack
Let's look at each of those elements of a growth-focused marketing program.
When NOT to take on a marketing initiative 
Despite the potential for value creation in marketing, there are times when it's best to put marketing plans on hold.
1. When there's no C-suite buy-in for new marketing operations
Support from leadership is a must for marketing initiatives to succeed. If it's not there, your first campaign should be to understand the obstacles to buy-in and, if possible, work to clear them.
2. When there's no budget for marketing
Depending on the cause, you may be able to persuade leadership to allocate funds, or you may just have to wait until money is available. Running an influential B2B marketing program designed to sway target decision makers isn't exactly cheap, no matter how effective it may be, you'll need both; internal support & the budget to do it right,
3. When there are more urgent priorities
Before you can create a marketing program that builds value, the underlying business should we say…back office should be sound. If the PortCo needs financial transformation or other major initiatives, it's wise to wait before working on marketing.
4. When brand problems spring from bigger problems
Likewise, if the company is in turmoil, marketing spend is unlikely to deliver a good ROI. It may even backfire and add to the brand problems the company has to face. Those scenarios can stop your marketing initiative from getting off the ground or cause it to fail.
A 2019 Hotwire survey found that B2B brands can face more serious fallout from scandals and crises, losing as many as 82% of their customers. If a brand problem arises, it's better to invest in resolving the core issue and in crisis PR before launching any kind of marketing initiative.
Now let's look at how to measure value-growth marketing success.
How to measure marketing success 
"Every successful marketing campaign needs a well-researched strategy, a realistic timeline and clearly defined Key Performance Indicators (KPIs) to make sure your campaigns are generating growth, not just hype." 
The key to using KPIs is not to monitor every possible metric you dream up, but to track the essential metrics that influence business decisions.
Here are some of the KPIs we recommend for evaluating B2B marketing efforts .
1. Return on Investment (ROI)
Marketing return on investment seems pretty clear. Either your marketing campaign is earning your company money from sales growth or it's not.
However, if you're breaking even or using a loss-leader marketing tactic for longer-term growth goals, you'll need to look beyond ROI to determine campaign success.
2. Sales Growth
Sales growth shows you the impact of your marketing campaign by comparing the campaign sales period to the previous sales period. When sales growth is up, your campaign is working.
Just remember that not all of that growth translates into profit. Campaigns require investment.
3. Lifetime Value (LTV)
The lifetime value of each customer shows you if your marketing investment is bringing in quality customers. Are you targeting those who want to buy from you over the long term and have the resources to do so?
If average lifetime value starts to decrease, it can, among other things, indicate CX problems that are causing customer churn. For companies that sell subscriptions and service retainers, LTV is helpful for forecasting earnings and demand.
4. Online Conversions
How many of your total visitors, viewers or email recipients take the next step you want them to take? The online conversions KPI can apply to calls to action, starting at the top of the funnel by watching a video all the way down to "buy now".
Along the way, you can track online conversions for everything in between, like social shares, ebook downloads, demo sign-ups and email link clicks. This KPI shows you which content and calls to action generate the best response, so you can focus on what's most effective.
5. Bounce Rates
One goal of all those online conversions is to move people further along in the sales funnel. How do you know if it's working? Measure your bounce rates.
When visitors click your email, blog or social media calls to action and arrive at your landing page, webpage or other marketing content, do they stay? Or do they flee because the content doesn't interest them?
Lower bounce rates indicate a better match between your target audience and the marketing content you're serving them. Higher bounce rates mean it's time to refine your customer personas, your content or both.
6. Click-Through Rate (CTR)
What percentage of the people who see your promotions click on them? That's your click-through rate. Like bounce rate, CTR is helpful for determining if you're matching your message to your audience.
A higher CTR can indicate that viewers are interested in learning more. Although, if you have a high bounce rate once they click through to your content, you have more work to do. 
Find the details on B2B sales KPIs here. 
Who, exactly, should be doing that work? Let's look now at the great debate over whether to use an internal marketing team or a B2B agency.
Is value creation in marketing a job for an internal team or a B2B agency?
Both, because each group of experts fills a different role in your value-creation marketing strategy. 
"More than 70% of the time, we see operating teams bring in outside consultants, including marketing agencies, to help them implement the value-growth programs they have in mind." ~ Jason Safavi
A B2B marketing agency can deliver the immediate expertise and support to help your internal team ramp up marketing-related value creation projects.
Agencies handle nearly a quarter of companies' social media activities.

17% of firms partner with agencies "to learn new marketing skills."
Content creation is the top task B2B companies hire agencies to work on, but it's not the only one. Planning, strategy, web development and measurement can be outsourced, too.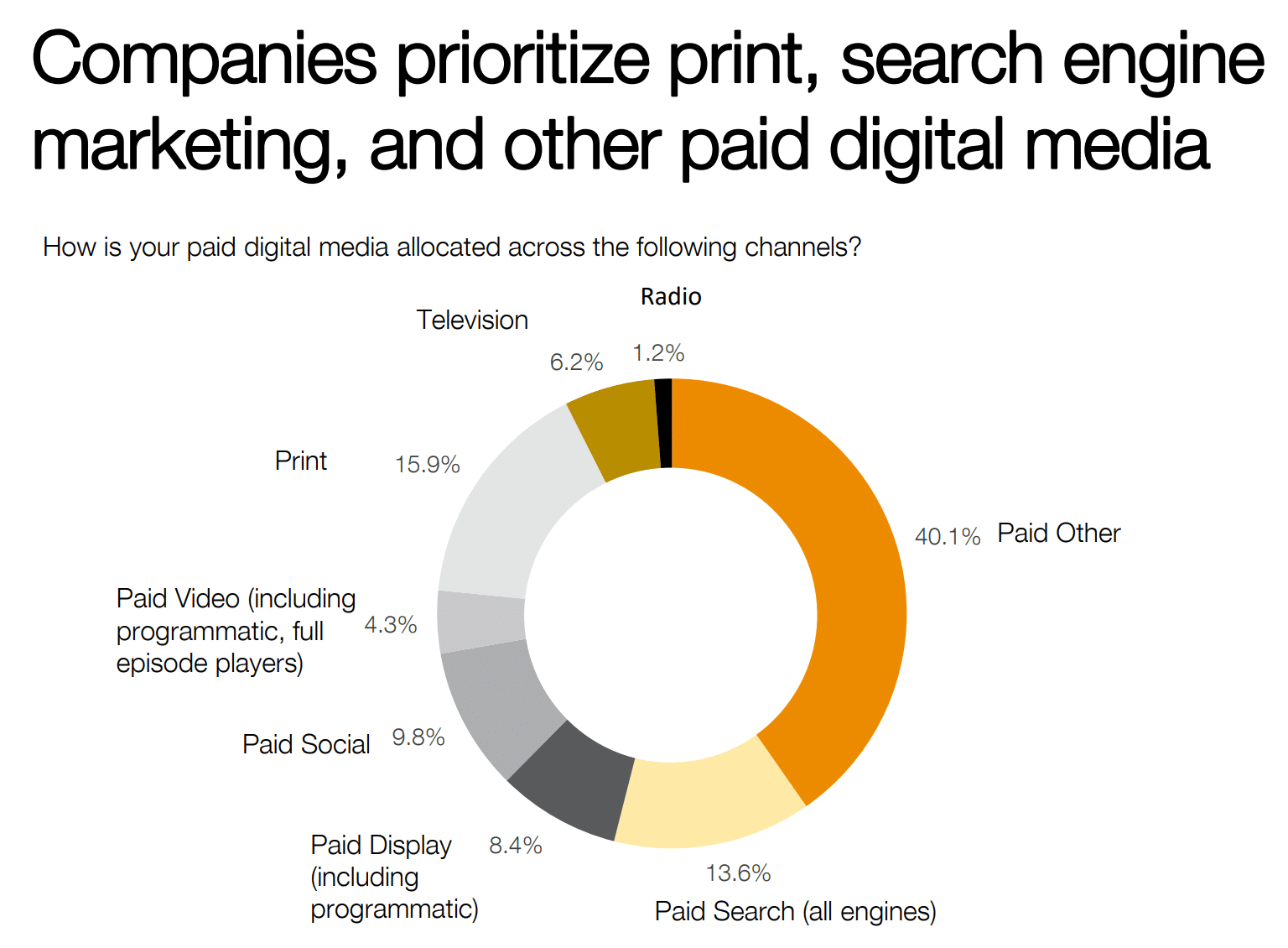 An internal team can reduce marketing costs over the longer term as they develop the capacity to take on more marketing activities in-house.
To get the most value from an agency:
Contract for specific tasks, like persona deck development, paid advertising, customer surveys, social media marketing, video content production and thought-leadership blogging.

Tap into the agency's expertise to learn how they work, what professional development resources they recommend, and which thought leaders they follow.

If your internal team is building its martech stack, your agency may be able to provide reviews and recommendations for specific tools. We'll share some of our own recommendations in one of the next sections.

Keep the lines of communication open so your agency can deliver what you need when you need it—and help you develop fresh takes on your internal team's ideas.
Trust your operating team's marketing insights
Bringing in an operating team and outside agencies to overhaul a PortCo's marketing for growth is a good strategy for value creation.
It can also be a recipe for friction with the PortCo management team unless everyone's on board with the program. The right mindset on all sides can help the PortCo team get comfortable with their new partners.
Think of the operating team and their agencies as your growth marketing concierge.
An experienced operating team and the agencies they work with bring marketing knowledge and capabilities that a typical middle market PortCo may not have yet.
By working with these experts, your company can build a strategic marketing plan that includes:
data analytics for better audience targeting, conversions, sales and customer retention

customer surveys and interviews for CX and product improvements

SEO improvements to raise brand awareness and outflank competitors on topics they've neglected

content marketing plan development and execution that may include written content, videos, podcasts and infographics

email marketing for increased customer education, more conversions and more sales

social media content promotion and advertising for better brand visibility

employer branding for pipeline development, talent recruitment and employee retention

paid search to reach new customers, raise brand awareness

thought leadership to reach B2B buyers and establish brand expertise

seamless customer experience development across channels to win customers and earn their repeat business
That's a nice list of benefits that the operating team can deliver. To get them, focus on trusting your operating team and working with them to build value. Specific recommendations from Insight Partners are:
CMOs should work with CEOs and CFOs to align on story and cadence when working with the board.

For optimal customer segmentation, assess each customer through the lenses of market, account and buyer.

Get the most value from intent data by identifying the most common use cases, choosing KPIs and starting with outbound sales.
Tap your network connections and industry insights to find the right partners for creating your marketing technology stack.Next, let's look at what goes into a marketing technology stack.
What's in a typical marketing technology stack?
Every marketing team—internal or external—relies on a technology ecosystem to handle data, automate marketing tasks, create content and ads, and much more.
Your operations team and the agencies they work with can recommend tools for building a martech stack that helps you reach your value-creation goals. Their suggestions can save you time sorting through the 7,000+ martech offerings on the market:
Your company's martech stack won't—and shouldn't–be anywhere close to this vast.
For example, here are the basics we typically recommend to emerging and middle-market companies, use it as a thought-starter not a be-all-end-all.
Marketing automation, social media management and CRM

: HubSpot

Social media management:

HubSpot, Hootsuite or Buffer

Analytics:

Google Analytics

SEO:

Moz, Conductor, DeepCrawl 

Review management:

G2 reviews, TrustRadius, Trustpilot, Gartner of Forrester commissions papers.

Paid advertising:

Google Ads

Lead generation:

LinkedIn Sales Navigator and RocketReach

Dashboards:

Cyfe and Data Studio

ERP and finance:

NetSuite

Email scrubbing:

Briteverify or Kickbox

Video production:

Adobe Premiere, Soapbox for Chrome, Animaker and Vimeo

Content checking tools:

Copyscape, AP StyleGuard and AP Lingofy

Project teamwork and communication:

Slack, Monday.com or Wrike
As you add elements to your stack, start with demos and free trials to make sure the product meets your needs. Once the technology has been tested, you can safely commit to a subscription.
Invest time using the training resources each product provides to get the most value from each stack component.
Identify and track KPIs for each tool you add to your stack to make sure it's delivering the results you need.
Insight Partners offers two other recommendations to build a stack that will scale with your business:
Plan for all the costs. "That means everything from people to training and licensing."

Aim for a tech stack that "supports the company you want to be in 12-18 months."

 
Let's Sum Up: is all this enterprise marketing effort worth it?
It's no surprise that we say "yes," because we're in the marketing business. But, as we've shown in this report, investors and industry analysts are saying yes, too.
That's because top-line value creation holds the biggest potential for returns on PortCo deals now. Marketing holds the keys to brand growth, expansion, product innovation and the kind of customer and candidate experiences that build value. With the right mindset, the right team and the right resources, you can make it happen.
Leverage existing customer data

to develop upsell and cross-sell strategies. Identify and target lookalike audiences to expand the relevant customer base.
82% of B2B customers are willing to pay more

for a better experience. 
Candidate and customer experiences are converging

, which means a bad candidate experience can cost you a customer—and vice versa.
The average marketing budget as a percentage of company revenue was 10.5% in July-August 2019 for North America- and UK-based companies surveyed by Gartner.
About Productive Shop
We are a B2B digital marketing agency that puts your business on the radar by building and optimizing inbound marketing strategies that make your audience reach out to you. Productive Shop works as an extension of your team to help optimize technology and make ideas come to life to get results. 
From initial strategy & web design to creating high-quality sales collateral, we ensure you get positive outcomes over your competition. If you need help winning organic SOV and mass influence, we're the Enterprise SEO partner for you. 
Learn more about how we work with CMOs and Marketing Directors to build incremental value via organic marketing at ProductiveShop.com.
---
References 
1 – https://www.forbes.com/sites/forbesinsights/2019/03/01/private-equity-and-the-new-science-of-growth/#1b494a0e2370
3 – https://www.forbes.com/sites/forbesinsights/2019/03/01/private-equity-and-the-new-science-of-growth/#7bc1e5237091

4 – Salesforce 2019 State of the Connected Consumer report

8 – https://www.forbes.com/sites/forbesinsights/2018/12/17/unlocking-the-full-growth-potential-of-big-data/#1974f7b052e9

9 – Salesforce 2019 State of the Connected Customer 

10 – https://cmosurvey.org/wp-content/uploads/2019/08/The_CMO_Survey-Highlights-and_Insights_Report-Aug-2019-1.pdf
13 – https://www.hotwireglobal.com/feature/high-stakes-leadership-post-b2b-world
16 – https://cmosurvey.org/wp-content/uploads/2019/08/The_CMO_Survey-Highlights-and_Insights_Report-Aug-2019-1.pdf
17 – https://www.gartner.com/en/marketing/research/cmo-spend-survey-2019-2020
19 – https://cmosurvey.org/wp-content/uploads/2020/02/The_CMO_Survey-Highlights-and_Insights_Report-Feb-2020.pdf
21 – https://cmosurvey.org/wp-content/uploads/2019/08/The_CMO_Survey-Highlights-and_Insights_Report-Aug-2019-1.pdf
22 – https://www.b2bnn.com/2019/04/hotwire-b2b-crisis-communications/
23 – https://cmosurvey.org/wp-content/uploads/2019/08/The_CMO_Survey-Highlights-and_Insights_Report-Aug-2019-1.pdf
24 – https://contentmarketinginstitute.com/wp-content/uploads/2019/10/2020_B2B_Research_Final.pdf
25 – https://www.insightpartners.com/blog/go-to-market-strategies-from-insight-onsites-scaling-2020-summit/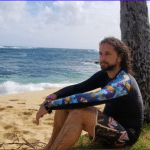 Imran Selimkhanov
Imran is the founder and CEO of Productive Shop. He writes on B2B demand generation and SEO strategy topics to help startups understand how to win digital share of voice. Prior to Productive Shop, Imran led demand generation at an Oracle consultancy, ran an e-commerce site servicing LE teams and helped build PMO offices at technology startup companies. When he's not at work, Imran can be spotted hiking in the Rockies, honing his clay shooting skills and tumbling off of black diamond ski tracks due to overconfidence in his skiing abilities.